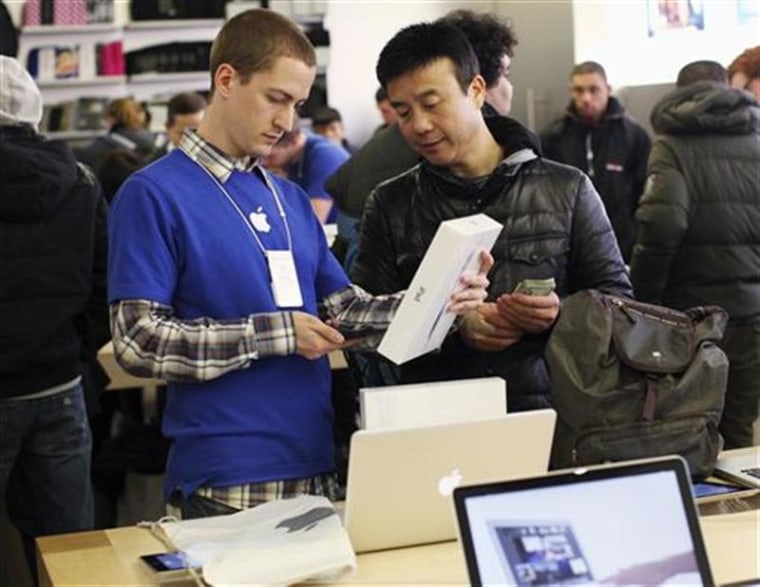 Updated at 4:40 p.m. ET: The Justice Department sued Apple Wednesday, alleging the technology giant and five major publishers conspired to push up the prices of e-books and limit retail price competition.
The lawsuit, filed in Manhattan federal court by the Justice Department's Antitrust Division, alleges Apple and the publishers had a common interest in fighting Amazon.com's practice of selling e-books for as little as $9.99, and decided to work together to raise prices.
The government alleges that Apple and the publishers reached an agreement to stop competing on price, allowing e-book prices to rise significantly. Apple would be guaranteed a 30 percent "commission" on each e-book sold, according to a court document detailing the complaint.
The conspiracy has caused e-book consumers to pay "tens of millions of dollars more for e-books than they otherwise would have paid," the Justice Department said.
Amazon's aggressive pricing would have threatened the book publishing industry's business model, said Arun Sundararajan, a professor at New York University's Stern School of Business.
"Who's to say that $9.99 wouldn't become $6.99, and then $4.99?," he said. "Soon prices become so low that the business model for publishers becomes untenable."
News Corp's HarperCollins Publishers Inc., CBS Corp.'s Simon & Schuster Inc. and Lagardere SCA's Hachette Book Group agreed to settle with the Justice Department. The settlement terms were not immediately disclosed.
The two publishers the Justice Department is proceeding to litigate against are Pearson Plc's Penguin Group and Macmillan, a unit of Verlagsgruppe Georg von Holtzbrinck GmbH.
The agreement between Apple and the publishers allegedly occurred ahead of the introduction of the iPad in 2010.
"To effectuate their conspiracy, the publisher defendants teamed up with defendant Apple, which shared the same goal of restraining retail price competition in the sale of e-books," the Justice Department said.
Tom Neumayr, a spokesman for Apple, declined to comment on the lawsuit. In a statement e-mailed to msnbc.com, Drew Herdener, a spokesman for Amazon.com, said the settlement is a "big win for Kindle owners, and we look forward to being allowed to lower prices on more Kindle books."
Some publishers responded to the allegations, including Macmillan Chief Executive Officer John Sargent.
"Macmillan did not act illegally. Macmillan did not collude," he said in a letter on the company's website. Sargent noted that the filing of the lawsuit came after discussions with the government that lasted for months.
"But the terms the DOJ demanded were too onerous," he continued.
"After careful consideration, we came to the conclusion that the terms could have allowed Amazon to recover the monopoly position it had been building before our switch to the agency model. We also felt the settlement the DOJ wanted to impose would have a very negative and long term impact on those who sell books for a living, from the largest chain stores to the smallest independents."
U.S. Attorney General Eric Holder told a press conference that the proposed settlement would give retailers such as Amazon and Barnes & Noble the freedom to reduce e-book prices.
The Justice Department's complaint mentions an e-mail from an executive at an unnamed publisher that points out that, given Amazon's bargaining strength, the publishers knew they had to work together to compel the online retailer to raise prices.
"We've always known that unless other publishers follow us, there's no chance of success in getting Amazon to change its pricing practices," the e-mail said, adding that "without a critical mass behind us Amazon won't 'negotiate,' so we need to be more confident of how our fellow publishers will react."
The European Union is also investigating allegations of conspiracy to fix the prices of e-books.
Shares of Apple were little changed in trading Wednesday.
New York University's Sundararajan said the lawsuit doesn't represent too big an issue for Apple, as it is not a market leader in the e-books space. Amazon.com has about two-thirds of the market, compared to about 10 percent for Apple, he said.
Also, the public is becoming accustomed to hearing about antitrust cases against technology leaders, he added, referring to the Justice Department's landmark settlement with Microsoft in 2001 over allegations of anti-competitive actions related to its software.
(Msnbc.com is a joint venture of Microsoft and Comcast's NBC Universal unit.)
Already the world's most valuable company, Apple's valuation hit the $600 billion mark for the first time Tuesday. Only one other company -- Microsoft -- has reached that valuation. It rose to that level around the turn of the century at the height of the last  technology stock craze.
Collusion between managers of U.S. firms and other domestic or foreign firms over pricing or other monopolistic actions is expressly forbidden by the Sherman Antitrust Act of 1890, the cornerstone of U.S. antitrust policy and can result in imprisonment or substantial fines.
Reuters contributed to this report.
Could this report tarnish Apple's image? Discuss it on our Facebook page.
Related: