The temperature analysis released by the U.S. government each month usually isn't all that riveting, but the one that came out Monday is a doozy -- and not just for weather wonks. Highlights for the contiguous U.S. (excluding Alaska and Hawaii) include:
Last month was the warmest March on record (records go back to 1895) at 51.1 degrees; this is 8.6 degrees above the 20th century average, according to the National Oceanic and Atmospheric Administration.
January-March was the warmest first quarter on record; the average temperature of 42 degrees was 6 degrees above average.
April 2011-March 2012 was the warmest stretch of those 12 months on record; at 55.4 degrees, that period was 2.6 degrees above average.
In March, 15,292 records were broken for warmth; 7,775 were new daytime highs in cities across the country and 7,517 were new nighttime highs.
For Jake Crouch, a NOAA climate scientist who authored the State of the Climate report, last month will be memorable. While the previous record was just .57 degrees cooler, the year it was set, 1910, was itself an anomaly.
Comparing March to the longterm average and seeing an 8.6 degree spread, he added, "that's huge."
The average temperature of 51.1 degrees for the month was nearly 15 degrees warmer than the coldest March on record: 36.5 degrees, a mark set in 1965.
Chris Dolce, a Weather Channel meteorologist who analyzed the report, was impressed with how widespread the warmth was.
"What is so amazing to me is that 25 states had their warmest March on record," he told msnbc.com. "In addition, another 15 states had a top ten warmest March.  Add the two numbers together and that makes a mind-boggling 40 states that had a March that was among their warmest on record."
An exception to the warm March was Alaska. While not included in the contiguous U.S. average, its March ranked as the 10th coolest on record.
The first quarter warmth also meant several dozen cities saw their warmest January-March on record -- among them New York City and Washington, D.C. Click here for a NOAA list.
So what made for a warm March and first quarter for the contiguous U.S.? Crouch cited the cyclical weather pattern La Nina, which has been weakening but is still around, and changes in Arctic and Atlantic weather patterns that in the previous two winters had actually helped set cold records.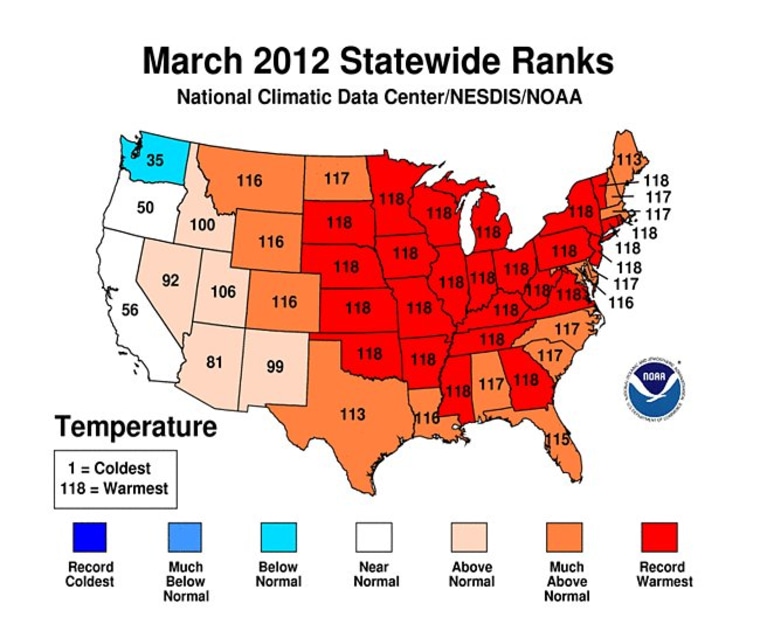 The Arctic pattern, in particular, was "a complete flip," said Crouch, and that kept the jet stream, as well as cold air, farther north than normal in winter and allowed warmer temperatures in from the Gulf of Mexico.
Is manmade warming from burning fossil fuels a factor? 
"There are a lot of factors and it's hard to pinpoint one particular thing," Crouch told msnbc.com, "but this is the kind of thing we'd expect with climate change."
Indeed, for the entire globe, neither March nor the first quarter are likely to set records. Final data aren't out yet, but January-February global temperatures were the 20th warmest, NOAA said.
Still, other NOAA analysts have started trying to assign a value to how much greenhouse gases might be impacting temperatures.
In a report on the "Meteorological March Madness" of last month, the analysts noted that while most of the warmth should be attributed to random weather factors, greenhouse gases "likely contributed on the order of 5% to 10% of the magnitude of the heat wave during 12-23 March."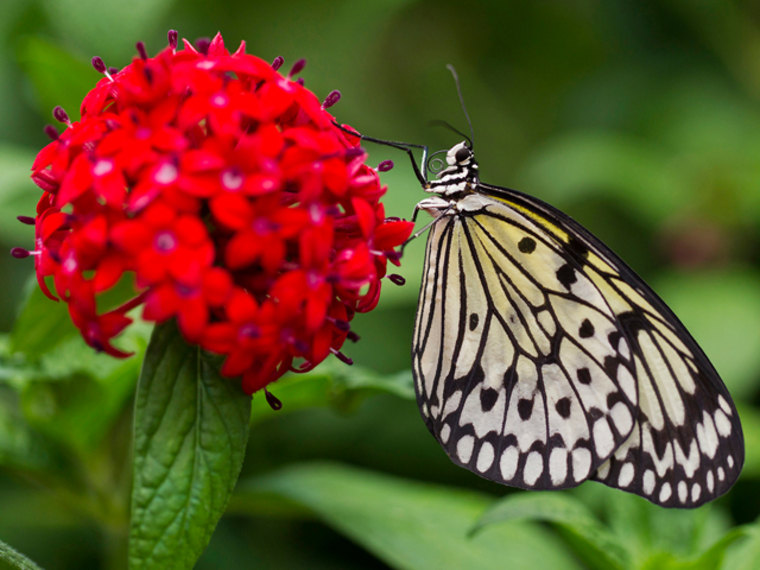 Moreover, they concluded, "the probability of heat waves is growing as GHG-induced warming continues to progress. But there is always the randomness."
Stu Ostro, a senior Weather Channel meteorologist, told msnbc.com that the bigger picture isn't promising.
"It's not only what happened in March in North America," he said, "it's the context: the extremity of this extraordinary early-season heat in the U.S. and southern Canada, plus Norway and Scotland breaking their March high temperature records; Texas and Oklahoma in 2011 having their hottest summer on record, even hotter than during the Dust Bowl; the off-the-charts 2010 Russia heat wave along with approximately 20 countries setting high temperature records that summer; and Canada having its warmest winter and year on record in 2010."
"All of this happening with such frequency," he added, "provides overwhelmingly convincing evidence that the overall increased warmth is making the atmosphere more conducive to these sorts of heat extremes."
More content from msnbc.com and NBC News: