The United States urged Syria's opposition on Thursday to attend Jan. 22 peace talks and criticized its government for suggesting the meeting should be about fighting terrorism rather than forging a political settlement.
The comments by Secretary of State John Kerry, less than a week before the talks are to begin, suggest some uncertainty by the United States over whether the opposition will show up at the U.N.-hosted conference in Montreux, Switzerland.
The main umbrella opposition body in exile, the Syrian National Coalition, which is riven with internal divisions, will decide on Friday whether it will attend the conference. Syria's centrist internal opposition group, the National Coordination Body, on Thursday said it would not attend.
In a hastily arranged appearance, Kerry also faulted what he called "recent revisionism" about why the peace conference is being held after some three years of civil war in Syria in which more than 100,000 have died and millions have been uprooted.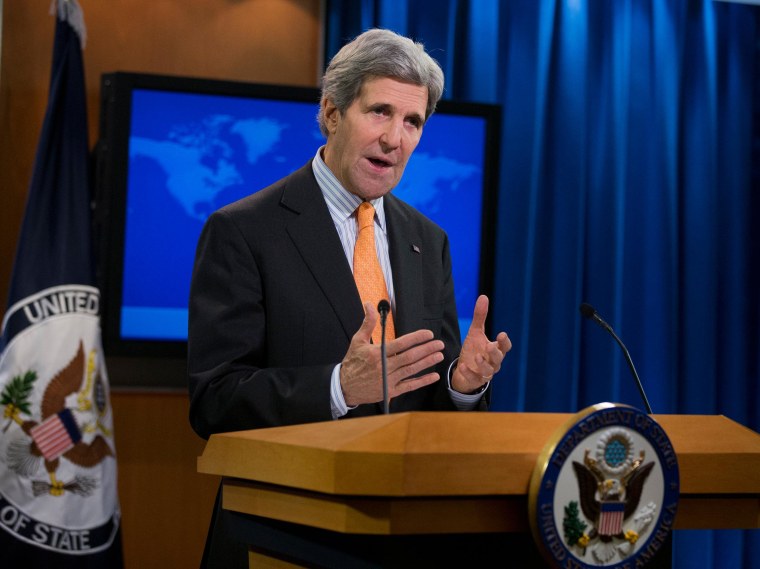 Kerry said the talks, known informally as "Geneva II" although it is being held in Montreux, were to carry out a 2012 plan calling for a political settlement under which the two sides would together agree on a transitional government.
"For anyone seeking to rewrite this history or to muddy the waters, let me state one more time what Geneva II is about," Kerry said. "It is about establishing a process essential to the formation of a transition ... governing body with full executive powers established by mutual consent."
The United States has taken the position that "by mutual consent" means that Syrian President Bashar Assad cannot take part in any transitional government because his participation would be rejected by the opposition.
Reuters