HONG KONG — The U.S. is pushing China to talk, warning that Beijing's apparent refusal to restore high-level military communication means dangerous incidents could "spiral out of control."
Two senior U.S. officials have voiced the criticism in the past 24 hours, pointing to the recent encounter between military aircraft over the South China Sea as evidence of the risks.
China has blamed U.S. sanctions and what it sees as a broader effort to contain its rise, suggesting it's up to Washington to take action that could ease tensions.
Defense Secretary Lloyd Austin said Thursday it was "unfortunate" that China's defense minister had declined to meet with him, and he criticized Beijing for its "provocative" actions.
"As we take a look at some of the things that China is doing in the international airspace in the region and in the international waterways, the provocative intercepts of our aircraft and also our allies' aircraft, that's very concerning, and we would hope that they would alter their actions," Austin said at a news conference in Tokyo after having met with his Japanese counterpart.
"I'm concerned about, at some point, having an incident that could quickly spiral out of control," Austin added.
The U.S. Defense Department said Tuesday that a Chinese fighter jet flew directly in front of the nose of a U.S. reconnaissance plane over the South China Sea last week, describing it as an "unnecessarily aggressive maneuver." China blamed U.S. surveillance for any security issues in the area.
It is among a series of similar incidents involving the U.S. and other countries in recent months, as Beijing and Washington clash over their rival efforts to extend their influence in the region.
The Defense Department disclosed the incident, together with the video, after it said that China had declined a meeting between Austin and Chinese National Defense Minister Li Shangfu at the Shangri-La Dialogue, a coming security forum in Singapore that both will attend.
Secretary of State Antony Blinken similarly said Wednesday that it was "regrettable that the meeting that Secretary Austin sought did not go forward with his Chinese counterpart."
Speaking on a visit to Sweden, Blinken described the jet encounter as "dangerous" and said it underscored the need for the sides to talk.
"The most dangerous thing is not to communicate as a result, to have a misunderstanding and miscommunication," Blinken said.
Beijing said this week that the U.S. was not matching its public rhetoric with action to mend ties.
Chinese Foreign Affairs Ministry spokesperson Mao Ning on Tuesday reiterated Beijing's opposition to the U.S. sanctions that Austin's counterpart has been under since 2018.
"If the United States says it wants to communicate while suppressing and containing China by any means and imposing sanctions on Chinese officials, institutions and enterprises, what is the sincerity and meaning of such communication?" she said at a regular news briefing in Beijing.
The Trump administration sanctioned Li, who was named Chinese defense minister in March, over his role in purchasing fighter jets and missiles from Russia.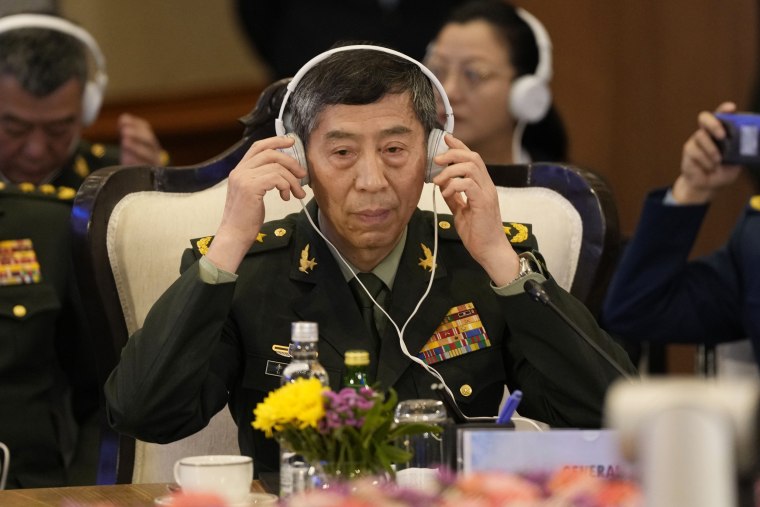 Mao said Wednesday that frequent U.S. naval and aerial surveillance in the region had long endangered China's national security.
"Such provocative and dangerous actions are the root cause of maritime security problems," she said, adding that China will "continue to take necessary measures" to protect its sovereignty and security. 
China's military said the U.S. was to blame for the jet encounter, accusing the American plane of deliberately having entered its training zone and urging the U.S. to comply with rules.
"The Chinese People's Liberation Army Southern Theater organized an air force to monitor the entire process, disposing of it in accordance with the law and in a professional manner," it said in an official announcement Wednesday. "The U.S. side's action seriously undermines regional peace and stability."
President Joe Biden said recently that he was hopeful of a "thaw very soon" between the world's two largest economies.
But before high-level diplomacy can move forward, there are a number of obstacles Beijing believes need to be addressed, a Chinese diplomat said.