SRINAGAR, India — Weapons left behind by U.S. forces during the withdrawal from Afghanistan are surfacing in another conflict, further arming militants in the disputed South Asian region of Kashmir in what experts say could be just the start of the weapons' global journey.
Authorities in Indian-controlled Kashmir tell NBC News that militants trying to annex the region for Pakistan are carrying M4s, M16s and other U.S.-made arms and ammunition that have rarely been seen in the 30-year conflict. A major reason, they say, is a regional flood of U.S.-funded weapons that fell into the hands of the Taliban when U.S.-led NATO forces withdrew from Afghanistan in 2021.
Most of the weapons recovered so far, officials say, are from Jaish-e-Mohammad (JeM) or Lashkar-e-Taiba (LeT), both Pakistan-based militant groups that the U.S. designates as terrorist organizations. In a Twitter post last year, for example, police said they had seized an M4 carbine assault rifle after a gunfight that killed two militants from JeM.
Militants from both groups had been sent to Afghanistan to fight alongside or train the Taliban before the U.S. withdrawal, said Lt. Col. Emron Musavi, an Indian army spokesperson in Srinagar, the capital of Kashmir. 
"It can be safely assumed that they have access to the weapons left behind," he said in an email last year.
Government officials in Afghanistan and Pakistan did not respond to requests for comment.
Kashmir, a Himalayan region known for its beautiful landscapes, shares borders with India, Pakistan, Afghanistan and China. A separatist insurgency in the part of Kashmir controlled by India has killed tens of thousands of people since the 1990s and been a constant source of tension between nuclear powers India and Pakistan. 
The year opened in violence as Kashmir police blamed militants for a Jan. 1 gunfire attack that killed four people in the southern village of Dhangri, followed by an explosion in the same area the next day that killed a 5-year-old boy and a 12-year-old girl. At least six people were injured on Jan. 21 in two explosions in the city of Jammu.
While the U.S.-made weapons are unlikely to shift the balance of power in the Kashmir conflict, they give the Taliban a sizable reservoir of combat power potentially available to those willing and able to purchase it, said Jonathan Schroden, director of the Countering Threats and Challenges Program at the Center for Naval Analyses, a research group based outside Washington.
"When combined with the Taliban's need for money and extant smuggling networks, that reservoir poses a substantial threat to regional actors for years to come," he said. 
A trove of weapons
More than $7.1 billion in U.S.-funded military equipment was in the possession of the Afghan government when it fell to the Taliban in August 2021 amid the withdrawal, according to a Defense Department report published last August. Though more than half of it was ground vehicles, it also included more than 316,000 weapons worth almost $512 million, plus ammunition and other accessories.
While large numbers of small arms that had been transferred to Afghan forces most likely ended up in the hands of the Taliban, "it's important to remember that nearly all weapons and equipment used by U.S. military forces in Afghanistan were either retrograded or destroyed prior to our withdrawal," Army Lt. Col. Rob Lodewick, a spokesperson for the Pentagon, said in a statement.
The Defense Department report also pointed out that the operational condition of the Afghan army's equipment was unknown.
Questions around the weapons being used in Kashmir were raised in January 2022, when a video of militants brandishing what appeared to be American-made guns was shared widely on Indian social media. Though the origin of the weapons in such cases can be difficult to verify — some may be modified to look like U.S. weapons, while others may not have been manufactured in the U.S. — the Indian military says it has recovered at least seven that are authentic.
"From the weapons and equipment that we recovered, we realized that there was a spillover of high-tech weapons, night-vision devices and equipment, which were left by the Americans in Afghanistan [and] were now finding their way toward this side," Maj. Gen. Ajay Chandpuria, an Indian army official, was quoted as saying by Indian media last year.
Jammu and Kashmir Lt. Gov. Manoj Sinha said the government was aware of the issue and that measures were in place to combat the infiltration of U.S. weapons into Kashmir.
"We are monitoring the situation closely and have taken steps accordingly. Our police and army are on the job," Sinha, the region's top official, said on the sidelines of a news conference last year at his official residence in Srinagar.
Kashmir police official Vijay Kumar also said authorities were fully capable of countering the militant threat.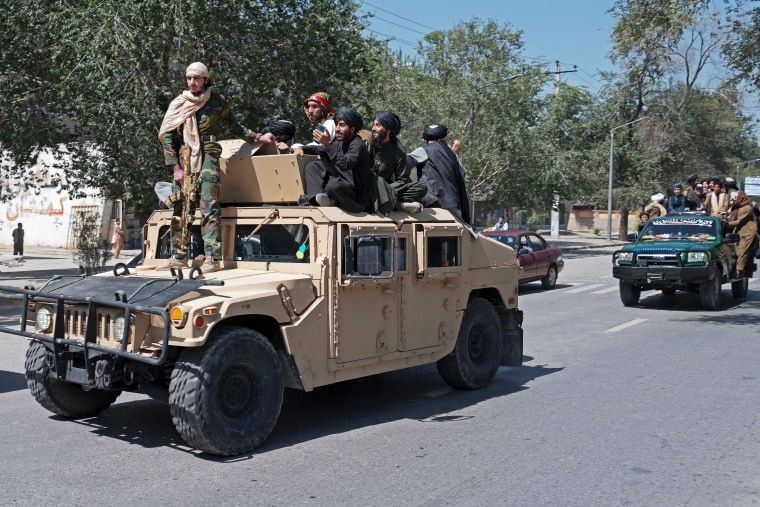 "Our forces are tracking down militants on a daily basis," he said. "We are constantly upgrading our equipment and have the latest weaponry at our disposal."
The militant groups JeM and LeT could be buying U.S. weapons from the Taliban in Afghanistan, where the United Nations says both groups have bases, or through smugglers in Pakistan, said Ajai Sahni, an author on counterterrorism who serves as executive director of the Institute for Conflict Management, a think tank in New Delhi. 
Militants will struggle to get the upper hand, however, without more advanced weapons that have greater firepower but are more difficult to smuggle into the region, Sahni said.
Schroden said that although he had not seen substantial reports of U.S.-made weapons left behind in Afghanistan appearing outside of Kashmir, it would not be surprising if they eventually began turning up farther away in places such as Yemen, Syria and parts of Africa.
"I suspect there hasn't yet been enough time for these weapons to percolate out that far," he said. "It's also possible that the Taliban have held tightly to most of them thus far as part of their efforts to consolidate power and seek legitimization from the international community."
Beyond weapons, the Taliban's victory in Afghanistan gave an ideological boost to radical militants in Kashmir and elsewhere, said Ahmad Shuja Jamal, a former Afghan civil servant living in exile in Australia. 
Such militants, he said, "now see in clear terms the political dividends of long-term violence."