MOSCOW — The authoritarian leader of Uzbekistan has suffered a stroke, his family said, stoking fears of a power vacuum and possible influx of radical Islamists in the impoverished Central Asian country.
Reports about septuagenarian President Islam Karimov's health issues have been floating around for years, but always came from opposition sites based out of Uzbekistan and were refuted by officials.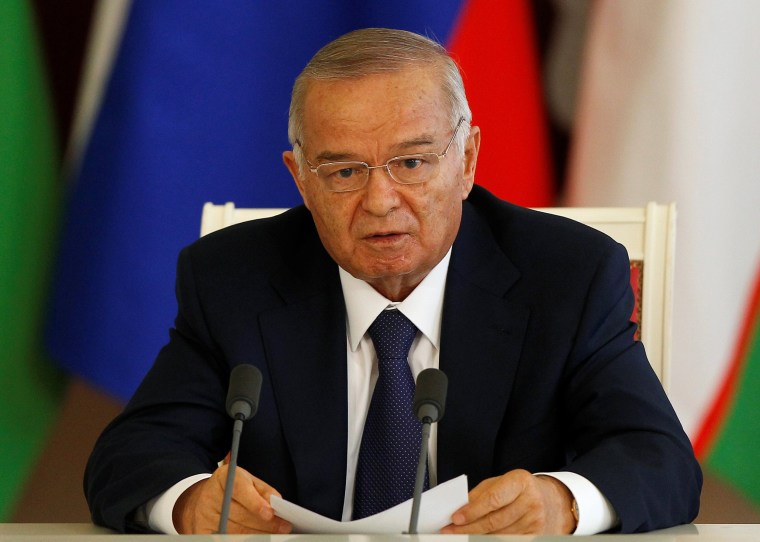 But in an unprecedented move, the Uzbek government admitted that Karimov had been hospitalized — though the terse statement issued Sunday offered no details on his condition.
Karimov's daughter gave an update on Monday, saying her father had suffered a stroke.
"My father was hospitalized after suffering a cerebral hemorrhage on Saturday morning, and is now receiving treatment in an intensive care unit," Lola Karimova-Tillyaeva wrote in a Instagram post Monday.
While Karimov's condition was considered stable, it was "too early to make any predictions about his future health," she added.
The 78-year-old Karimov has ruled the country of 31 million with an iron fist ever since it gained independence in 1991. That means Uzbekistan has never seen a transition of power — which leaves many analysts worried about possible political unrest in the event of Karimov's death.
Underscoring those fears, police and soldiers formed a cordon around the government hospital treating Karimov, according to The Associated Press.
At the same time, experts have been warning for years that the deaths of authoritarian gerontocrats holding sway in Central Asia could leave a power vacuum ripe for Islamist radicals to fill.
Authorities in Uzbekistan and throughout the region have long cracked down on extremists along with political dissenters, said Arkady Dubnov, an expert on Central Asia with Carnegie Moscow Center.
"Uzbek elites seem responsible enough to ensure a transfer of power," Dubnov said. "But the Islamist threat is definitely present in the country."
Related: 'Second Front of Jihad' Looms on Russia's Border
Post-Soviet Central Asia has provided thousands recruits to ISIS, and some prominent local Islamist groups — such as the Islamic Movement of Uzbekistan — have pledged allegiance to ISIS.
An estimated 13,000 people have been jailed since 1991 for their religious convictions in Uzbekistan, according to local rights activists. Between 150 and 1,800 were killed in 2005 in what the Uzbek government said was an Islamist uprising and many locals described as peaceful protest.
Such is the fear of radicalization that some elites actually welcomed Karimov's repressive measures, according to the Carnegie Moscow Center's Dubnov.
"The educated urbanites are, in fact, grateful to him for that, despite the [regime's] harshness," he said.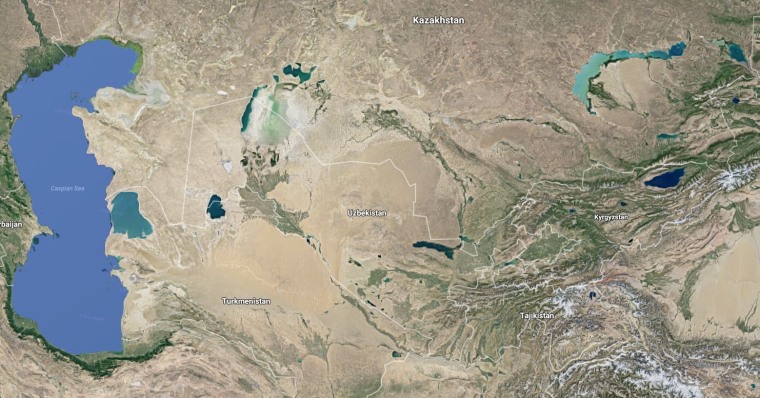 Despite official efforts, though, the threat of radicalization and terror remains in the region.
An attack attributed to a sleeper jihadist cell killed eight in Kazakhstan in June. A prominent police official in Tajikistan — a country that lived through a jihad-tinged civil war in the 1990s — defected to ISIS last year.
Experts say jihadism remains an attractive ideology due to the region's poverty and despotism. Uzbekistan has a gross national income of $2,150 per capita, according to the World Bank, and was ranked "non-free" in Freedom House's 2016 Freedom in the World survey.
Related: Afghans Find ISIS-Linked Fighters Worse Than Taliban
Meanwhile, the behind-the-scenes squabble for potential successors to Karimov has been going on for years, documented by the rise and fall of several hopefuls.
A prominent example was Karimov's elder daughter Gulnara, 44. She was once considered the favorite to succeed her father — but was placed under house arrest and threatened with a criminal probe in 2014.
While questions swirl over what happens in the event of Karimov's death, experts urged caution given the swirl of mystery that has always surrounded the leader's health.
"But the situation seems serious because his hospitalization was announced publicly," said Shairbek Juraev, an expert on the region and research fellow at the University of St. Andrews in the U.K.