A major anti-terrorism operation was underway in Spain on Friday after a van plowed into crowds on Barcelona's La Rambla tourist hot spot killing 13 people and wounding more than 100, before a car hit several people in a resort further down the Spanish coast, killing one woman.
As security forces hunted the Barcelona van's driver, who was seen escaping on foot, six people and a police officer were run down by a car in a separate attack eight hours later in Cambrils, a town south of the city.
Police shot dead five of the Cambrils attackers, who were wearing fake suicide belts. One woman hit in the second attack died Friday of her injuries.
Both attacks were also related to an explosion Wednesday at a third location in a province about 100 miles southwest of Barcelona that left one person dead.
Four suspects have been detained in separate arrests across the region.
Secretary of State Rex Tillerson confirmed Friday that one of those killed in the attacks was an American. The state department also confirmed another U.S. citizen had suffered minor injuries, but did not release further details out of respect to the grieving families.
Tillerson said during a press conference Friday: "We express our deepest sympathies to the loved ones of this individual and obviously others who have suffered loss of life."
On Friday, crowds lined up to enter the Plaza de Cataluña, a large square at the top of La Rambla, where a minute's silence was being held for the victims.
Spain's King Felipe VI and Prime Minister Mariano Rajoy, along with Catalan regional president Carles Puigdemont, stood in front of the crowd.
After it had passed, they broke out into chants of "I am not afraid! I am not afraid!"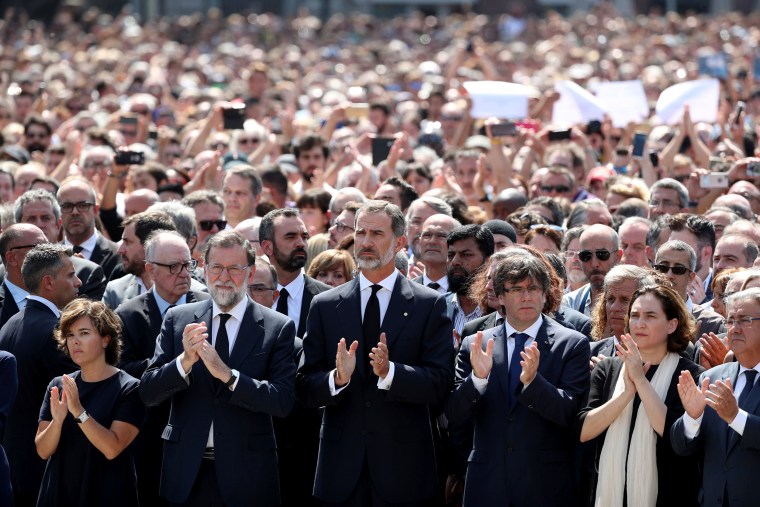 Here's what we know about the incidents so far:
13 people were confirmed dead, more than 100 injured at La Rambla
The van driver was seen fleeing the scene
ISIS claimed responsibility, but offered no proof
The United States urged Americans in Barcelona to avoid the area
One woman died, five civilians and one police officer were wounded in Cambrils, 5 attackers shot dead
Four people arrested across the region in connection with both incidents
The victims came from 34 countries
One American has been killed, another injured
26 French and 13 German citizens were among the injured
U.K. officials are checking reports of a missing child with dual British citizenship
The ISIS-affiliated Amaq news agency said the extremist group was responsible for Thursday's deadly rampage in Barcelona, but ISIS has produced no evidence in support of the claim.
The incident saw a van zigzag for several hundred yards along the pedestrian boulevard teeming with merchants, street performers and tourists.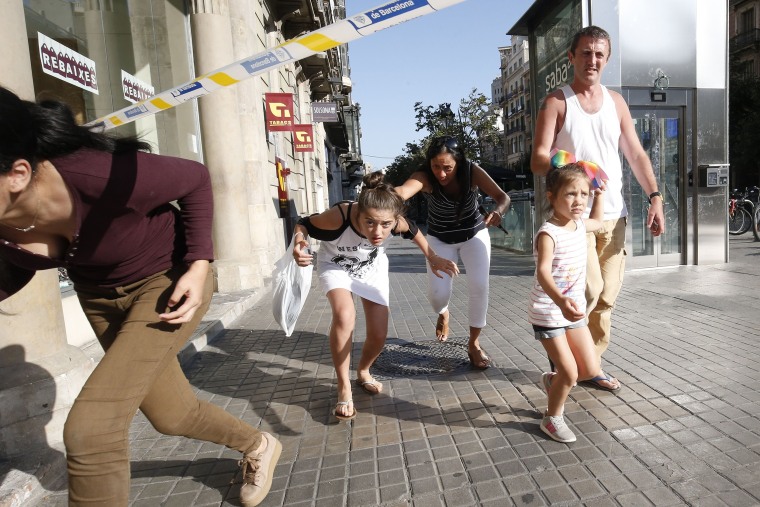 "Next thing I know there's screaming yelling," said Heidi Nunes, a 40-year-old teacher from Walnut Creek, California. "I got pushed inside the souvenir kiosk and stayed there hiding while everybody kept running by screaming."
That was the last time Nunes saw her husband, 42-year-old construction worker Jared Tucker, and is now desperately trying to find him in the Catalan city.
"Suddenly everyone starts screaming and running and falling over each other and crying," added Rachel Mersky, a product designer from Oakland, California, who was also vacationing in Barcelona. "So clearly I started running too."
Video and photos of the aftermath showed bloodied victims sprawled on the mall amid debris and scrambling emergency workers. Police moved through nearby streets with guns drawn.
Several American men's college basketball teams were in the city for a series of exhibition matches. Some, including Clemson University and Oregon State, have reported their teams are OK.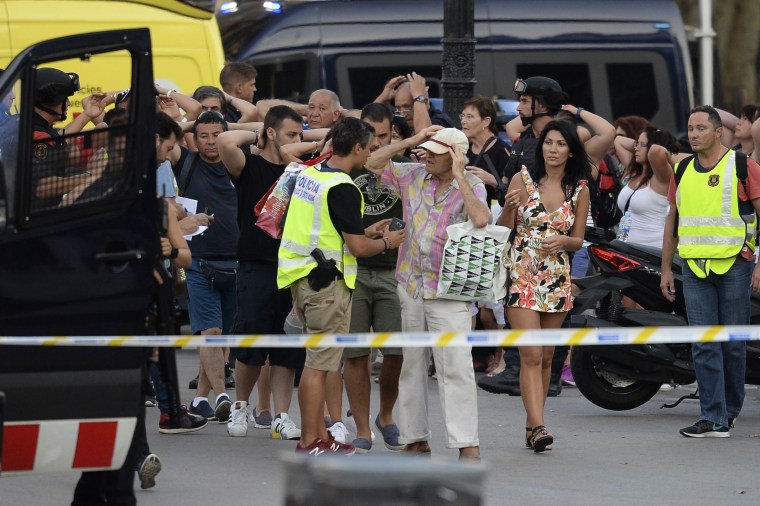 Hours later, at 1 a.m. Friday morning (7 p.m. ET Thursday), another attack struck the seaside resort of Cambrils, around 100 miles to the southwest.
Ruben Soira, the owner and chef at the Club Nàutic Cambrils restaurant, said he saw "a car accelerate really hard and ... ram into the police and then flip over."
Panic quickly spread over the promenade.
"You could hear loads shots and everyone started to run and we hid inside the restaurant," he said. "Some people were still outside and started to clamber into the restaurant through the window and, well, we saw people dead, wearing explosives. The explosives were [later discovered to be] fake."
Images from the scene showed a black car, presumed to be the one driven by the attackers, lying on its roof with the windows broken.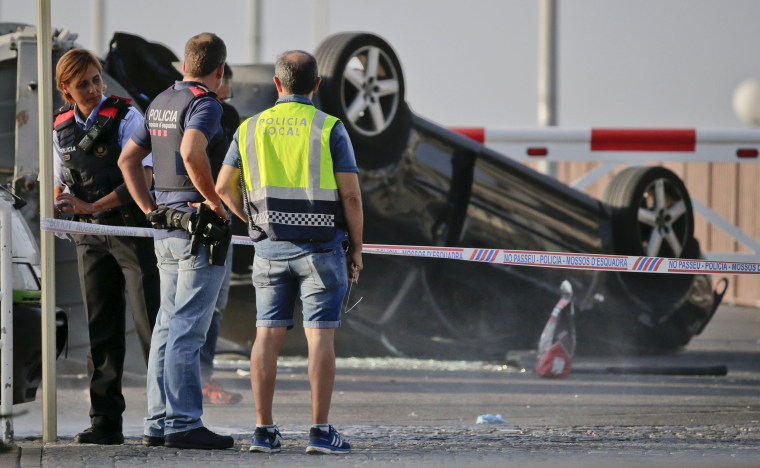 The Barcelona attack was the deadliest terror incident in Spain since March 2004, when nearly 200 people were killed by bombs planted on four commuter trains in Madrid.
It was the sixth deadly attack in Europe involving a car or truck in the past 13 months; the others occurred in Nice, Berlin, London and Stockholm.
Photo Gallery: Pedestrians Flee as Van Rams into Crowd
Spain's history of terrorism goes much further back. The country battled a decades-long campaign by the Basque separatist group ETA, which relinquished its arms earlier this year.
Since the 2004 bombings, authorities have arrested dozens suspected of terrorism, including members of a suspected ISIS cell in June.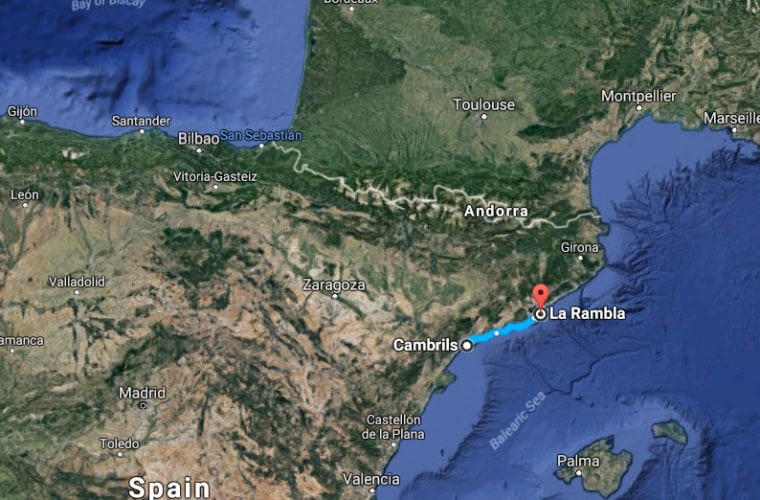 Because of its proximity to North Africa, Spain is seen as a transit point for radicalized Islamist fighters. In 2015, authorities broke up an alleged ISIS-linked group they said was planning an attack in Madrid. In March, authorities seized thousands of weapons they said were bound for terrorist groups.
Secretary of State Rex Tillerson expressed condolences for the victims and said the United States was monitoring the situation and offering assistance to local authorities. He urged Americans in Barcelona to let loved ones know whether they were safe.
President Donald Trump tweeted condemnation of the attack and urged Spain to be "tough and strong.