Far-right extremists armed with sausages, grilled meat and fish attacked a vegan café in the former Soviet republic of Georgia over the weekend, the café alleges.
Kiwi Café in Tbilisi, the capital, canceled a scheduled showing of U.S. TV shows after the assault Sunday night, it said, blaming the attack on the "Bergmann movement," which it called a neo-Nazi skinhead group.
The national newspaper Georgia Today quoted witnesses as saying members of the anti-communist Georgian Power movement were also part of the melée.
Far-right extremists visited the neighborhood about a month ago asking nearby shopkeepers about the presence of foreigners or members of the LGBT community at Kiwi Café, the café said in a long statement posted Monday in English and various dialects of Russian.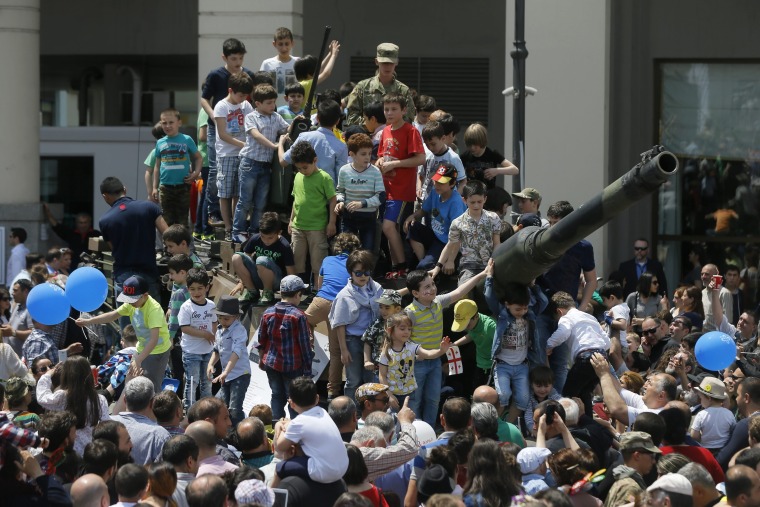 The alleged attack came three days after Georgia's Independence Day celebrations marking the republic's separation from the former Soviet Union 25 years ago, for which the government put on a display of military might in parades and public gatherings.
Some of the celebrations drew large groups of nationalist extremists marching with banners reading "Georgians for Georgia," according to the Georgian service of Radio Free Europe/Radio Liberty, a U.S.-government-funded news service. The slogan is a twist on "Georgia for Georgians," which the Georgian government denounced in 2005 as "poisonous" nationalist rhetoric.
Radio Free Europe described Kiwi Café as a "counterculture-style gathering place that opened in Tbilisi about a year ago," saying it employs an English-speaking staff and is popular with foreigners.
The café alleged that local residents and even police joined the nationalists "just because in their view we are 'different.'" The assertion couldn't be confirmed Tuesday.
"They said that we must leave 'their' street, leave the country, do not 'establish our procedure,' because in Georgia it's not accepted to act like we do," according to the statement.
The café said that despite the opposition, it is "ready to accept all costumers regardless of nationality, race, appearance, age, gender, sexual orientation, religious views, etc."
"Equality is the most important thing for us," it said.