Tensions escalated for a sixth week in Venezuela as protesters against President Nicolas Maduro hurled rocks and even jars filled with feces at police, who fought back with tear gas at demonstrators.
Thousands of protesters, some in cars and on motorcycles, took to the streets of Caracas on Saturday, clashing with riot police in the latest round of mass demonstrations in the nation's capital.
At least 38 people have been killed and hundreds injured in protests that erupted after the Supreme Court issued a ruling on March 29 nullifying the opposition-controlled National Assembly — a decision the court later reversed amid a storm of international criticism and outrage among Venezuelans.
Hundreds of thousands have taken to the streets to castigate Maduro's administration, which they claim has become a dictatorship responsible for triple-digit inflation, skyrocketing crime and crippling food shortages.
Protesters have vowed to remain on the streets even as the death toll mounts.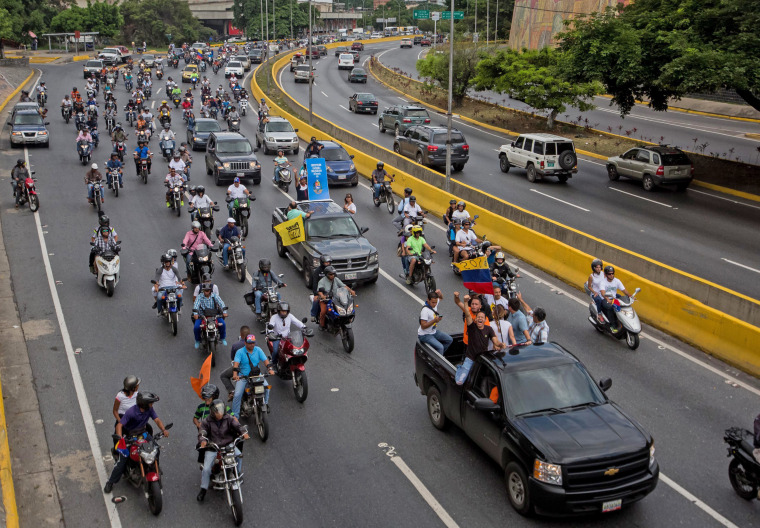 The government's response to the demonstrations has drawn international condemnation, with U.S. Secretary of State Rex Tillerson expressing concern in April that Maduro is "not allowing the opposition to have their voices heard."
In front of the protesters stood a line of officers equipped with bulletproof vests, visored helmets and plastic shields to protect from the rocks and fecal "puputovs" that some demonstrators threw their way, the Associated Press reported. A second line of officers wearing gas masks fired tear gas and rubber bullets to push the protesters back.
Maduro's government has equated the use of feces-filled bombs to biochemical weapons that could spread illnesses. Protesters wrote messages like "For the political prisoners!" and "Sent with love" on the containers.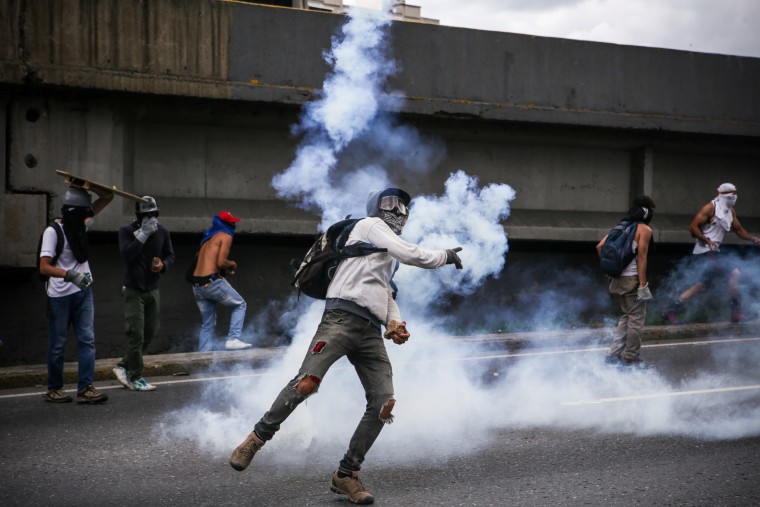 Saturday's protest follows a demonstration by elderly Venezuelans on Friday, where protesters threw punches and yelled curses at riot police.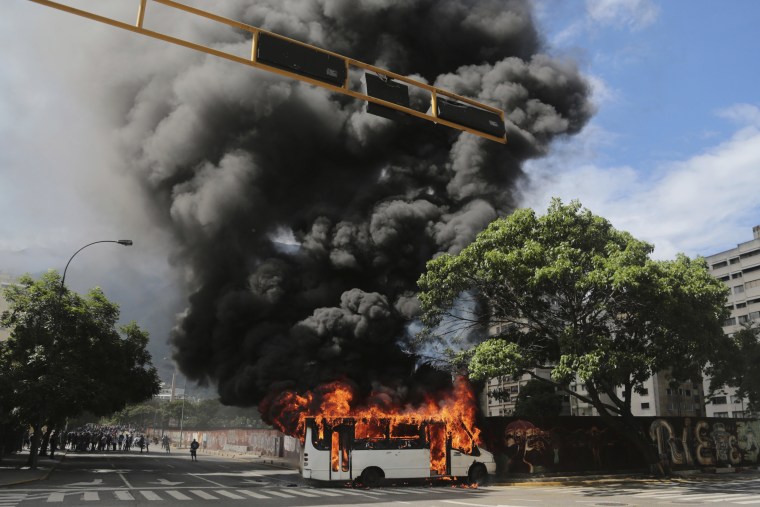 Riot police with helmets and shields used pepper gas several times to control the crowd as hundreds of pensioners jostled against security lines to attempt a march from a Caracas square.
Since launching protests against Maduro in early April, Venezuela's opposition has sought to vary tactics by staging silent and candle-lit marches, for instance, and rallies for women, musicians and medics.
The protests come as the nephew of fashion designer Carolina Herrera was taken hostage and killed along with his business partner on Thursday night.
During the past year, murders in Venezuela reached a rate of 70.1 per 100,000 inhabitants, up sharply from 58 per 100,000 in 2015, according to data from the country's Public Ministry.