LONDON — The "specter of aggression" from Russia makes a strong and united NATO more important now than at any time since the Soviet Union's collapse, Vice President Mike Pence said Monday.
"Russia seeks to redraw international borders by force, undermine democracies of sovereign nations and divide the free nations of Europe," Pence said after meeting the leaders of the Baltic states of Estonia, Latvia and Lithuania.
The three European countries are now members of NATO but were part of the Soviet Union and still feel the pressure of Russian influence after gaining independence in the early 1990s.
"A strong and united NATO is more necessary today than at any point since the collapse of communism a quarter-century ago and no threat looms larger in the Baltic states than the specter of aggression from your unpredictable neighbor to the east," Pence said.
"Under President Donald Trump, the United States of America rejects any attempts to use force, threats, intimidation or malign influence in the Baltic states or against any of our treaty allies," he added.
Pence made the comments in the Estonian capital, Tallinn, the first stop on a three-day trip that will also take in Georgia and Montenegro.
Some in the Baltic nations have fretted they could be in Russia's sights after its annexation of Crimea and backing of pro-Moscow separatists in eastern Ukraine.
Although Pence stated that U.S. still wanted to foster "better relations" with Russia, he reiterated that the U.S. would continue to adhere to Article 5 of the alliance's charter — a tenet of collective defense.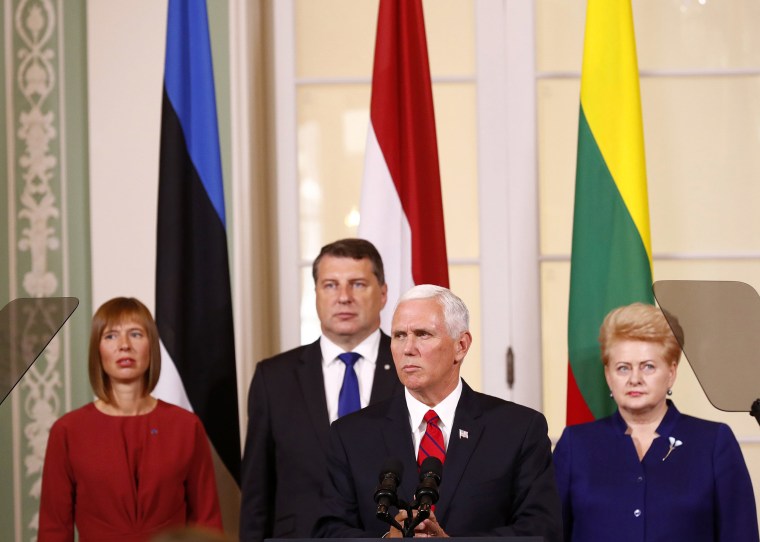 President Trump had previously caused concern among NATO members by saying the organization was "obsolete" and declining to promise that America would defend fellow members if they did not up their military spending.
No other president since NATO was founded in 1949 had questioned that principle — until Trump, although he recently expressed support for NATO's Article 5.
Pence also stated that "recent diplomatic action" by Russia will not impact American commitments to the security of its NATO allies.
Russian President Vladimir Putin said Sunday that he was ordering the U.S. to reduce its diplomatic staff in the country by 755.
The move came in the wake of new sanctions voted through by the U.S. Congress last week which aim to punish Moscow for interfering in the 2016 presidential election and for its military aggression in Ukraine and Syria.
"Recent diplomatic action taken by Moscow will not deter the commitment of the United States of America to our security, the security of our allies and the security of freedom loving nations around the world," Pence said.
"[The U.S.] stands firmly behind our Article 5 pledge of mutual defense and an attack on one of us is an attack on us all," he added.
Estonian president, Kersti Kaljulaid, said the presence of Pence in Tallinn "underlined the credibility of Article 5."
President Dalia Grybauskaitė of Lithuania, meanwhile, praised the decision of the U.S. Congress to pass new sanctions against Russia, describing it as a "very good message."
Eoghan Macguire reported from London.