Shaking with fear, the young would-be suicide bomber is stripped of his explosive belt in front of a crowd.
The boy bursts into tears as he is dragged away by police — a chilling moment captured on video that highlights the horrifying tactic of using children to carry out acts of terror.
Officials say the teen tried and failed to detonate explosives in northern Iraq's city of Kirkuk on Sunday night. Two other attacks hit the same city that evening.
Video shows the teen quivering as Kurdish security forces hold his arms and carefully lower what appears to be an explosives belt from his waist. The boy's shirt lies discarded on the road nearby.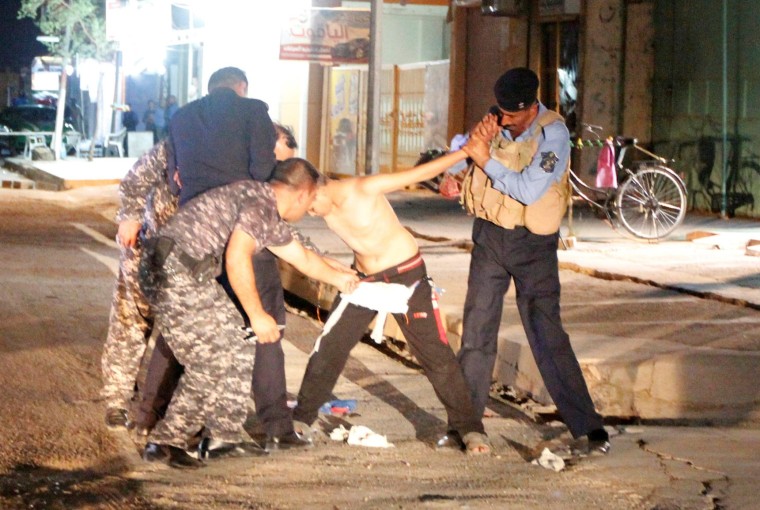 A ripple of applause from relieved onlookers follows the successful operation but the boy then screams — apparently in fear — as officers show him off to the crowd before taking him away in a pick-up truck.
The dramatic video was first aired by local television channel Kurdistan24.
It emerged less than 24 hours after a child suicide bomber was blamed for killing more than 50 people — including many kids — at a wedding in Gaziantep, Turkey.
Military officials in Baghdad told NBC News the boy in Kirkuk was 14, though local Kurdish media put his age at between 11 and 12 years old.
While his supposed motivation was not immediately clear — and there has been no claim of responsibility — authorities have blamed ISIS for both the Turkey blast and the two other Kirkuk bombings, one of which wounded three worshipers at the entrance to a mosque, according to Kurdish media organization Rudaw.
ISIS trains child soldiers at special camps, and experts say the militant group brainwashes young recruits to ensure its longevity by providing a ready-and-willing next generation of jihadis.
"[ISIS] is mobilizing children and youth at an increasing and unprecedented rate," the Combating Terrorism Center at West Point said in a report published February.
Related: ISIS Trains Child Soldiers at Camps for 'Cubs of the Islamic State'
"The presence and participation of children in [ISIS] propaganda extends beyond ultra-violence," it said. "Indeed, on an almost daily basis, children are featured in multiple contexts, from highly publicized executions and training camps to Qur'an memorization fairs."
A similar report in March from the anti-terrorism think tank, Quilliam Foundation, said ISIS often abducted children into its ranks or pressured them into joining out of fear.
"Boys learn a rigid ISIS curriculum. Drawing, philosophy and social studies, the 'methodology of atheism', have been eradicated," it said. "Children churn out memorized verses of the Qur'an and attend 'Jihadist Training', which includes shooting, weaponry and martial arts. Girls — known as the 'pearls of the caliphate' — are veiled, hidden, confined to the home, and taught to look after husbands."
"These children are victims, not perpetrators"
In March, a teenage bomber attacked a youth soccer game at a stadium south of Baghdad as officials were handing out trophies to players, killing 29 and wounding 60. ISIS claimed responsibility and released a photo of the attacker where he appears to be no more than 16 years old. Nearly half of those killed were also children, participating in the soccer game or cheering from the stands.
The problem extends well beyond ISIS' traditional heartland.
An estimated 44 children — some as young as 8 years old — were forced by Boko Haram to carry out attacks across Nigeria, Cameroon and Chad during 2015, the United Nations children's agency said in April. The figure is a tenfold increase on the previous year, it said in a report.
"Let us be clear — these children are victims, not perpetrators," regional UNICEF director Manuel Fontaine said in the report. "Deceiving children and forcing them to carry out deadly acts has been one of the most horrific aspects of the violence in Nigeria and in neighboring countries," he added.
Al Qaeda also has a history of recruiting children and training them to be suicide bombers. The leader of al-Qaeda in Iraq, Abu Musab al-Zarqawi, used teenagers as suicide bombers to fight the American occupation in Iraq before he was killed in a U.S. airstrike in 2006.
Still, analysts say that while children are increasingly involved in perpetrating violence, the use of young recruits as suicide bombers is still unusual.
"Suicide bombs are not the No. 1 tactic for using children — there's usually a very long educational process and training for physical combat, a sort of investment in the future if you like, so suicide bombs are a last resort," said Nikita Malik, a senior researcher at the British anti-radicalization Quilliam Foundation.
Malik wondered whether the boy in the Kirkuk video could end up in one of the region's detainment centers for children associated with ISIS — a move she said would likely be counter-productive.
"There is nothing quite as powerful for radicalizing individuals than putting them in what is basically a glorified prison for incredibly young people," she explained.