After the Taliban took control of Kabul on Sunday, dozens of Afghans could be seen in video footage surrounding, climbing and trying to force themselves onto U.S. passenger jets as the aircraft took off from the capital's airport.
Several videos showed a crowd of Afghans sprinting alongside a U.S. military jet in an apparent attempt to stop it from taking off from Kabul's airport without them. Some climbed aboard, clinging to the outside as the aircraft gained speed on the tarmac.
Later, a number of videos emerged of a similar military aircraft during takeoff which showed an unidentified object appearing to fall from the aircraft.
NBC News was unable to confirm if the videos depicted the same aircraft.
The incidents occurred on the civilian side of Kabul's airport Monday as the United States rushed to evacuate American diplomats from the country on the other side of the airport, which is separated by a row of barbed wire.
"We're seeing desperation here at the airport," NBC News Chief Foreign Corespondent Richard Engel said on MSNBC. "Thousands of thousands of Afghans have been trying to break into the airport, rush in."
"There have been horrible scenes where thousands of people, without any security checks, without any controls, went onto the tarmac, with their families, with their luggage," he said. "The aircrafts were so full, the pilots refused to take off."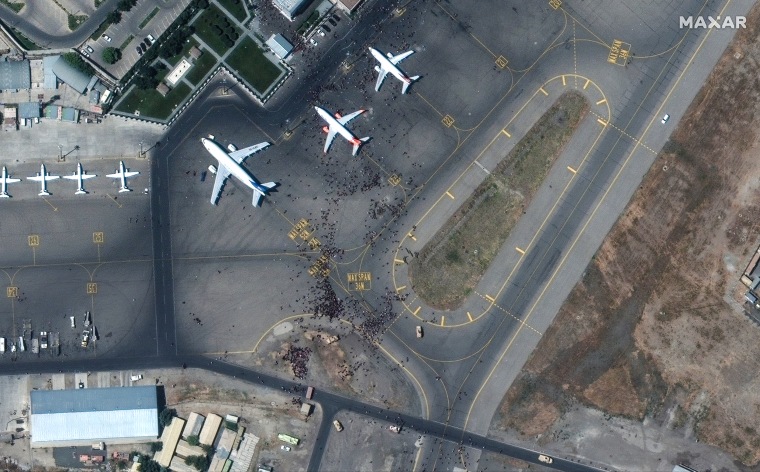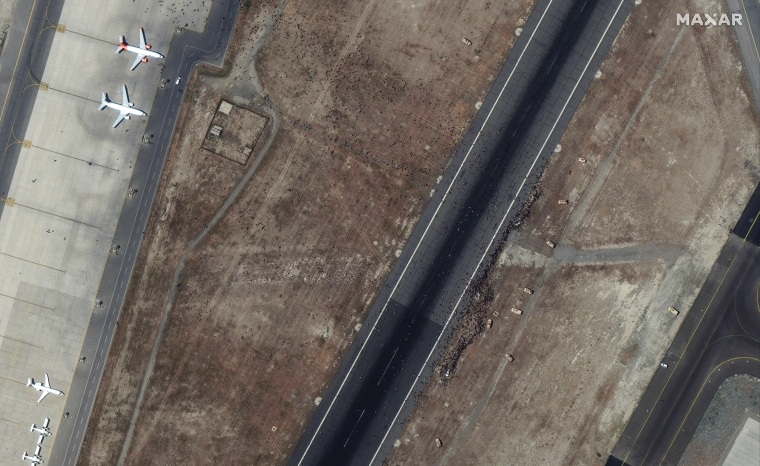 Before takeoff, another video appeared to show dozens of Afghans surrounding passenger jets and attempting to break into a corridor linking the terminal to a plane, hanging off the edges, not willing to give up.
The desperate flight of citizens came a day after Afghanistan President Ashraf Ghani fled the country as the Taliban and its fighters entered the capital. The lightning-fast Taliban offensive brought an embarrassing end to the U.S. military presence two decades after it toppled the militant regime.
State Department Spokesperson Ned Price said late Sunday that all embassy personnel had been safely evacuated to premises at the airport, whose perimeter is secured by the U.S. military.
Afghans say the Americans are only focused on evacuating their citizens, leaving them to find out what life under the Taliban is like in 2021. In Kabul, people said an eerie calm had taken over the streets after the storm that saw the militants take the crown jewel of Afghan cities.
Most shops were closed, fewer people were out on the streets compared to Sunday and overhead a frenzy of aviation activity could be heard, residents said.
Many Afghanis are concerned that the militants will now reimpose their brutal and austere rule over Afghanistan that saw women's rights all but eliminated and minorities persecuted.
"Everybody is panicking," said an Afghani who recently moved to Kabul from Jalalabad because no one in the capital knows he worked for the Americans as an interpreter. "Everybody is trying to get to the airport."