BEIJING — Vietnam's prime minister, a former child messenger for the Viet Cong, has spent his 10 years in power standing up to the Chinese and steering his country closer to the U.S.
Tipped as a strong candidate to become the head of Vietnam's Communist Party at next week's National Congress, Nguyen Tan Dung has already been dubbed his country's "Putin."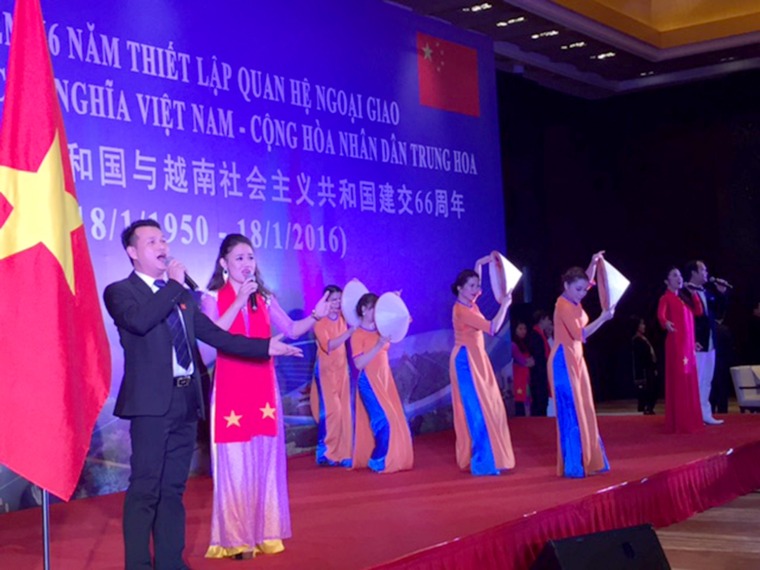 "No one in Vietnam has done a Vladimir Putin, who has served as prime minister and then president," said Professor Carl Thayer, an expert on Vietnam affairs at the University of New South Wales at the Australian Defense Force Academy.
Singing, folk dancing and on-stage toasting marked China and Vietnam's enduring ties at a reception in one of Beijing's luxury hotels on Tuesday. In flawless Mandarin Chinese, Vietnam's ambassador to China extolled "comradeship" during the ceremony commemorating 60 years of diplomatic relations between the two communist countries.
But just a day before the supposedly warm reception, Beijing brusquely rebuffed Vietnam's protest over test flights to a disputed reef of the South China Sea. Dung will need all of his Russian counterpart's steeliness to fend-off China's increasingly assertive territorial claims off of Vietnam's coastline.
Related: China Completes Runway in Spratly Islands: IHS Jane's Defense Weekly
"China has indisputable sovereignty over the [Spratly Islands] and their adjacent waters," Foreign Ministry spokesperson Hong Lei said at a press briefing Monday, referring to the spray of reclaimed coral reefs in the South China Sea. Vietnam, Malaysia, Brunei, the Philippines and Taiwan all challenge China's sweeping territorial claims.
This assertiveness makes Vietnam's shift toward the U.S. inevitable, according to Ernest Bower, an American expert in Southeast Asia and CEO of consulting group BowerGroupAsia.
Whoever ends up leading the Vietnamese Communist Party "will need as a core credential a credible commitment to stand up to the China challenge," he added.
"Vietnam's new leaders will deepen its ties with the United States ... to lessen its economic dependency and massive trade deficit with China"
Vietnam and the U.S. are boosting military ties against this backdrop of Chinese muscle-flexing. In 2015, the U.S. announced it was lifting a weapons ban on against Vietnam, and would spent $19.6 million to boost Hanoi's maritime intelligence, surveillance and reconnaissance capabilities.
American Naval ships are now sent to the port of Danang every year for joint exchanges with their Vietnamese counterparts. The two countries are also negotiating a deal that would allow American forces to travel to strategic Cam Ranh Bay, former home of the U.S.'s biggest naval base during the Vietnam War.
Related: Vietnam's People's Navy Cleared to Cruise Seas With U.S. Guns
At the same time, Vietnam-U.S. business ties are ballooning. After falling to practically nothing after the war ended in 1975, trade between the two grew to $41 billion in 2015, according to U.S. government statistics. American investment in Vietnam, one of Asia's fastest-growing economies, stands at over $11 billion. Chinese-Vietnamese trade is worth around $67 billion.
And business with the U.S. looks certain to grow after Vietnam signed the Trans-Pacific Partnership (TPP), a 12-nation, U.S.-led trade pact.
"Vietnam's new leaders will deepen its ties with the United States and other TPP partners to lessen its economic dependency and massive trade deficit with China," according to Thayer.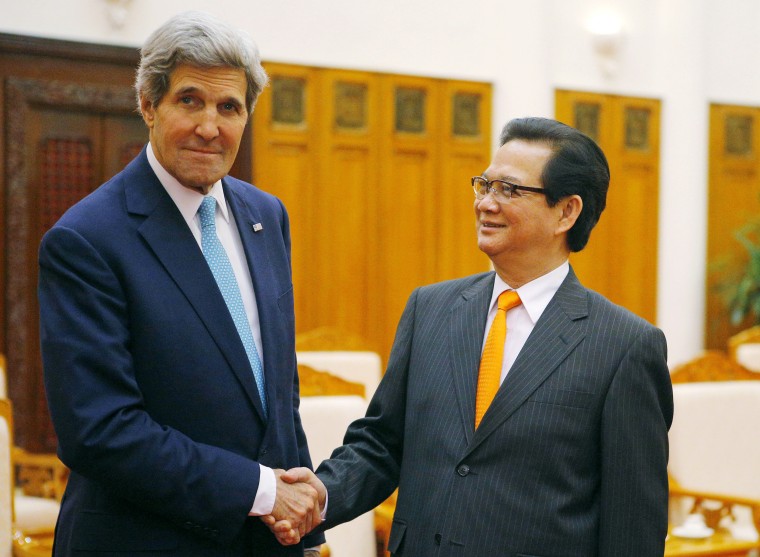 The habits of regular Vietnamese also hint at a bias toward the U.S., with some 19,500 studying in the U.S. in 2013, compared to 13,000 who chose to do so in China, according to Vietnam's Education Ministry.
A telltale sign of Vietnam's pivot West is that eight of the 16 members of Vietnam's ruling Politburo visited the U.S. in 2015, including the Communist Party Chief Nguyen Phu Trong, who was warmly received at the White House.
A Vietnamese analyst who attended the Vietnam-China reception — and who spoke on condition of anonymity — said his country would be better off getting out from under China's shadow and cultivating closer ties with its former arch-enemy the U.S.
"China only gives scholarships for language and culture studies like this, not for advanced sciences and technology that really matter," he complained, pointing at the dancers during the Tuesday event.
He also complained that hewing to China had not paid off. "Too bad I learned Chinese. In Vietnam nowadays, English is the path to a good career," he said.