TEL AVIV — Israeli ground forces joined in bombarding Gaza on Friday, representing a major escalation of the conflict between Israel and Palestinian militants as they edged toward all-out war.
The artillery and air bombardment Friday comprised "the heaviest attacks yet," the Associated Press reported from Gaza, adding that Israel was calling up 9,000 reservists ahead of a possible ground invasion of the Hamas-ruled territory.
The latest attacks were preceded by Palestinian militants firing more rockets into Israel as Israel Defense Forces continued its campaign of air and artillery strikes. On Thursday, several rockets fired from Lebanon toward Israel crashed harmlessly into the Mediterranean Sea.
Israel Defense Forces Lt. Col. Jonathan Conricus said Friday there were no IDF ground forces in Gaza, and he said earlier confusion about that was a miscommunication on his part.
President Joe Biden called for a de-escalation of violence and said he expected to have more talks with leaders in the region, as weary Palestinians somberly marked the end of the Muslim holy month of Ramadan with muted Eid al-Fitr celebrations.
The military buildup and increased shelling came after violence raged on the streets of Israel this week, with rival Arab and Jewish mobs carrying out beatings and torching cars in a wave of communal unrest.
Download the NBC News app for breaking news and politics
As the conflict intensified and the death toll grew to more than 100, political leaders urged an end to the "anarchy" on the streets of Israel's mixed-ethnicity towns.
Prime Minister Benjamin Netanyahu vowed to restore order "with an iron fist if necessary" Thursday. "It doesn't matter to me that your blood is boiling. You can't take the law in your hands," he said.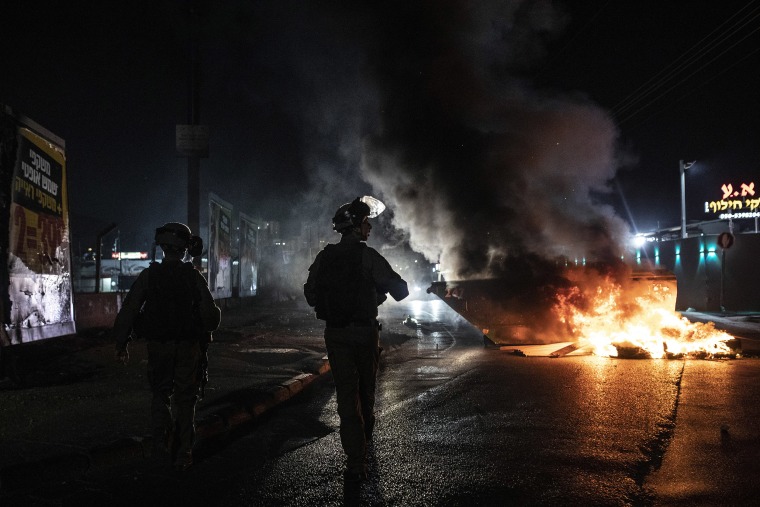 At least 103 Palestinians and seven Israelis have been killed as the Israeli military and the militant group Hamas continue to exchange barrages of airstrikes and rocket attacks, officials on either side said.
Those killed in the Israeli bombardment included 18 Palestinian children, according to the Gaza Health Ministry. Israeli officials reported that one child was among their dead.
Israel says it has been targeting sites related to Hamas, which governs the Gaza Strip, and that it was trying to minimize civilian casualties. It has toppled three high-rise buildings since Monday that it said housed Hamas facilities after warning civilians to evacuate.
At least one top Hamas commander was among the dead, according to the group's military wing.
Israel has prepared combat troops along the Gaza border and was in "various stages of preparing ground operations," according to a military spokesman. No invasion of Gaza by ground troops has been announced yet.
Meanwhile, tensions and clashes that first flared weeks ago in Jerusalem have swept across Israel in a wave of fury as the conflict in Gaza escalates. Dozens of people were arrested in towns across the country where clashes and rioting broke out.
In Lod, near Tel Aviv, groups of Jewish and Arab people ignored a nighttime curfew and battled on the streets, throwing stones and Molotov cocktails.
Two people were shot and one Israeli Jew was stabbed there, police said.
In nearby Bat Yam, an Israeli mob dragged an Arab motorist from his car and attacked him, leaving him in a serious condition.
The domestic violence was among the worst since the 2000 Palestinian intifada.
In a video address to the nation Thursday, defense chief Benny Gantz — who is also the head of a party opposed to Netanyahu — appealed for unity and said the internal strife "is no less dangerous than Hamas' rockets."
Israeli President Reuven Rivlin also urged against a "senseless civil war," international figures warned that the fighting between Israeli forces and Palestinians in Gaza risked spiraling toward an all-out conflict.
Many world leaders have also condemned the violence and U.N. Secretary-General Antonio Guterres urged Israel to show "maximum restraint" while criticizing the "indiscriminate launching of rockets" toward Israeli population centers.
The rocket attacks and airstrikes followed the unrest in Jerusalem, fomented by clashes between Israeli police, Palestinian worshippers and nationalist Israelis — as well as plans to evict Palestinian families from land claimed by Jewish settlers.
By Friday morning, the number of rockets fired toward Israel was around 1,800, the IDF's Conricus said. Around 430 fell short and landed in Gaza, he said.
Incoming flights to Ben Gurion Airport, Israel's main international hub, were diverted Thursday as rocket fire again prompted emergency sirens in the country's largest city.
The flights were diverted to Ramon International Airport, which is in the south of Israel and more than 100 miles from Gaza, which is blockaded by Israel and Egypt.
Hamas, which the United States classifies as a terrorist organization, said Thursday it had also fired at Ramon. Several international airlines have canceled their flights.
The U.S. State Department on Thursday raised its travel advisory to Israel, urging people to reconsider travel to the country, citing the conflict. It told people to not travel to Gaza and also urged people to not travel to the West Bank, citing Covid-19.
Alexander Smith reported from London and Paul Goldman and Lawahez Jabari reported from Tel Aviv.