MANAGUA, Nicaragua — Catholic bishops on Saturday secured the release of dozens of Nicaraguan student protesters trapped overnight inside a church under a hail of gunfire from armed pro-government supporters, a human rights group said.
Two students were killed and died at the church, Carlos Rodriguez, press official for the U.N.'s Office of the High Commissioner for Human Rights, Central America, told NBC News.
Cardinal Leopoldo Brenes of the Archdiocese of Managua also said at a press conference Saturday that two young people lost their lives and two others were injured.
"It is sad for us, and we have said several times that no more should die," Brenes said.
The students took refuge inside the Divine Mercy Catholic Church on Friday after gunmen loyal to President Daniel Ortega began shooting at them at the National Autonomous University of Nicaragua (UNAN) in Managua, prompting fresh criticism of the violent crackdown against opposition to his rule.
This follows months of unrest pitting pro-government forces against protesters that has claimed some 300 lives. The clashes between forces that support President Daniel Ortega and demonstrators calling for his resignation mark the deadliest protests in Nicaragua since its civil war ended in 1990.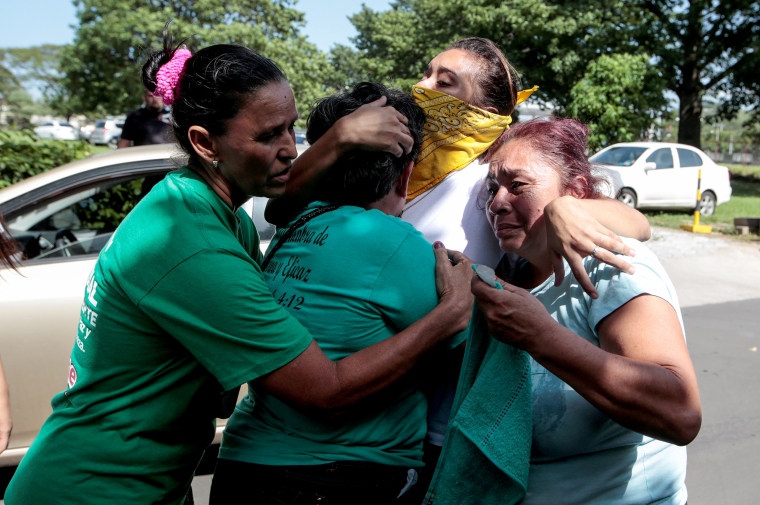 Paulo Abrao of the Inter-American Commission on Human Rights had said on Twitter that at least one youth had died in the church and three people were injured. The mother of a woman who spent the night in the church told Reuters that one student had died.
The mother who reported a death said the students spent the night crouched on the church floor fearing for their lives as the gunmen fired shots that ricocheted inside the church.
"They have no qualms with shooting and killing anybody. ... This morning a young man died inside the church," said the mother, Socorro. She requested not to give her last name for fear of reprisals.
A delegation of Nicaragua's Catholic bishops negotiated the transfer of the students to Managua's metropolitan cathedral, where they were receiving medical care.
The government could not immediately be reached for comment.
On Saturday, three U.S. lawmakers from Florida spoke out about the violence in Nicaragua, calling for it to end.
"#Ortega's paramilitaries trapped dozens of students, including some who are injured, inside a church. The oppression and aggression must end," said Rep. Mario Diaz-Balart, R-Fla. on Facebook.
Sen. Bill Nelson, D-Fla., compared Ortega's regime to that of Venezuelan President Nicolás Maduro and former Cuban leader Fidel Castro, adding that the violence in Nicaragua is "reprehensible."
"The American people stand on the side of the Nicaraguan people," Nelson wrote on Facebook. "They deserve to have their voices heard."
Sen. Marco Rubio, R-Fla., sent out several tweets about the violence in Nicaragua on Saturday, showing images of bullets he claimed were being used by Ortega's "paramilitary criminal gangs."
"This ongoing attack & siege is being conducted by paramilitary gangs which are armed & controlled by Ortega & his wife/VP Rosario Murillo. They will be held directly & personally responsible for those who have already died or been wounded & any others who die or are wounded," Rubio wrote in one tweet.
Nicaragua has been convulsed by unrest since April, when its leftist president proposed reducing pension benefits to cover a social security shortfall. The plan, later dropped, provoked deadly demonstrations and led to demands for Ortega's resignation and early elections.
A nationwide strike emptied streets on Friday as businesses shut their doors, heeding the call of civil society groups that have demanded Ortega's resignation after more than three months of bloody civil unrest.
The general strike followed mass protests that fanned out across the Central American nation on Thursday.
Throughout the day on Friday, television showed deserted streets in Managua and much of the rest of the country while Ortega and his entourage attended a traditional march in the legendary revolutionary stronghold of Masaya, the city from which rebels launched an attack on dictator Anastasio Somoza in 1979.
In brief remarks, Ortega said he lamented the crisis and offered to hold talks with opponents of his government.
"I invite (protesters) to end the confrontation and that all of us unite to give people the peace that Nicaragua needs," he said, flanked by supporters.
Ortega, a Cold War-era U.S. foe, is serving his third consecutive term which runs until 2021.
Representatives of civil society organizations have called for early elections to end the impasse, while Ortega's top diplomat dismissed the possibility on Friday during a session of the Organization of American States in Washington.
"You can't strengthen the country's institutions, you can't strengthen the country's democracy by violating its constitution ... and impose the will of groups that seek a change of government," said Foreign Minister Denis Moncada.