HONG KONG — Violent protests broke out in Zhengzhou, China, this week following contract disputes at the world's biggest Apple iPhone factory, according to videos posted on social media and verified by NBC News.
Large groups of people could be seen blocking roads in the footage taken near the factory run by the Taiwan-based company Foxconn, Apple's main supplier. The factory's iPhone 14 production has been slowed by a labor shortage that began last month, when a Covid outbreak and an accompanying lockdown sent workers fleeing back to their hometowns.
To keep production lines working, Foxconn has offered bonuses and higher salaries to lure workers back and to recruit new employees. A factory worker surnamed Zhang told NBC News on Wednesday that employees hired from across China began protesting over a rumor that they would have to work two additional months in order to receive the full payment promised in their contracts.
Videos that circulated on Chinese social media, some of which were taken down by censors, showed crowds of people in masks protesting against security personnel in white hazmat suits with plastic riot shields. One video appeared to show a protester being repeatedly kicked and punched by authorities. Others showed protesters lying on the ground apparently after being beaten.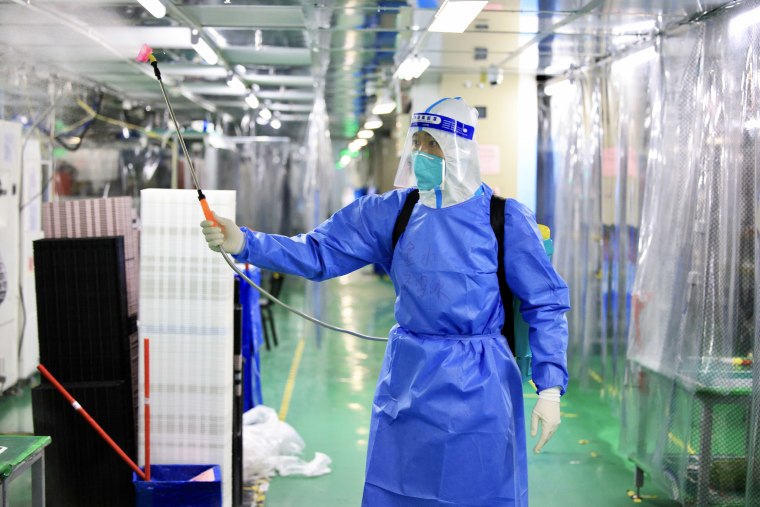 Foxconn said in a statement on Wednesday that its contractual obligations around payments had "always been fulfilled." It denied reports that employees infected with the coronavirus had been living in campus dormitories, saying the accommodations are disinfected and must pass government checks before new hires move in.
"Regarding any violence, the company will continue to communicate with employees and the government to prevent similar incidents from happening again," it said.
Apple said in a statement on Thursday that it had team members on the ground at the factory and was "working closely with Foxconn to ensure their employees' concerns are addressed."
The factory, which can accommodate up to 350,000 people, was previously under a "closed-loop management" system in which employees were confined to campus and isolated from the outside world. Employees have described anger over Covid management and working conditions and cited them as reasons for leaving.
China reported more than 31,000 mostly asymptomatic virus cases on Thursday, beating a record previously set during the two-month lockdown in Shanghai last spring. The country has also reported six new virus deaths since the weekend, its first in six months.
The rise in cases poses a significant challenge to China's efforts to ease its "dynamic zero-Covid" policy, which is taking a growing toll on the economy and wearing on the public. Even after the government announced new "optimized" anti-Covid measures this month, a single case can bring targeted lockdowns and sudden quarantines.
Beijing, the capital, is in near-lockdown with schools, parks and shopping malls closed and a negative Covid test required every 48 hours to enter public places anywhere in the city. Hundreds of residential buildings are currently sealed off, with people unable to enter or leave.
Shanghai Disneyland is set to reopen on Friday "with limited daily capacity," almost a month after a single visitor's positive test prompted it to close.