The vetting of a sign language interpreter who got within three feet of world leaders including President Barack Obama during Nelson Mandela's memorial was being investigated Thursday after organizers admitted they were unaware of his violent history of schizophrenic episodes.
Thamsanqa Jantjie, 34, was accused of gesticulating gibberish during Tuesday's service. Members of the deaf community said his movements did not resemble any recognized form of sign language and some groups accused him of being a "fake."
Jantjie told NBC News that he is currently receiving treatment for schizophrenia and had been violent in the past. He said he started hearing voices in his head during the Mandela event and hallucinated visions of angels flying into the stadium.
Asked by The Associated Press how often he had become violent in the past, he said "a lot," but he declined to provide details.
"There was nothing I could do. I was alone in a very dangerous situation," he said in a separate interview with Johannesburg's Star newspaper. "I tried to control myself and not show the world what was going on. I am very sorry. It's the situation I found myself in."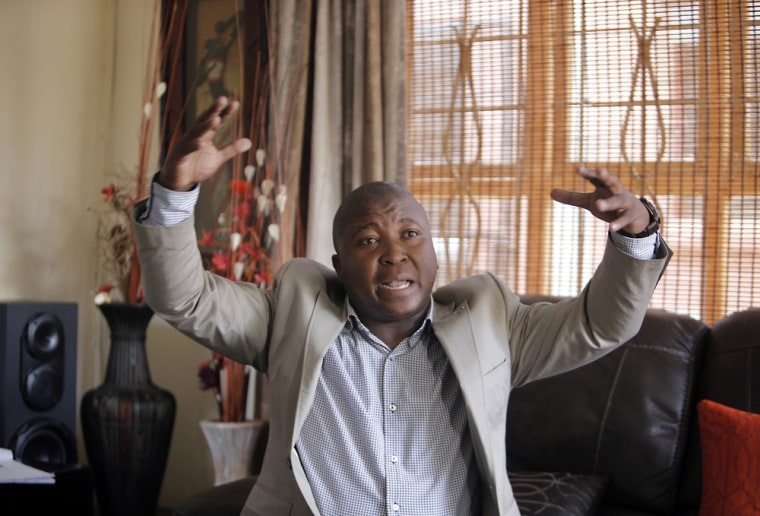 The South African government said at a press conference Thursday that "a mistake was made," adding that officials were "trying to establish what happened with the sign language interpreter."
Hendrietta Bogopane-Zulu, the South African deputy minister for women, children and persons with disability, said that the government was investigating the whether the interpreter had been vetted before the memorial.
"I do not think he was just picked up off the street, he was from a school for the deaf," Bogopane-Zulu added. "Whoever saw him being able to communicate with his deaf peers, with his deaf friends, understood that he can speak sign language. [But] he could not translate. English was a bit too much for him…he became overwhelmed."
Jackson Mthembu, a spokesman for the ruling National African Congress party, told NBC News Thursday that he was concerned that Jantjie's qualifications or medical history had apparently not been taken into account before he was given close access to world leaders at the government-organized event.
"We are not aware that he was being treated for [schizophrenia]. He did not disclose it. That is another thing that is concerning to use because we are having this information for the first time," Mthembu said. "This man was close to many presidents, including our own. We are worried about when we have procured him for activities for our own services. That is what we are concerned about."
NBC News security analyst James Cavanaugh said it was troubling that there were so many questions about a person who had been granted face-to-face access to world leaders.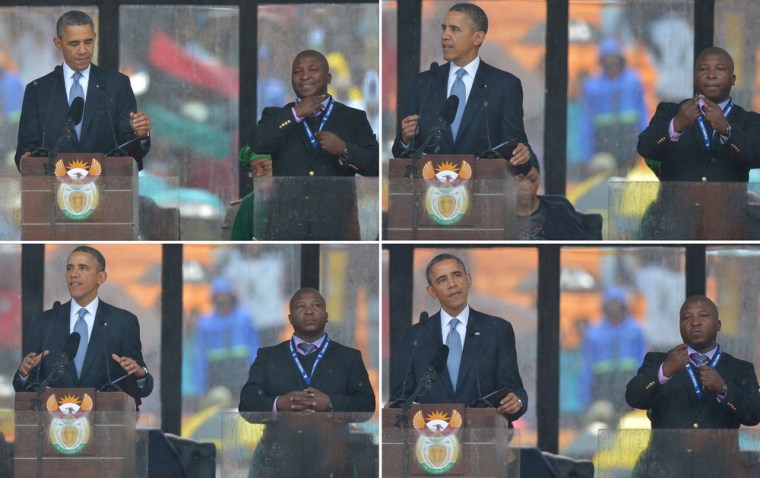 "There should not be a person there if that person is not completely vetted and they know exactly who they are," said Cavanaugh, a retired special agent-in-charge for the Bureau of Alcohol, Tobacco, Firearms and Explosives (ATF). "There are too many terrorists in that region of the world to take even the slightest chance to have a person that's not really known that close to world leaders."
In an email response to The Associated Press, Secret Service spokesman Ed Donovan added that "agreed-upon security measures between the U.S. Secret Service and South African government security officials were in place" during the service.
White House spokesman Josh Earnest played down the incident. 
"It's a shame that ... a service that was dedicated to honoring the life and celebrating the legacy of one of the great leaders of the 20th century has gotten distracted by this and a couple of other issues that are far less important than the legacy of Nelson Mandela," he told reporters on Wednesday. 
Jantjie told Talk Radio 702 he was employed by a company called SA Interpreters. The company declined to comment when contacted by NBC News on Thursday.
Bogopane-Zulu, the government minister, said officials had tried to track down the company's owners but they appeared to have "vanished into thin air."
According to Jantjie, he was paid a $85 day rate for appearing at the Mandela memorial.
Bogopane-Zulu pointed out that most qualified sign language interpreters charge $125 to $165 per hour in South Africa and speculated that a junior official might have opted for the cheapest quote.
The Deaf Federation of South Africa said on Wednesday that it had submitted a formal complaint to the ANC about Jantjie's interpretation after an event in 2012.
But Mthembu, the ANC spokesman, said he was not aware of the complaint and that the party was looking into the matter.
Mthembu said that although Jantjie had appeared as a sign language interpreter at political events on a voluntary basis in the past, the party had not recommended him to the government for the Mandela memorial.
"ANC will look at our procedures in view of what has transpired and in view of some information that is now in the public domain," he added.
NBC News' Chapman Bell, The Associated Press and Reuters contributed to this report.
Related: