EDITORS NOTE: An earlier version of this article reported that Prime Minister Benjamin Netanyahu told lawmakers that an Arab boy had fatally wounded a Jewish child. That was based on an English translation of Netanyahu's speech posted on his official website. However, the Hebrew translation reflects Netanyahu did not say a Jewish child was killed but rather critically injured. The story below has been updated to reflect that.
Disturbing video of a bleeding Palestinian boy writhing on the pavement while Israeli bystanders hurl verbal abuse has spread like wildfire on social media — along with sharply differing accounts underscoring the depth of anger and emotion driving a complex conflict.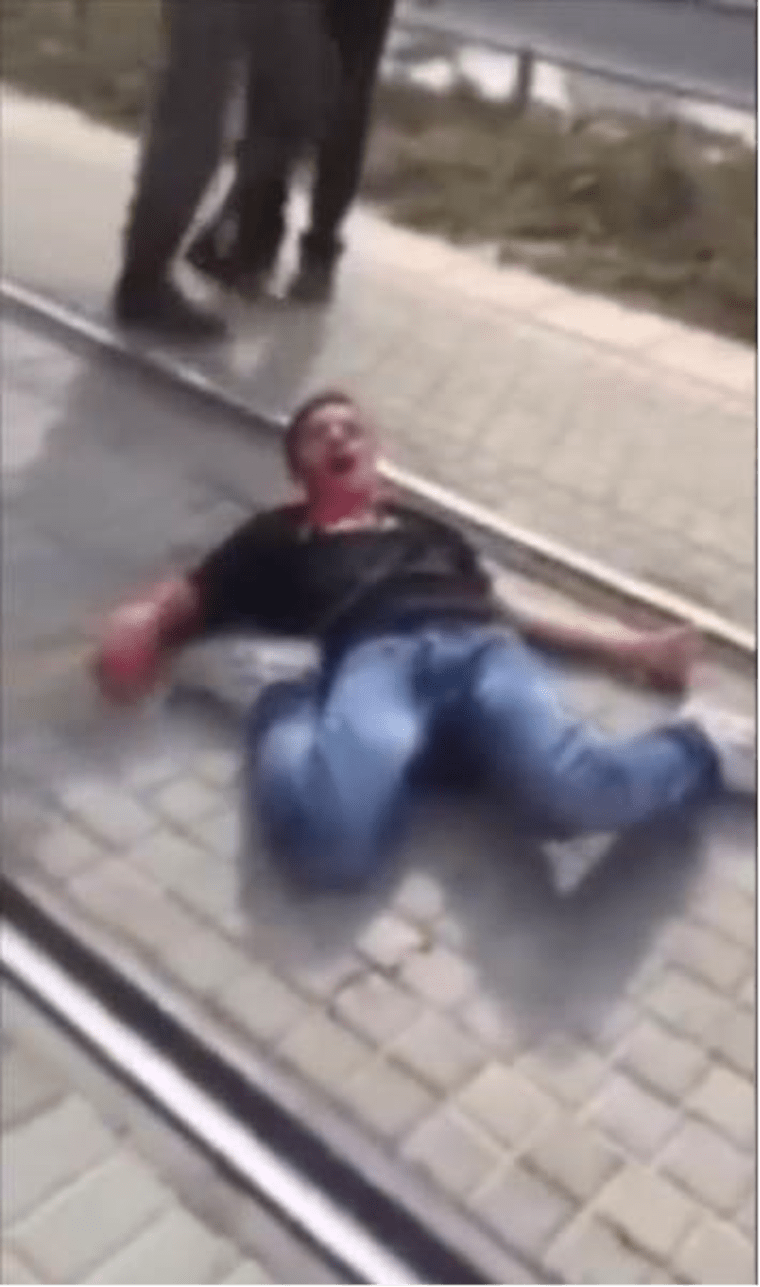 An injured Ahmed Manasrah, 13, was filmed on Monday. What happened to him both before and after that roughly two-minute video has been fiercely disputed and characterized on opposite ends of the spectrum.
One video of Manasrah posted on YouTube opens with a shot of the boy lying on the ground with his legs awkwardly bent under him, a pool of blood beneath his head. Voices are heard shouting "die, you f*****" and "die, you son of a whore" as Israeli authorities mill around, trying at times to push back the gawkers and the person filming.
Manasrah squirms on the ground in distress as an ambulance passes, at times attempting to lift his head and move his legs. The camera cuts away to show people walking before panning back from a distance to show the boy lying on the pavement in the Pisgat Ze'ev neighborhood of East Jerusalem. An officer lifts his shirt and appears to check him as the boy sits up, then nudges the boy with his foot and pushes him back into a lying-down position.
The circumstances preceding the the video could not be independently verified by NBC News.
Israeli police say Manasreh and his 15-year-old cousin stabbed and seriously wounded two Israelis and then ran away before being shot. They released a surveillance video on Tuesday amid the online furor that police said shows what appeared to be Manasrah and his cousin calmly walking past a camera then running back into the frame with what appear to be knives raised.
Manasrah's family denies he attacked Israelis.
Some headlines and videos say Manasrah was run over by an Israeli civilian, others say it was by an Israeli military vehicle. Some say he was shot and bled to death, others say he's in the hospital. There's been little clarity from officials, too, except to confirm that Manasrah is alive.
Articles in the Israeli press have largely focused on the attack which preceded the video, running stories about two teens behind a stabbing which critically injured a 13-year-old. Israeli police have offered several different ages for the stabbing victims, ranging from 13 and to later a 16-year-old. A hospital spokesman told NBC News on Wednesday that the Israeli victims were aged 13 and 21.
"Palestinian Child Bleeds to Death While Israeli Police and Civilians Watch, Shouting Insults," screamed one headline in the Arab media. "Teen Shot by Israelis Stomped On, Left to Bleed to Death," read another.
The swirl of conflicting information prompted the Hadassah Hospital to issue a statement, saying it wished to inform the public that "in stark contrast to circulating rumors" Manasrah was hospitalized, stable and fully conscious.
It was Mansrah's cousin who died — and the Palestinian presidency condemned the 15-year-old's death as an "execution … in front of the media" and a "heinous crime."
Israel has repeatedly stressed that both Manasrah and his cousin — who live in the Palestinian neighborhood of Beit Hanina in East Jerusalem — were "terrorists."
Israeli Prime Minister Benjamin Netanyahu slammed the sea of misinformation and misrepresentation in an impassioned speech telling Palestinian authorities to "stop lying" and inciting violence.
"An Arab boy critically wounds a Jewish child and after that the security forces stop him and prevent him from continuing on a stabbing spree and he becomes a martyr supposedly executed unjustly?" Netanyahu told the Knesset. "First of all, he is not dead, he is alive. Secondly, he was not executed; he was attempting to execute others. He tried to kill and murder, but the exact opposite is presented in a distorted and outrageous manner."
Israeli police spokesman Micky Rosenfeld told NBC News that Manasrah's cousin was shot because he had a knife in his hand, and that the 13-year-old was run over by a car. He also said an Israeli died in the Pisgat Ze'ev attack — though the Israeli Red Cross has no record of that.
Despite the sea of conflicting information, the disturbing video has rocketed across social media — which is already awash with hashtags glorifying the largely young attackers behind recent stabbing attacks. The hashtag "intifada of knives" has been tweeted more than 9,000 times in the past four days, while "revolution of knives" has been used more than 5,000 times.
Rosenfeld dismissed the suggestion that Israeli police were using excessive force in videos such as the one depicting Manasrah.
"We're perfectly aware of what is going on in social media, the incitement that is going around in and around the Israeli Arab community is coming from social media," he said.
According to the Palestinian Health Ministry, 30 Palestinians have been killed in clashes and other violence since Oct. 1. In addition, more than 4,200 have been injured in West Bank and Gaza, the Red Crescent says. Over that same period, the Red Cross says seven Israelis have been killed and 99 others wounded.
Young people have been a unique and driving force in the recent violence, according to Nicholas Burns, a professor at Harvard's Kennedy School and a former Under Secretary of State.
"It's young Palestinian kids in the street who are shooting or knifing Israelis," Burns said.
Adding complexity to what he called "potentially a very significant, and very unsettling and violent uprising" is that it appears the youth are acting alone — without organized leadership.
He said that will make stemming the violence particularly challenging for Israeli authorities.
"There appears to be no pattern to it," Burns explained. "These could be young kids acting via social media, being affected by a small group of individuals organized in cells so it doesn't lend itself to the type of concerted diplomatic effort that you would normally find."
"The attackers appear to have no leadership and so that's a very different and more difficult problem in the short term for the Israelis to contend with," he added.