Russian strongman Vladimir Putin declared mission accomplished Monday and said he is withdrawing his troops from war-torn Syria now that peace talks are underway.
"I believe that the goal set out to the ministry of defense and the armed forces has, in large part, been fulfilled and that's why I order the minister of defense as of tomorrow to start the pullout of the main part of our military grouping from the Syrian Arab Republic," Putin said.
Putin's declaration came as United Nations-led negotiations got underway in Geneva, Switzerland to end the brutal and bloody civil war that has left thousands dead and sent millions more into exile.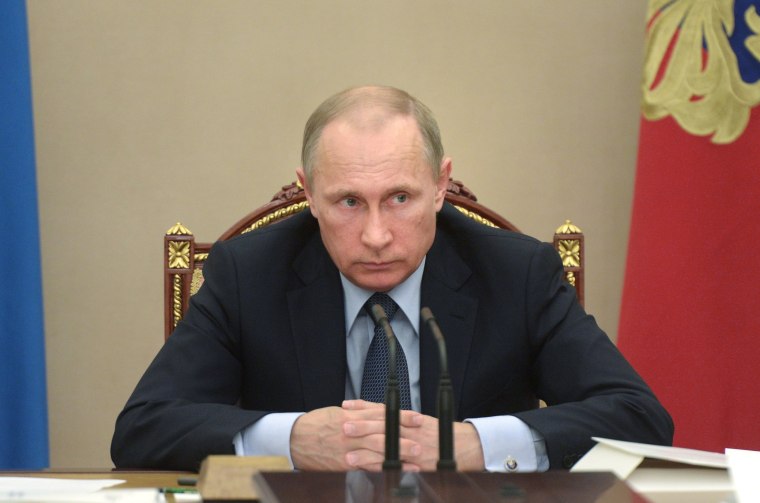 With Russian help, Putin insisted, "the Syrian armed forces and patriotic Syrian forces have been able to achieve a fundamental turnaround in the fight against international terrorism and have taken the initiative in almost all respects."
While the Russian troops will start leaving Tuesday, Putin said that Moscow's airbase in Syria's coastal province of Latakia, and a naval facility in the Syrian port of Tartus, will continue to operate.
Related: History, Fear, Jihad: Why Russia Wouldn't Let Syria Go
Putin later discussed the planned troop withdrawal with President Obama, The White House confirmed in a statement.
"The President underscored that a political transition is required to end the violence in Syria," the statement read.
Putin sent in Russian forces into Syria in October to prop-up tottering dictator Bashar Assad, who was being attacked from one side by Islamic State militants and from the other by U.S.-backed Syrian rebels seeking regime change.
In the months that followed, the anti-Assad forces accused the Russians of taking the fight to them to protect Assad rather than going after ISIS.
Putin denied the charge. "What we are trying to achieve is to contribute to the fight against terrorism, which is a threat to both the United States to Russia to European countries and the whole world," he said.
Syria's state news agency meanwhile quoted President Assad on Monday as saying that the Russian military won't leave the country altogether.
Assad said Russia will decrease its presence to levels "in line with the situation on the ground and the continuation of the cessation of hostilities," state TV quoted him as saying.
Assad said the collaboration between Russian and Syrian forces has secured "victories against terrorism and returned security to the country."
Arizona Sen. John McCain, the Republican chairman of the Senate Armed Services Committee and a harsh critic of Obama's Syrian strategy to oust Assad and battle ISIS, said Putin has saved the Syrian despot's hide.
"The announcement that Russia will begin withdrawing some military forces from Syria signals Vladimir Putin's belief that he has bombed and killed enough of the opponents of the murderous Assad regime to ensure its survival," he said in a statement.