Russia has a new array of nuclear-capable weapons including an intercontinental ballistic missile that renders defense systems "useless," President Vladimir Putin announced Thursday.
The ICBM has a longer range than any other and can reach almost any target in the world, Putin said in his annual address to lawmakers and political elites.
Other new technologies he highlighted included supersonic missiles and drone submarines that he said cannot be stopped.
Putin's marathon speech came 17 days before a presidential election in which he is seeking an unprecedented fourth term in power. It was accompanied by video footage showing some of the new weaponry in action as well as simulations on a giant screen.
To rapturous applause, Putin said the new technology had been developed despite skepticism from other countries about Russia's capabilities.
"I want to tell all those who have fueled the arms race over the last 15 years, sought to win unilateral advantages over Russia, introduced unlawful sanctions aimed to contain our country's development ... you have failed to contain Russia," he said.
He accused the West of "ignoring us. Nobody listened to us. Well listen to us now."
"Russia's strong military is a guarantor of peace on our planet."
He boasted that Russia's new ICBM is "powerful and modern and defense systems will not be able to withstand it," he said. "Missile defenses will be useless against it."
Other new weapons include the Avangard — an intercontinental hypersonic missile that would fly to targets at a speed 20 times the speed of sound — and a weapons system called Kinzhal, already deployed in southern Russia, that uses hypersonic missiles that can strike targets 1,250 miles away.
Putin insisted Russia had "no plans to be an aggressor."
"We are not going to take anything away from anybody. We have everything we need," he said. "Russia's strong military is a guarantor of peace on our planet."
However, he warned: "Any use of nuclear weapons against Russia or its allies … any kind of attack … will be regarded as a nuclear attack against Russia and in response we will take action instantaneously no matter what the consequences are. Nobody should have any doubt about that."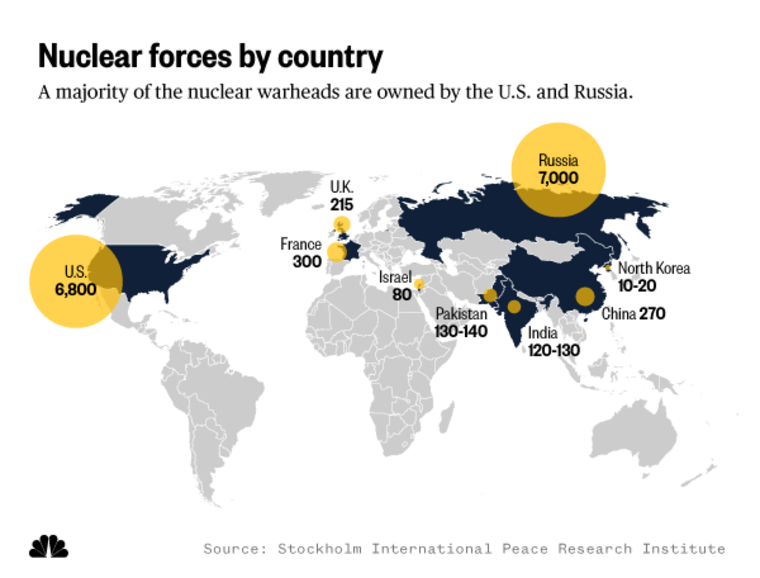 He added: "Our policy will never be based on exceptionalism, we just protect our own interests."
America's nuclear strategy had "raised concerns in Russia," he said.
The display of military prowess came at the end of Putin's state-of-the-nation speech, which lasted almost two hours and covered everything from health care to the annual grain harvest.
Earlier, the leader pledged to improve the lives of Russians by cutting poverty by half, boosting pensions and creating more daycare places. He also called for spending on urban infrastructure to be doubled over the next six years.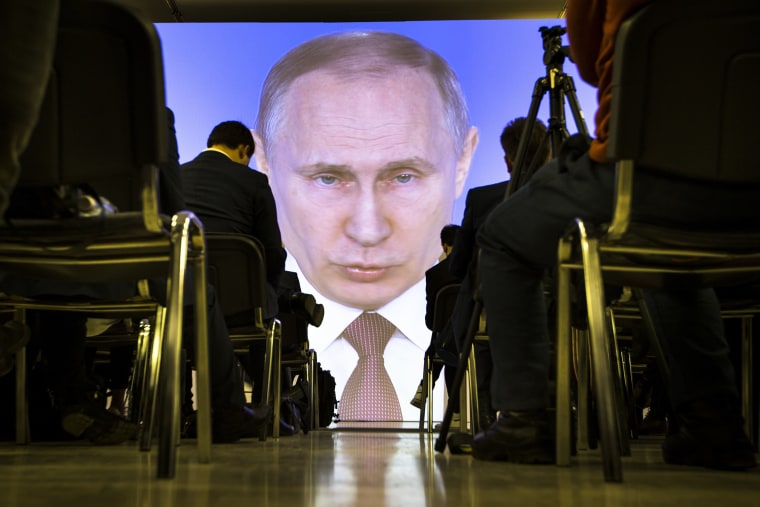 However, there was no detail on how his spending pledges would be funded.
Polls suggest Putin, who has dominated Russian politics as president or prime minister for 18 years, is on track to comfortably secure another six-year term.
He told lawmakers and members of the political elite that Russia had "huge potential" but needed to improve its living standards.
"We have not reached the necessary level in terms of people's well-being," he said.
Some 20 million Russians — or almost one-in-seven people — are still living below the poverty line, Putin added, calling it "unacceptable."
Almost 70 percent of Russians are ready to support Putin in the March 18 election, according to a poll published Thursday by state news agency, TASS.
There has been little in the way of campaigning, and opposition leader Alexei Navalny has been barred from running. He was arrested Jan. 28 moments before a protest march in Moscow. Navalny wants voters to boycott the election, hoping low turnout will take the shine off Putin's likely win.