Russian President Vladimir Putin found himself on the defensive Friday when asked by NBC News' Megyn Kelly to explain his earlier claim that private "patriotic" hackers could have interfered in the 2016 U.S. presidential election.
Putin, in an exclusive interview with Kelly, insisted the hackers could have come from "anywhere" and then they could have — in a savvy and professional way — shifted the blame to make it look like Russia was behind the hacking.
"Hackers can be anywhere. They can be in Russia, in Asia...even in America, Latin America," he said. "They can even be hackers, by the way, in the United States who very skillfully and professionally shifted the blame, as we say, onto Russia. Can you imagine something like that? In the midst of a political battle?"
"By some calculations it was convenient for them to release this information, so they released it, citing Russia," Putin added. "Could you imagine something like that? I can."
Megyn Kelly's interview with Russian President Vladimir Putin airs Sunday at 7 p.m. ET during the premiere of "Sunday Night with Megyn Kelly" on NBC.
Kelly told viewers that Putin — the former director of Russia's domestic spy agency — also suggested that the CIA could have been behind the hacking and noted that many people were convinced Russia was responsible for the assassination of President John F. Kennedy.
The Russian leader's explanation came a day after he declared during an economic forum in St. Petersburg that the cyber disrupters might have awakened in "high spirits" and decided to meddle simply on behalf of their country.
"They might have read a certain article and if they are in the patriotic mood, then they start making their contributions the way they see it positive towards the Russian image," Putin told reporters, according to an Associated Press translation.
Earlier, at a Friday forum moderated by Kelly, Putin likened the U.S. blaming his country for hacking the presidential election to "blaming the Jews" and joked that the newscaster's "underage daughter" could have been behind the hacking.
Echoing remarks President Donald Trump made on the campaign trail, Putin also questioned the need for NATO.
RELATED: Putin Tells Megyn Kelly That Even Children Could Hack an Election
"NATO was established as a Cold War instrument in the fight against the Soviet Union," Putin said through a translator. "There is no longer any … Soviet Union."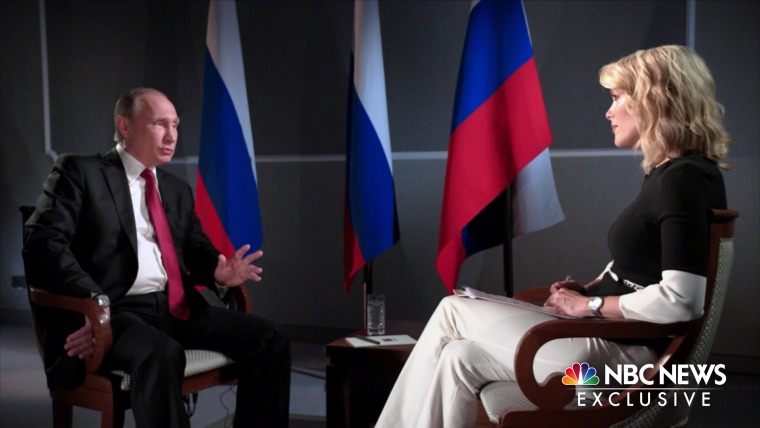 Kelly's interview with Putin came as the House and Senate intelligence committees are investigating alleged Russian interference in the presidential election and preparing to question top Trump administration officials, including Jared Kushner, the president's son-in-law and close adviser.
The U.S. intelligence community believes Putin ordered the hacking, most likely to undermine Hillary Clinton and boost Trump. But Putin has steadfastly denied the allegations.
Trump, during the campaign, repeatedly denied Russia was trying to tip the scales in his favor. He finally conceded in January that Russia has waged cyberattacks on America but insisted they had "absolutely no effect on the outcome."
In March, then-FBI Director James Comey revealed to the House Intelligence Committee that the FBI was probing whether anyone associated with Trump's 2016 presidential campaign was involved in the Russian hacking.
Trump fired Comey in May, sending shockwaves through Washington and sparking accusations that he was trying to torpedo the Russian hacking investigation.
The White House insisted Comey was canned for mishandling the investigation of Hillary Clinton's use of a private email server while she was secretary of state.