Tens of thousands of travelers remained stranded in Bali on Monday as a volcano hurled gray ash nearly 10,000 feet into the air, canceling hundreds of flights and shuttering the island's airport.
Mount Agung's last major eruption occurred in 1963, when it killed roughly 1,100 people.
Among the roughly 59,000 tourists who'd been stuck on Indonesia's top tourist destination was Derek Du Chesne, an actor from California who'd been treated to a birthday celebration trip there from a new girlfriend.
Du Chesne was supposed to fly out overnight Sunday, he said in an interview, but when the couple arrived at Bali's Denpasar International Airport at 10 p.m., it "was like a madhouse."
Outside, there were throngs of drivers hunting for passengers, he said, while inside there were more people than he'd ever seen at an airport. Some of them were crying.
Du Chesne's flight was rescheduled for Monday afternoon, but when he and his girlfriend returned it was just as chaotic.
"It was just craziness," he told NBC News by phone. "Everybody was upset because no one could get out of there."
The earliest he expected to return to Los Angeles was Friday, though he thought that was unlikely.
"The last time this happened, like there [were] weeks before people were able to get out of here," he said. "I'm just trying not to freak out."
Related: See the photos: Indonesians flee as volcano erupts
Another traveler, Pamela Bey, was supposed to return on Tuesday morning to the United States, where she works in technology and real estate. The town she was staying in — Ubud — was roughly 30 miles from the volcano and was mostly unaffected by the eruption. Her airline, Air Asia, never sent a cancellation notice, so she only found out about the mass cancellations after talking to friends back home.
"My friends in the U.S. said: 'Are you okay?'" Bey said. "I was like, 'What are you guys talking about — am I okay?' And then I actually got an email from Air Asia saying, 'time to check in.'"
Erin Burns, of Orland Park, Illinois, had gone to Bali for a wedding. Her return flight on Monday afternoon was canceled, she said, so she was given a discounted rate at the resort where she was staying.
"Some are making the best of it, but you can tell we all really want to get home — or at least have an idea of when we can leave," she said.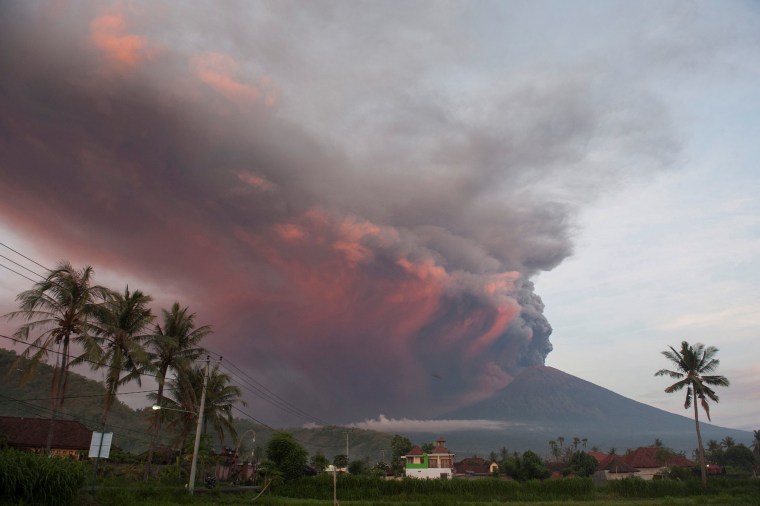 Michael Josh, the CEO of a technology company, was stuck at the airport but didn't exactly seem worried.
"Bali isn't the worst place in the world to get stuck," he said. "It's kind of an extended holiday for me."
Earlier, Indonesian authorities ordered a mass evacuation of people Monday from an expanded danger zone.
Videos released by the National Disaster Mitigation Agency showed a mudflow of volcanic debris and water known as a lahar moving down the volcano's slopes. It said lahars could increase because it's the rainy season and warned people to stay away from rivers.
The agency raised the volcano's alert to the highest level early Monday and expanded the danger zone to 6 miles in places. It said that a larger eruption is possible.
Spokesman Sutopo Purwo Nugroho told a news conference in Jakarta that the extension of the danger zone affects 22 villages and about 90,000 to 100,000 people. He said about 40,000 people have evacuated but others have not left because they feel safe or don't want to abandon their livestock.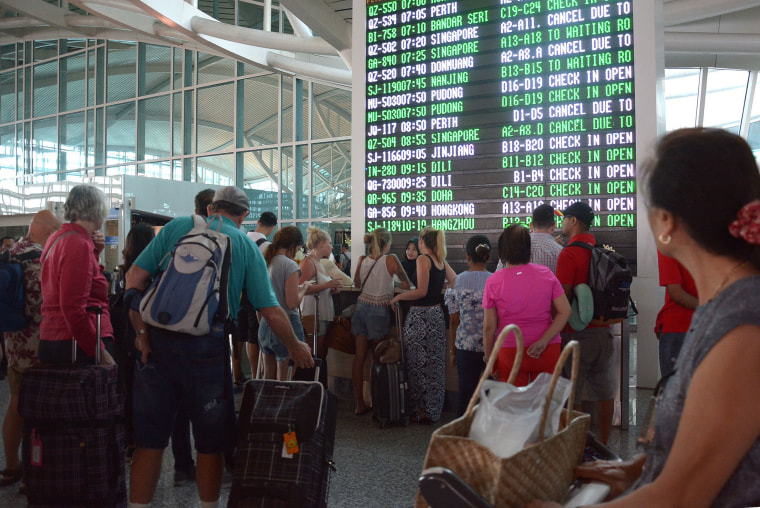 "Authorities will comb the area to persuade them," he said. "If needed we will forcibly evacuate them."
About 25,000 people were already living in evacuation centers after an increase in tremors from the mountain in September sparked an evacuation.
Lava rising in the crater "will certainly spill over to the slopes," Sutopo said.
Bali is Indonesia's top tourist destination, with its gentle Hindu culture, surf beaches and lush green interior attracting about 5 million visitors a year.
Some flights to and from Bali were canceled on Saturday and Sunday but most had continued to operate normally as the towering ash clouds were moving east toward the neighboring island of Lombok.
Indonesia sits on the "Pacific Ring of Fire" and has more than 120 active volcanoes.