LONDON — Ireland appeared to be on course to repeal its strict ban on abortion Saturday, as two major exit polls predicted voters in the traditionally Catholic country have opted to change the Constitution.
A spokesman for one of the main groups opposing the liberalization of Ireland's abortion law conceded that it had lost Friday's referendum by an overwhelming margin.
The Irish people "weighed it in the balance and it came down on one side. I obviously would have preferred it if they had come down on the other," John McGuirk, communications director for the "Save the 8th" campaign told national broadcaster RTE.
The 1983 constitutional amendment equates the life of a fetus to the life of the mother under the law.
This effectively bans abortion in Ireland and terminations are currently only possible if the mother's life is in danger. Abortion is not permitted in cases of rape, incest or fetal abnormalities.
RTE predicted the result would be 69 percent to 30 percent in favor of repeal, while the Irish Times newspaper predicted "yes" would receive 68 percent of the vote, with "no" falling behind on 32 percent.
The exit polls, both released late Friday, are only predictions, with official tallies due Saturday afternoon. But if the numbers hold up, the victory margin for the "yes" vote will be greater than abortion rights activists predicted.
Irish Prime Minister Leo Varadkar, who is in favor of change, did not claim victory after seeing the exit polls late Friday but thanked everyone for voting.
"Democracy in action. It's looking like we will make history tomorrow… #Together4Yes," he tweeted.
Cora Sherlock, a spokeswoman for anti-abortion campaign Love Both, tweeted that if accurate the exit polls "paint a very sad state of affairs."
"But those who voted No should take heart," she added, "the pro-life movement will rise to any challenge it faces."
If exit polls are correct and Ireland has voted to repeal the Eighth Amendment to its Constitution, it will then fall to parliament to establish new laws governing abortions.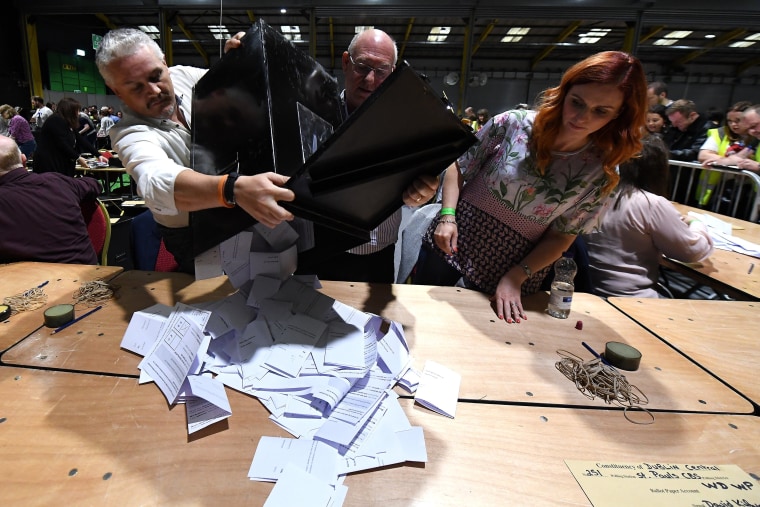 The government proposes that the law be changed to allow unrestricted access to abortions up to 12 weeks of pregnancy. Later abortions would also be allowed in special circumstances.
The once deeply Catholic country has some of the most restrictive abortion laws in the European Union, with Malta — where abortion is banned under all circumstances — the only member of the 28-country bloc with tighter legislation.
More than 3.2 million people registered to vote in the referendum.
Ireland is one of the few E.U. countries that does not allow those abroad to vote by mail or at embassies, so many expatriates traveled to cast their ballots and shared their journeys on social media under the hashtag #hometovote.
Thousands of dollars were raised on Facebook overnight for people who realized that they could make it back to Ireland to vote but could not afford the last-minute flights.
Members of the Abroad for Yes group wired donations to people no longer living in Ireland.
Becky Breakey, who lives in the Hungarian city of Budapest, was able to travel after she posted that it would cost her 555 euros ($644) to return home. Aisling Cotter said she reached her target to get back from London after just eight minutes, while others were given enough money to fly from as far away as Montreal.
The referendum follows an emotive and often acrimonious campaign. Varadkar has warned that the referendum is a "once-in-a-generation" opportunity.