A banned nerve agent has been detected in samples taken from the body of Kim Jong Nam, the half-brother of North Korean dictator Kim Jong Un, Malaysian police said.
Kim Jong Nam, 46, fell ill and died after a woman rubbed his face with a toxic substance at Kuala Lumpur International Airport on Feb. 13. Police have said they believe he was poisoned.
Royal Malaysia Police Inspector General Khalid Abu Bakar said Friday that swabs from the dead man's face and near an eye tested positive for "VX nerve agent," a substance listed as a chemical weapon and banned by an international convention. Other samples are under analysis, police said.
South Korean authorities have alleged the killing of Kim Jong Nam was carried out by North Korean agents.
VX is an odorless and tasteless liquid, and is most dangerous when absorbed through the skin, according to the U.S. Army. Nerve agents interfere with signals from the brain to organs, causing hyperactivity and respiratory failure.
Two female suspects have been arrested in Kim Jong Nam's death, and police said four North Korean nationals suspected to be heavily involved are believed to have left Malaysia for the North Korean capital of Pyongyang.
Police said this week that two other people, an official with the North Korean embassy and an employee for North Korea's state-run airline, are wanted for questioning.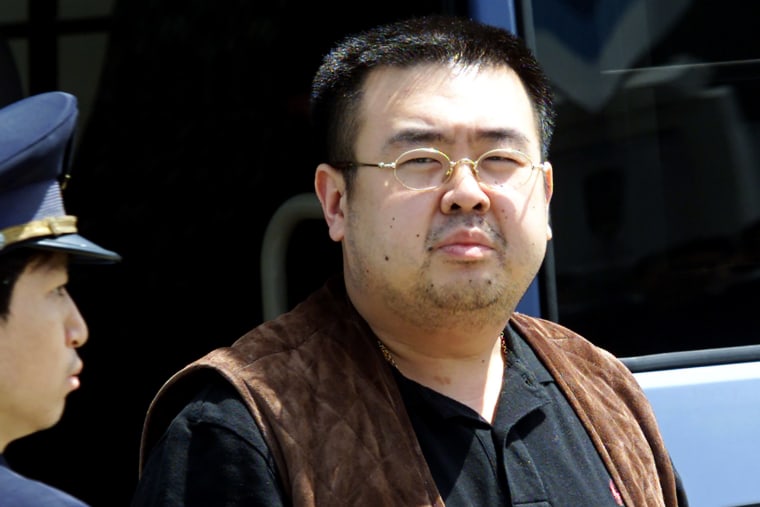 North Korea's state-run news agency on Wednesday lashed out at Malaysia and accused it of acting in concert with its ally South Korea — Pyongyang's foe — to harm the isolated regime, and called allegations of poisoning "wild rumors."
Although Malaysian and South Korean officials have confirmed the dead man's identity, North Korea's state-run news agency, KCNA, has not referred to him by name as Kim Jong Nam.
The killing set off a diplomatic spat between Malaysia and North Korea.
Pyongyang's ambassador has said it will refuse to accept the results of a Malaysian police investigation into the death, accusing authorities of "colluding with outside forces" — a veiled reference to rival South Korea.