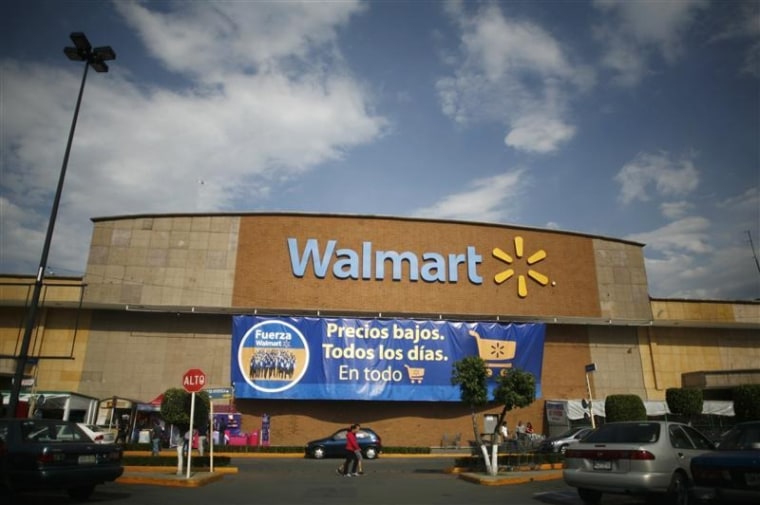 Revelations about an alleged bribery effort and cover-up by top executives at Wal-Mart's Mexican subsidiary could be very costly for the world's biggest retailer, legal and retail experts said Monday.
A New York Times article published over the weekend said executives deliberately obstructed an internal probe into bribery at Wal-Mart de Mexico, the company's largest international division.
The allegations, if proven true, could badly hamper the company and its management for years. They could lead to a time-consuming global probe, substantial financial penalties imposed by U.S. authorities and the departure of some executives, experts said.
"We could easily see criminal prosecutions," said Jacob Frenkel, a former official of the Securities and Exchange Commission.
"The fact that it's a U.S. company working through a Mexican subsidiary does not give the U.S. company protection," Frenkel told CNBC, adding that anyone who is found to have their fingerprints on the alleged wrongdoings "has potential liability, civilly and criminally."
Frenkel said he wouldn't rule out potential jail time for Wal-Mart executives and estimated that the financial consequences of the Times report, if accurate, could cost Wal-Mart $1 billion in settlements and internal investigations.
Wal-Mart shares (WMT) fell nearly 5 percent Monday.
Frenkel added that he expects regulators to pursue any case against Wal-Mart vigorously.
"The Department of Justice has placed a high premium on investigating and prosecuting violations of what is basically our bribery law," he said.
The allegations could also cost Wal-Mart in terms of its future growth, said Deutsche Bank retail analyst Charles Grom.
"It would put a broadside in the growth engine of the company," he said. "Unlike prior bad PR stories in recent years, this will be a material distraction for Wal-Mart on multiple fronts."
BMO Capital Markets analyst Wayne Hood said in a research note that the allegations could hamper the discount chain's future growth both domestically and abroad.
"Articles like this will be used against the company by activists and competitors when it attempts to open stores in the U.S. and abroad," Hood wrote.
In a new twist in the story Monday, two Democratic lawmakers said they are launching an investigation into allegations of bribery at Wal-Mart Stores Inc's Mexican affiliate.
Representative Elijah Cummings, the top Democrat on the House Oversight and Government Reform Committee, and Representative Henry Waxman, the top Democrat on the House Energy and Commerce Committee, sent a letter to Wal-Mart Chief Executive Michael Duke, requesting an in-person meeting with company officials.
The lawmakers also said they are contacting former Wal-Mart executives who may have documents or information relevant to a congressional investigation.
If the Times report is true, it means the company is at risk of being charged under the 1977 Foreign Corrupt Practices Act (FCPA), which prohibits the bribing of foreign officials to get business abroad.
A number of big companies have disclosed potential liabilities under the act in their financial statements to investors, including Alcoa, Avon, Marathon Oil, Kraft Foods and Hewlett-Packard.
One of the largest-ever Foreign Corrupt Practices Act case involved Siemens AG. In 2008, the electronics and electrical engineering company paid a $450 million fine over allegations its executives and agents made payments totaling approximately $1.4 billion to bribe overseas officials in turn for business.
"Wal-Mart has a squeaky-clean image when it comes to these sorts of things, so I'm quite surprised they would try to sweep in under the carpet," Patrick McKeever, a senior equity analyst at MKM Partners, told CNBC.
McKeever noted that much of Wal-Mart's recent growth has come from opening stores overseas, and so any increased regulatory scrutiny on its international operations could hinder the company's overall growth.
He also said Wal-Mart's statement on the bribery allegations "didn't do the company any favors," as it didn't refute the allegations against the company, and so allowed for the possibility that they are true.
In the 10 years he has covered Wal-Mart as a stock analyst, "this is by far the most damaging story," he said. "It's a big deal."
One option Wal-Mart will have is to remove some executives involved in the alleged bribery or cover-up as this could make it easier to reach an out-of-court settlement with the Department of Justice.
"Among the remedial actions is 'house cleaning' of anyone involved in illegal conduct," said Richard Cassin, a lawyer who is an expert on the FCPA and writes a blog about it.
"If a company can say those involved in the questionable conduct are already gone, the DOJ is likely to look more favorably on the company and current management."
Wal-Mart said it had disclosed its probe to the DOJ and SEC. The company also said it had taken steps at the Mexico unit, known as Walmex, to boost internal controls to make sure it was compliant with the FCPA.
But, according to the Times, the disclosure came only after the newspaper informed Wal-Mart that it was looking into the bribery allegations, years after the bribes were said to first come to management's attention.
According to the Times, Wal-Mart Chief Executive Mike Duke and former CEO Lee Scott, who still sits on the company's board, were among senior executives allegedly aware of the situation. Duke was put in charge of Wal-Mart's international division in 2005.
Some retail experts said they thought that Wal-Mart would be unlikely to sacrifice Duke in the investigation and any related settlement talks with the government.
"I don't get the sense that Mike Duke's going to lose his job over this," said Joseph Feldman, senior retail analyst at Telsey Advisory Group. "I think that they'll try to put the spin on it that they have been putting on it -- that it happened years ago, they rooted it out and it doesn't happen anymore."
The Wal-Mart allegations will undoubtedly leave a black mark on the company's name, said Yale School of Management corporate governance expert Jeffrey Sonnenfeld.
"This is a great global company, and it didn't have to cheat to win," Sonnenfeld told CNBC.
"A company's reputation is worth a lot," he said. "Great companies in the past -- Johnson & Johnson, UPS -- they know there's a great value in having this sense of cleanliness and a reputation that stands for something beyond what you think you can get away with."
Wal-Mart reported consolidated net income of $16.4 billion for the year ended Jan. 31, 2012, down 3.6 percent from the same period the year before.
Reuters contributed to this report.
Will the bribery allegations hurt Wal-Mart ? Discuss it on Facebook.