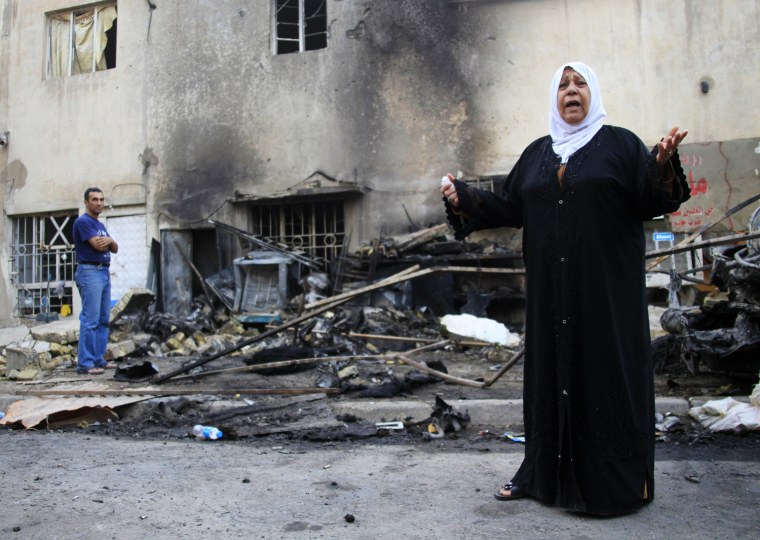 BAGHDAD — The bloodiest year since 2008 has left many Iraqis terrified of leaving their homes for fear of being killed by bombs or kidnapped.  
A series of recent attacks have pushed the death toll for 2013 past the 7,000 mark, according to the casualty database Iraq Body Count.  It is the highest annual figure since Iraq was recovering from a sectarian civil war five years ago in the wake of the U.S.-led invasion to topple Saddam Hussein.
On Sunday alone, car bombings in Baghdad, an explosion at a market, and a suicide bomber assault on soldiers lining up for their pay in the north of the country killed at least 66 people. 
Experts say the skyrocketing death toll is due to a "nasty combination" of the country's existing power struggle between religious factions and spillover from the civil war in neighboring Syria.
'We don't go out at night'
"The explosions and assassinations happen all the time and we are afraid to even go out in public spaces such as crowded markets for fear of an explosion or harm," said Ashraf Jabbar Mirza, a 40-year-old father of three whose uncle was killed by armed men in 2010. "Now there is so much more violence."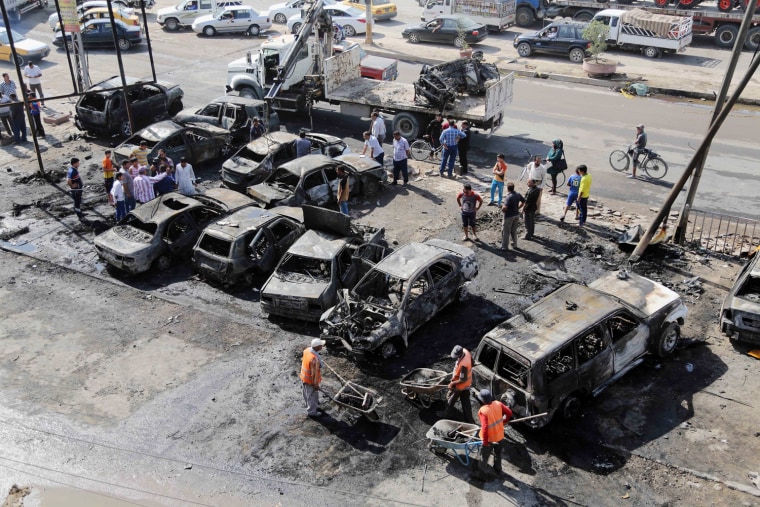 The year's death toll reached 7,000 on Oct. 20 when a blast in a Baghdad cafe and several improvised explosive devices across the country killed at least 80 people, according to Iraq Body Count.  
The organization, which calculates its figures based on media reports, said there were at least a dozen violent deaths each day during the past two weeks.
According to Iraq Body Count, the year with the most violent civilian deaths in Iraq is 2006, when 29,287 people died. This dropped dramatically the next year to 9,929 deaths in 2007, and ultimately fell to a post-invasion low of 4,147 in 2011.  
Hazem Mohamed Ali Shaaban, a 38-year-old from Baghdad, said the continuous violence has had a huge effect on the way ordinary citizens live their lives.
"These days are very difficult. We don't go out at night in fear of explosions and assassinations," he said. "I do not expect things to improve with the bombings happening every day, especially now they are occurring near cafes where the youth frequent."
Madida Hassan, 43, has experienced the country's descent into lawlessness first hand.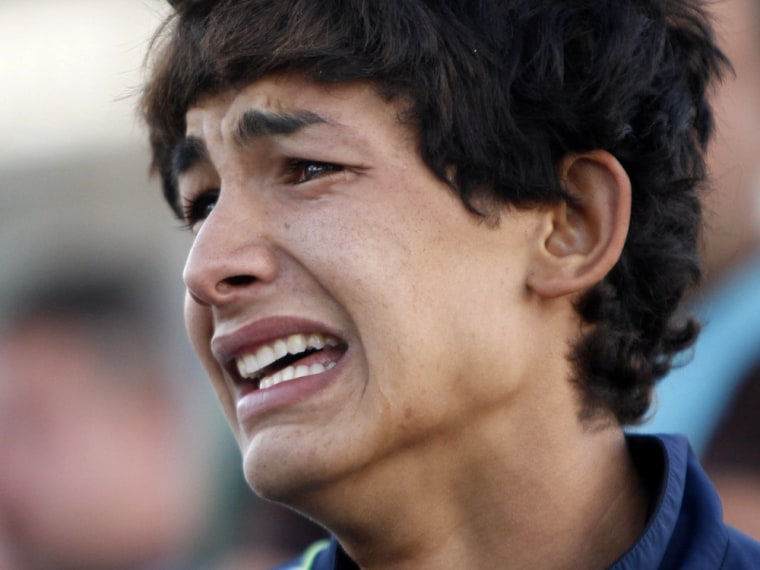 Hassan, who runs a humanitarian organization, says she was was kidnapped by armed men last year. She accepts she is more at risk because of her work but speaks defiantly of her perilous task.
"I continue to do my job despite the kidnappings that happened to me," she said. "I went back to work with full strength, not in fear of terrorism, no matter what happens."
Syria fanning sectarian issues
Violence in Iraq has been perpetrated by Shiite and Sunni Muslims before and after the U.S.-led invasion. But according to Jane Kinninmont, a senior research fellow of London-based think tank Chatham House's Middle East program, this year is different because the flames of those sectarian tensions are being fanned by the worsening civil war in Syria.
"The two are neighboring countries and very closely linked," she said. "Most people in Iraq have got families in both countries, and Iraqis from all sides of the sectarian divide have been fighting for both sides of the conflict: [Syrian President Bashar] Assad [an Alawite, which is a branch of Shiite Muslim] and his Sunni opposition. This is really adding to the sectarian tensions in Iraq."
In Baghdad, Mirza agreed that outside influence is having a negative effect. He said that while "political differences are filling people with sectarian rage" within Iraq, the violence has been made worse by "interference from neighboring countries."
But while Syria is a major factor, Kinninmont said the root of the violence is the failure of Iraqi Shiites and Sunnis to come to a political compromise after the official U.S. withdrawal in 2011.
Shiites form more than 60 percent of Iraq's population, but they were marginalized under Saddam's rule. Now the government is led by the Shiite-supported Prime Minister Nouri al-Maliki, and Kinninmont says many Sunnis feel persecuted by the administration's "wide net" of security and anti-terror laws.
"After the U.S. withdrawal it was up to the Iraqi government to come up with a political bargain which included all groups," Kinninmont said.
"Most Sunni Muslims are not involved in violence," she said. "Sunnis were actually central in subduing militant groups [such as al Qaeda in Iraq]. But certainly right now it is the marginalized Sunnis who have more of an incentive to seek violence because many of them do not feel that they have a democratic prospect."
Hassan, like many Iraqis, said she feels frustrated at the tragic effect of this failure of political compromise.
"The lack of an agreement of the political groups leads to more instability and deaths or assassinations," she said. "If Iraqi politicians agreed, Sunnis and Shiites alike, we would achieve security."
'Cowardly acts of violence'
For Iraqis, the future appears unclear.
Sami Mohammed al-Mashhadani's 24-year-old son was killed in a "terrorist attack" in Ameria on April 18.
"I cannot say anything except that these acts are cowardly acts of violence," the 56-year-old said. "The acts are increasing, and nobody knows what is our fate."
NBC News' Zainab Abdul Aziz contributed to this report. Alexander Smith reported from London.
Related: