As rioting and protests erupted for a third straight day in Egypt on Thursday, social networking sites were abuzz with talk that Friday's rallies could be some of the biggest so far calling for the ouster of President Hosni Mubarak after 30 years in power. Millions will gather at mosques across the Cairo for Friday prayers – providing organizers with a huge number of people already out on the streets that they hope to tap into.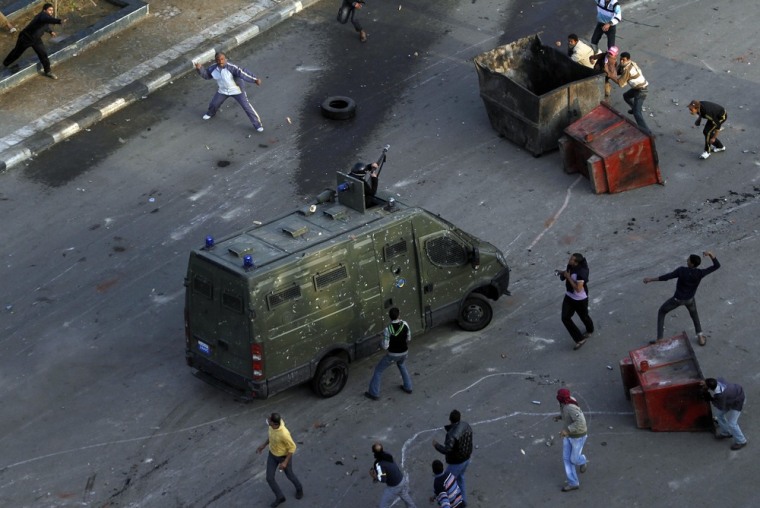 Here are some good resources on the Web to watch for developments:
Twitter:
Twitter has been blocked in Egypt, but news about demonstrations, arrests and police retaliation are still being circulated on the Twitter hashtags #Egypt and #jan25. The date Jan. 25 refers to when the violent mass protests started. 
Al Jazeera's staff has compiled tweets on the protests. YouTube
Protesters continue to upload video, like this one of a man standing in front of a water-cannon truck, dubbing it, "Egypt's Tiananmen Square moment." 
This YouTube video shows protests at the Tahrir bus station in downtown Cairo on Wednesday.
Blogs, web sites
The English edition of the independent Egyptian newspaper Al-Masry Al-Youm has regular updates. They reported that the Muslim Brotherhood, the largest political opposition organization in Egypt, will join Friday's demonstration.
The Guardian newspaper is live blogging the protests.
Global Voices, an international community of bloggers, translates local social media into English and has a page dedicated to Egypt Protests 2011.  
 
Al Jazeera has extensive coverage of the protests.
The New York Times' Lede blog has coverage of the protests – particularly video emerging on social media sites.
The Council on Foreign Relations has coverage of the foreign policy implications with one of the Middle East experts, Steven Cook, blogging from Cairo.  
Foreign Policy also has an interesting analysis on the million-dollar question: "Will the Arab revolutions spread?"
The Economist also covers the current Middle East phenomenon that Egyptians have jokingly dubbed a "Tunisami" and the question of whether the wave of popular revolt on the Arab street will take down Egypt.
See a slideshow of some of the Egyptian bloggers who brave police intimidation to spread information.
If you know of other Egypt news resources, send them in? We'll continue to update this list.