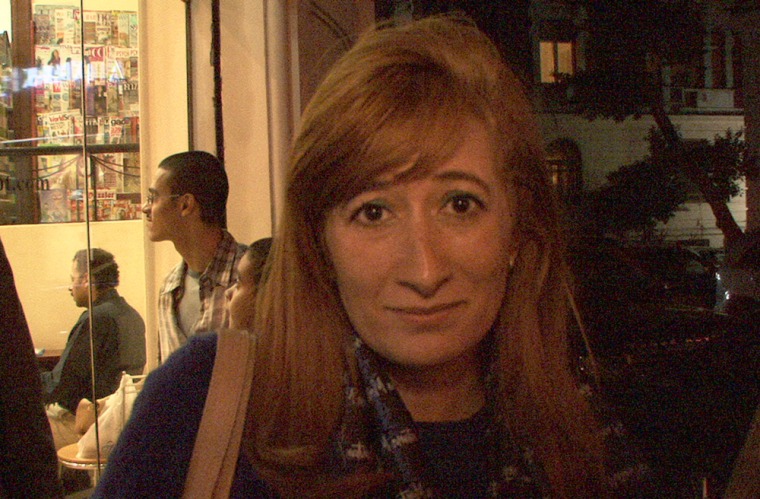 CAIRO, Egypt - Sympathy for the Palestinians runs high in neighboring Egypt as Israel reportedly considers a ground invasion of Gaza if peace efforts fail.
The country, which is led by Hamas' parent movement, the Muslim Brotherhood, has been spearheading efforts to forge a ceasefire between Gaza and Israel. President Mohammed Morsi has hosted leaders from Hamas and two key allies, Qatar and Turkey, to seek a way to end the fighting.
Morsi, who came to power earlier this year after a popular revolt ousted longtime American ally President Hosni Mubarak, also recalled Cairo's ambassador from Israel to protest the offensive.
But while the government's stance reflects the will of many regular Egyptians who support the Palestinian struggle against what is widely viewed here as Israeli aggression, those who spoke to NBC News in the capital, Cairo, also worry that Morsi will drag them into conflict with their powerful neighbor. 
"We are very scared of what is happening.  We have been through war," said Dalia al Sayed, host of a cooking show on Egypt TV told NBC News.  "Let the Palestinians unite, not drag Egypt in to start wars."
Al Sayed's family knows the price of war.  She was born in Suez during the 1967 war between Israel and Syria, Egypt and Jordan during which her family were forced to flee.  Al Sayed believes that President Mohamed Morsi's government is trying to distract Egyptians from problems at home.  
"The [2011 Egyptian] revolution was not done in order to take money, resources and give them to Gaza," she said. "Egypt is suffering.  People can't find food to eat.  Its not up to Egypt to get involved."   
Related links:
Clinton heads to Mideast on peace mission, Hamas remains defiant
Key players in the Israel-Gaza cross-border conflict
How Israel's 'Iron Dome' intercepts incoming rockets in Gaza conflict
Israeli government websites under mass hacking attack
Hamas says 'land war' would cost Israeli PM Netanyahu the election
Businessman Mohamed Abdel Aziz is happy to see Morsi adopt a policy independent from United States, Israel's main backer, but worries that Washington may cut Egypt's annual $2.1 billion aid package.
He, like others, said that the government should concentrate on Egypt's own problems, like worsening security, the high cost of living and rising unemployment.
"We can't always say 'Yes, yes, yes [to the U.S.].' I like the response but I am afraid of the results," Aziz said.  "If you don't have control of feeding your people, you can't control your decision making.  Morsi took the decision. He will bear the consequences." 
Nevertheless, there are those who would favor Morsi breaking more dramatically with the United States and Israel.
At a poorly attended demonstration held by the Muslim Brotherhood after Friday prayers at Egypt's iconic Al Azhar Mosque, emotions ran high in favor of Egyptian intervention. 
Sami Abdel Halim Haidar, a daily laborer in Cairo, said he came to stand in solidarity with Gazans. 
"Yesterday, I saw a baby killed.  What religion, what law, what country is ok with that?" he told NBC News, adding that the border with Gaza should be left open for anybody who wants to wage holy war against Israel.  "I want to cut relations with any country that stands by Israel or supplies them with weapons."
"It's very easy to condemn the actions of Israel and issue a U.N. statement, but we need to make decisions that show how we have changed and are not following the U.S. or Israel anymore," he said.
Khalid Kamal, a bearded man dressed in the simple white gown and head covering preferred by Islamist fundamentalists, said he wanted to tell Israel that the violence in Gaza so far was minor compared to what it could be. 
"[Israel and the United States] are provoking us to perform Jihad and we are ready for our blood to be spilled at the gate of the holy city [Jerusalem]," he said.
But veteran publisher and opposition activist, Hisham Kassem, said that if Morsi and the Muslim Brotherhood truly cared about the Palestinian people they would encourage Hamas to stop firing rockets across the border.
"It is the citizens who bear the brunt," he told NBC News.  "People are saying the last thing we want Morsi to do is take us into war."  
Kassem worried that Morsi has played all his diplomatic cards too early.
"He sent his Prime Minister to Gaza and withdrew the Egyptian ambassador.  Suppose Israel enters Gaza, what does he have next?" 
Taha Belal, NBC News, contributed to this report.
More world stories from NBC News: