AUSCHWITZ, Poland — They gathered at the end of railway line at Auschwitz, as they had done more than 70 years ago. The tracks separated the survivors in two, as they had once separated those who would live from those who would go to the gas chambers a hundred yards away and die, often within an hour.
They were here — nearly three hundred of them in the bitter cold and snow — to remember the day exactly 70 years ago when Nazi rule here ended and the camp was liberated. They sat on the very ground where the ashes of a million Jews are buried.
They are not yet free from their memories.
"How can I ever forget the smell of burning flesh?" asked Roman Kent, now 85. "We cannot forget," he insisted, "because if we were to forget, the conscience of mankind would be buried alongside the victims."
Addressing the presidents and heads of state gathered before him at Auschwitz, he cried out: "To remember is not enough! We survivors do not want our past to be our childrens' future!"
With that, he broke down. But from the tearful faces of his listeners, it was clear his words had sunk in.
Many who sat before the so-called Death Gate here — where the selections for life or death took place — have deep worries about the status of Jews in Europe today.
Ronald Lauder, an American philanthropist, told the audience that "Jews are targeted in Europe once again because they're Jews ... it looks more like 1933 than 2015. Anti-Semitism will grow if no one speaks out."
Which is precisely why the survivors are here. They are what the Polish President Bronislaw Komorowski called "the guardians of the memories of Auschwitz."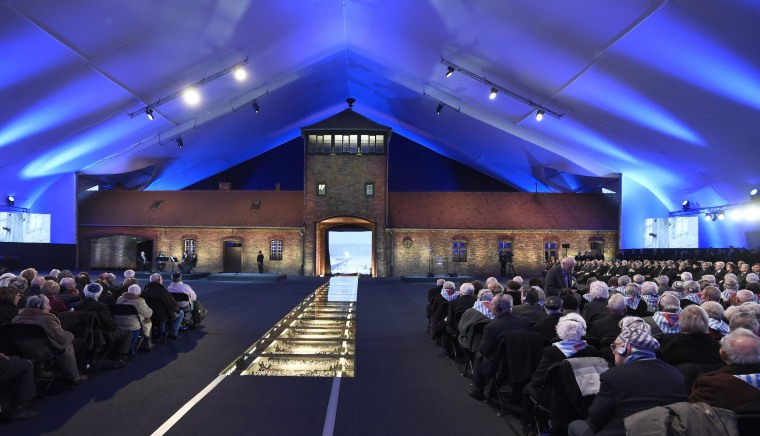 But only by passing on their memories to the next generation do they feel their lives will have been saved for a reason. As Marcel Tuchman, another American survivor from New York, told me, "remember, remember, remember and continue telling the story ... that's what we must do. Tears are not enough."
But there were plenty of tears today. The survivors, mostly, hold them back. To shed tears in Auschwitz was to invite execution. Younger generations have no such break on their emotions.
The survivors are proud. Kazimierz Albin, one of the few to escape Auschwitz, fleeing the camp in 1943 at 21, strode to address the ceremony Tuesday as if the camp was his.
And this is what they have done; they have reclaimed the place of torture and death, and turned it into a living warning from history. "Never forget!," they cried out today.
They are leaving Auschwitz now, a dwindling band of survivors, most of them in their late eighties. This may be the last major commemoration to be attended by so many of them. But they have raised their voices here once again and their words echo well beyond the bleak buildings of the world's most notorious death camp.