Dame Vera Lynn, the beloved British singer whose melancholy performance of "We'll Meet Again" put a brave face on the overwhelming sadness of World War II, died on Thursday, her family said.
She was 103.
"We are deeply saddened by the passing of Dame Vera Lynn at the age of 103," according to statements posted on the singer's social media.
"We thank Dame Vera for her invaluable contribution to the world, and for the joy and warmth she has spread to so many through her music and charitable causes. Keep smiling and keep singing."
Sir Paul McCartney said Lynn's voice will "sing in my heart forever."
"Dame Vera Lynn was a strong and inspiring lady who has done so much for Britain," the famed Beatles singer said in a statement.
"I am so sad to hear of her passing but at the same time so glad to have met her and experienced first-hand her warm, fun-loving personality. Her voice will sing in my heart forever. Thanks Vera. Paul."
Prime Minister Boris Johnson also said Lynn's work will resonate with the British people for "generations to come."
"Dame Vera Lynn's charm and magical voice entranced and uplifted our country in some of our darkest hours," according to a statement from 10 Downing Street. "Her voice will live on to lift the hearts of generations to come."
Lynn died as one of her era's last surviving acting and singing stars, having established herself as an icon of Great Britain's greatest generation, which successfully defended Europe against fascist forces of Germany and Italy.
Known as "the Forces' Sweetheart" for her World War II performances, Lynn scored hits with with "We'll Meet Again," "The White Cliffs of Dover," "A Nightingale Sang in Berkeley Square" and "There'll Always Be an England."
"We'll Meet Again," composed in 1939 by Ross Parker and Hughie Charles, captured the terribly sad moments when countless Allied servicemen marched off to war and optimistically vowed to come home — all while knowing those odds were shaky at best.
The lyrics included the well-known lines: "We'll meet again. Don't know where. Don't know when. But I know we'll meet again some sunny day."
"'We'll Meet Again' had the words, it was optimistic. It said we will meet again, all this trouble will be over and we'll all be nice and happy and home back once more," Lynn said in an interview with the Imperial War Museum in 1988.
"These were the songs that helped them to think of home, helped to go on fighting, that they were fighting for something that meant something to them and to everybody else and their loves ones and families. And it gave them hope and it gave them courage to go on doing what they had to do at that time."
Lynn said she carefully picked the songs she performed during World War II, knowing the fans listening were either servicemen or loved ones of those in harm's way.
"It wasn't just important that it had to be a song that I liked and thought I could sing it well, but it had to mean something to those that were listening," Lynn told the museum.
Michael D. Langan, writing as the culture critic for Fort Myers NBC affiliate WBBH, said the lyrics "We'll Meet Again" give hope to anyone facing their own, or a loved one's demise.
"The song will bring tears to your eyes," Langan wrote in 2019. "Don't know know where, don't know when, but it will happen. That's enough for me."
And even in 2020, those words — "We'll Meet Again" — seemed just as poignant.
Queen Elizabeth II seemed to give a nod to Lynn on April 5, as she addressed the nation at the height of the coronavirus pandemic.
"We should take comfort that while we may have more still to endure, better days will return," the queen said. "We will be with our friends again. We will be with our families again. We will meet again."
When Lynn turned 100, a 350-foot-tall image of her face was projected onto Cliffs of Dover in honor of that song and the powerful symbolism of that British landmark.
"As we look to the white cliffs on Monday, I will be thinking of all our brave boys — the cliffs were the last thing they saw before heading off to war and, for those fortunate enough to return, the first thing they saw upon returning home," Lynn said just ahead of her 100th birthday in March 2017.
"I feel so blessed to have reached this milestone and I can't think of a more meaningful way to mark the occasion."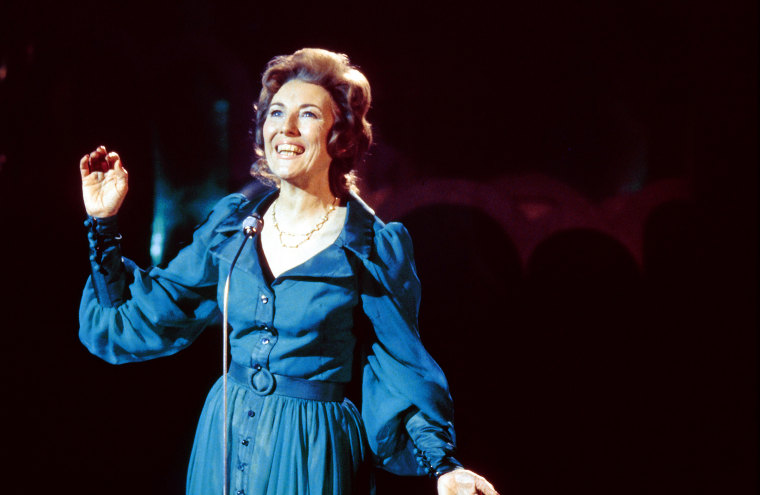 The iconic performer was born Vera Margaret Lynn in East Ham, in the London borough of Newham, on March 20, 1917, to Bertram Samuel Welch and Annie Martin.
She could recall performing as young as age seven. As a teenager and young performer, she came to prominence in the big band era of British music, leading up to World War II.
She sang with famed British band leaders Billy Cotton and Bert Ambrose, and regularly appeared on a BBC radio show of noted pianist Charlie Kunz.
Lynn vividly recalled celebrating her dad's birthday in the family garden on Sept. 3, 1939, when they heard on the radio that Great Britain had entered the war.
"One of the first things I thought of: What was going to happen to entertainment?" Lynn recalled in the Imperial War Museum interview in 1988.
She soon found herself performing at every base and hospital around the British Isles and beyond.
"It soon became apparent that entertainment was going to be a necessity a weapon against ... to keep morale up," she said. She voiced a BBC radio show during the war, "Sincerely Yours" on Sunday nights when she'd sing songs and read letters from servicemen.
Lynn called herself an "unsophisticated" young lady from the East End — and the perfect messenger to connect with soldiers on the front.
"I was very similar to their sisters and their girlfriends. They thought I was one of them, on their social level and they could relate to me," Lynn said. "I gave them news from home about a baby being born to Sgt. Jones or somebody other. I'd go visit the wives take some flowers and talk about it on another program."
She received one of her nation's highest honors in 1975 when Queen Elizabeth II made Lynn a Dame Commander of the British Empire.
Lynn's husband of 57 years, saxophonist and clarinetist Harry Lewis, preceded her in death in 1998. The two had met when Lewis was playing for Bert Ambrose & His Orchestra. They are survived by a daughter, Virginia Lewis-Jones, who was born in 1946.
Lynn remained active well into her senior years and in September 2009 became the oldest person, at age 92, to be No. 1 on the British album charts with "We'll Meet Again: The Very Best of Vera Lynn."
In an interview with The Associated Press in 2015, Lynn said it's in the British DNA to keep a stiff upper lip and make the best of even the most dire circumstances.
"I suppose for the older people like myself, we can remember the times when we couldn't get this or we couldn't get that ... it's something that doesn't bother us," she said.
"Because we coped then and this is how people have got to cope today. And they will cope. We've always coped no matter what the odds were."