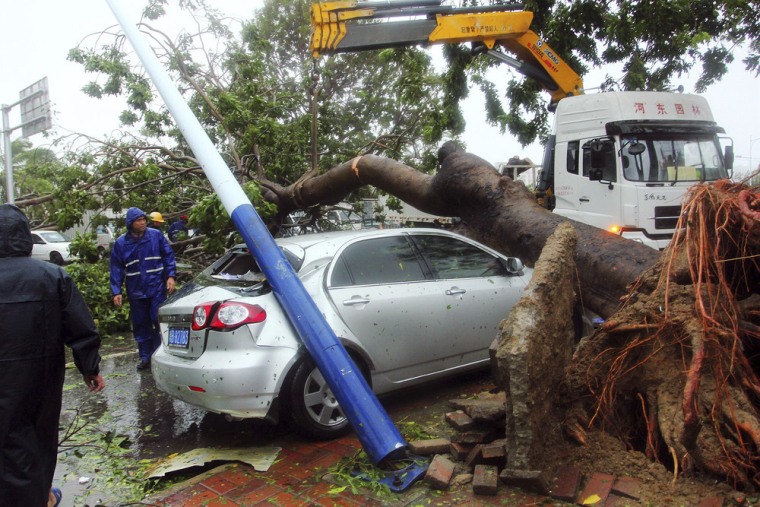 Typhoon Haiyan continued on its destructive path into Vietnam and China Monday, although it had weakened slightly and was later downgraded to a tropical storm.
At least 13 people were killed and 81 injured in Vietnam according to the Voice of Vietnam, the country's national radio broadcaster.
Chinese state-run news agency Xinhua said at least nine people had died and seven were missing in Hainan and Guangxi provinces.
Gusts of up to 74 mph also left thousands without power, uprooted trees and ripped billboards from their stands after the storm slammed into Vietnam at around 3 a.m. local time (3 p.m. ET) the station reported.
The storm made landfall near the city of Cam Pha in Vietnam, a small city about 100 miles east of Hanoi according to Kevin Noth, a lead meteorologist at The Weather Channel, who called Haiyan the most powerful tropical cyclone of the year.
"When it hit Vietnam it was still a typhoon," he said. "But then it weakened sufficiently to be downgraded to a tropical storm. It is certainly the most powerful tropical cyclone of the year.
"After researching this, we believe that when it hit the Philippines this may have been the strongest ever recorded storm to make landfall," Noth added. "There have been more powerful storms over the sea, but this could be the strongest ever to hit land."
The storm had earlier felled trees on the Chinese island of Hainan, The Weather Channel reported.
The storm then turned north and northeast across far northeastern Vietnam and into the Guangxi Zhuang Autonomous Region of southern China, where it made landfall at 9 a.m. local time (7.30 p.m. ET Sunday), Xinhua reported.
Two bodies thought to be crew members of a cargo ship registered in Guangxi were found by rescuers in the island province of Hainan, after the storm broke the vessel's mooring and cast it out to sea. Five sailors were still missing.
Kindergartens, primary schools and middle schools suspended classes on Monday in the cities of Qinzhou, Beihai and Fangchenggang.
While the China Meteorological Administration issued a rainstorm warning, Noth said Haiyan was expected to "rapidly weaken" further as it encounters rugged terrain.
The Chinese meteorologists added that they were expecting around four to seven inches of rain in the area in the next 48 hours.
Related: