First up from the God Machine this week is a look at a new report from the Pew Forum for Religion and Public life, which as Jamelle Bouie noted, found some unexpected results when it came to evaluating the religiosity of the major-party presidential candidates.
The Church of Latter-Day Saints is still a mystery to many Americans, and there were fears that [Mitt] Romney's Mormonism would hurt him with voters unfamiliar with the religion. But the latest [Pew survey] suggests that Romney has nothing to worry about -- of the voters who know that Romney is a Mormon (60 percent), the vast majority say they are either comfortable with his faith (60 percent) or that it doesn't matter at all (21 percent). [...]
Indeed, of the two candidates, religion actually seems to be a bigger factor for President Obama.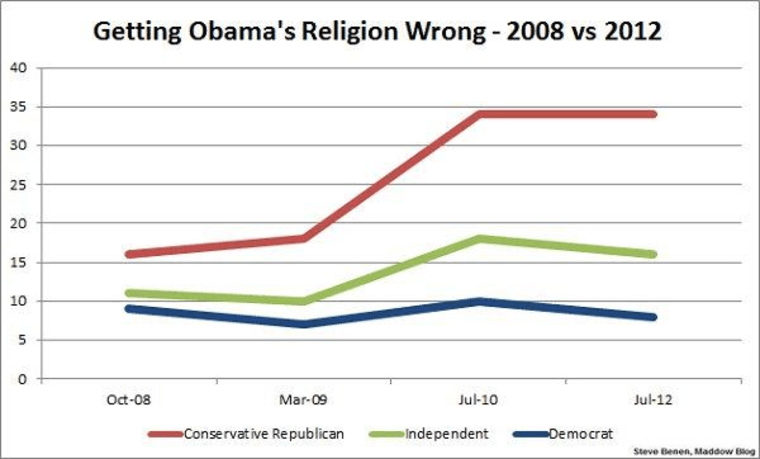 I put together this chart this morning, showing the percentage of Americans who falsely believe President Obama is a secret Muslim, broken down by self-identified political affiliation.
Overall, less than half of Americans (49%) overall, even after three-and-a-half years of Obama's presidency, can correctly identify his Christian faith, while 17% continue to believe he's a secret Muslim. But it's the GOP's far-right base that's throwing off the curve -- more than a third of them get it wrong.
What's more, note the trend -- after getting to watch the president over nearly four years, listening to his speeches in which he's talked about his Christian faith, watching him get inaugurated with his hand on a Christian Bible, more Americans believe Obama's a Muslim now than did so in October 2008, and the number of conservative Republicans who believe this has more than doubled. The more they learned about reality, the deeper they sank into their alternate reality.
The conventional wisdom was that Romney's Mormonism might pose a problem for him in 2012, but that's not the case -- Americans know he's a Mormon and don't care. With 100 days to go before the election, more voters say they're "uncomfortable" with Obama's religion than his rival's.
Also from the God Machine this week:
* Oops: "Mitt Romney is making a big push for the Jewish vote. In classic Romney (i.e., clueless) form, his campaign scheduled a trip to Israel on the Jewish fast day of Tisha B'Av." Gershom Gorenberg added, "It seems no one on his staff checked a Jewish calendar" before scheduling his trip to Israel.
* A tough sentence for a tragic cover-up: "Msgr. William J. Lynn, the first Roman Catholic Church official in the United States to be convicted of covering up sexual abuses by priests under his supervision, was sentenced Tuesday to three to six years in prison." Lynn's efforts to cover up the sexual abuse of children spanned decades, and included shielding predatory priests, transferring them to unwary parishes, and lying to the public (thanks to reader R.P. for the tip).
* In the wake of Rep. Michele Bachmann's (R-Minn.) anti-Muslim witch hunt, 42 religious and secular organizations joined together this week to send a letter to lawmakers, condemning the effort. The signatories included the U.S. Conference of Catholic Bishops. The letter comes a week after a similar condemnation from the Anti-Defamation League.