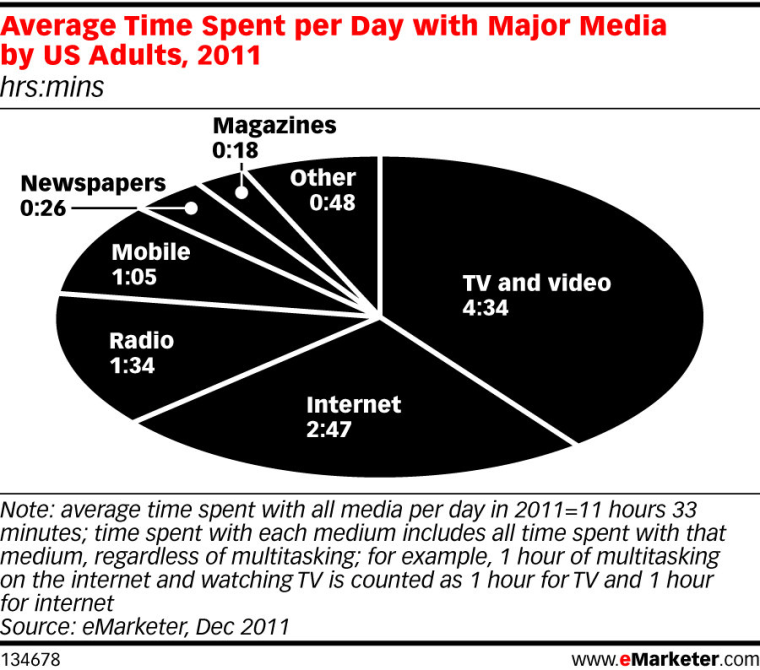 Americans now are spending more than a hour a day with their cell phones, more time than they do with print media. And TV time? That's up, too, whether it's live TV or DVR programs or DVDs, and still the biggest in terms of where we focus our media attention.
The research is from eMarketer, which says the "average adult consumer has spent 4 hours and 34 minutes each day watching TV and video on a traditional television set this year, up 10 minutes from last year," despite industry concerns about "cord-cutting" and the Internet hurting TV.
"Time spent with the Internet and mobile phones was also up — by 7.7 percent and 30 percent, respectively," the firm notes.
"Mobile's 30 percent jump from 2010 helped propel it past the 1-hour-per-day mark, compared to just 44 minutes with print magazines and newspapers combined."
The finding is in sync with a similar report earlier this year from the Pew Project for Excellence in Journalism. It said that 47 percent of American adults say they now get "at least some local news and information" on their cellphones or tablets.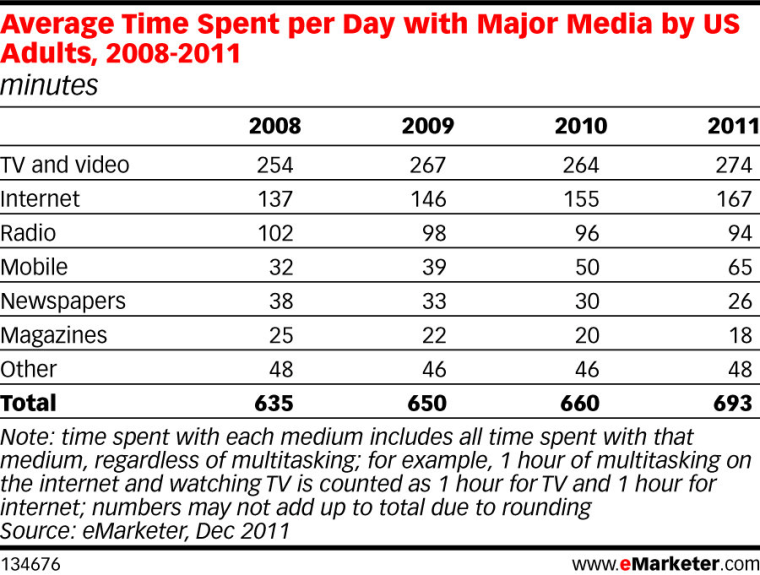 Mobile has come a long way since 2008, when it was claiming about 32 minutes of our day to more than twice that now. Newspapers, in contrast, got 38 minutes of time in 2008 compared to 26 minutes now; magazines were at 25 minutes compared to 18 minutes now.
When it comes to advertising, "while TV is clearly getting its fair share of dollars, the amount of ad spending going toward digital does not yet reflect the amount of time consumers have invested in these areas of their lives," eMarketer said. "Mobile, for example, has a more than 10 percent share of adults' media time each day, but less than 1 percent of ad dollars. On the flip side, newspapers and magazines continue to command ad dollars far ahead of their importance in consumers' day."
The firm said it bases its estimates on a "meta-analysis of data from dozens of research sources, including survey and study data."
If you're reading this story on your phone, you'll likely agree with the findings. If not, you may be at some point; another recent study said 25 percent of Americans are using their smartphones — not their PCs — to do the majority of their Web surfing, including reading.
Related stories:
Check out Technolog, Gadgetbox, Digital Life and In-Game on Facebook, and on Twitter, follow Suzanne Choney.