AMONA, West Bank — Rightist protesters scuffled with Israeli police carrying out a court order to evict settlers from an illegal outpost in the occupied West Bank on Wednesday.
The move by security forces came just hours after the government announced more construction in larger settlements.
Around 330 Israeli settlers live in Amona, the largest of scores of outposts built in the West Bank without official authorization. The Supreme Court ruled in November, after a lengthy legal battle, that settlers had to leave Amona because their homes were built on privately-owned Palestinian land.
"A Jew doesn't evict a Jew!"
With no weapons visible, but wearing backpacks, hundreds of police walked past burning tires and pushed back against dozens of nationalist Israeli youths who flocked to Amona in support of the settlers.
Several protesters were detained by police during the scuffles and there were a few instances of stone-throwing. A police spokesmen said at least 10 officers were injured slightly by rocks and caustic liquid thrown at them.
"A Jew doesn't evict a Jew!" the youngsters chanted.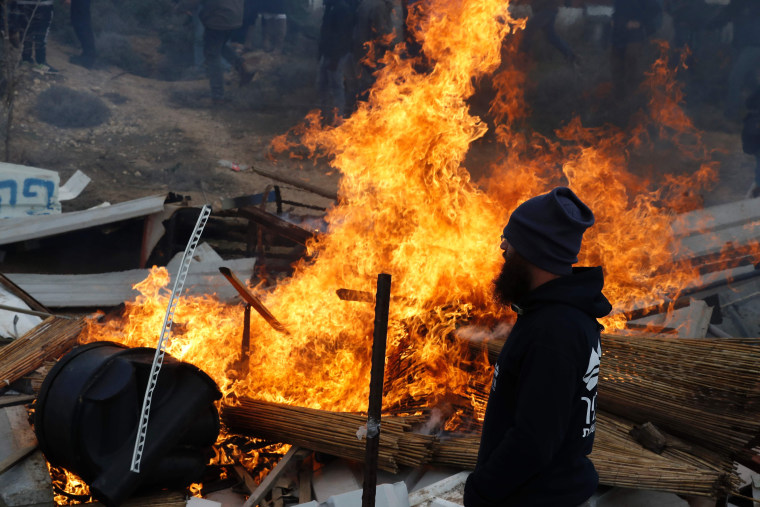 The Amona settlers themselves stayed largely put inside their homes after erecting makeshift barriers in front of their doors and vowing passive resistance to eviction.
"We won't leave our homes on our own. Pull us out, and we'll go," one settler told reporters. "It is a black day for Zionism."
On a nearby hilltop, Issa Zayed, a Palestinian who said he was one of the owners of the land on which Amona was built, watched the scene through binoculars. "With God's help, it will be evacuated and our land will return to us," he said.
Related: 'Law That Recognizes Robbery' Inches Forward in Israel
Earlier, Israel announced plans for 3,000 more settlement homes in the West Bank, the third such declaration in 11 days since President Donald Trump took office. Trump, a Republican, has signaled he could be more accommodating toward such projects than his Democratic predecessor Barack Obama.
An announcement a week ago by Israel that it would build some 2,500 more dwellings in the West Bank, territory captured in a 1967 Middle East war and where Palestinians now seek statehood, drew rebukes from the Palestinians and the European Union. It followed approval a few days before of over 560 new homes in East Jerusalem, also taken by Israel in 1967.
Palestinians want the West Bank and Gaza Strip for an independent state, with its capital in East Jerusalem.
Most countries consider all Israeli settlements to be illegal. Israel disagrees, citing historical and political links to the land — which the Palestinians also assert — as well as security interests.