Ukraine's defense minister is expected in Paris on Tuesday to meet President Emmanuel Macron amid a debate among Kyiv's allies over whether to provide fighter jets for its war against Russia, after U.S. President Joe Biden ruled out giving F-16s.
Ukraine planned to push for Western fourth-generation fighters like F-16s after securing supplies of main battle tanks last week, an adviser to defense minister Oleksiy Reznikov said on Friday.
Asked at the White House on Monday if the United States would provide F-16s, Biden told reporters: "No."
But France and Poland appear to be willing to entertain any such request from Ukraine, with Macron telling reporters in The Hague on Monday that "by definition, nothing is excluded" when it comes to military assistance.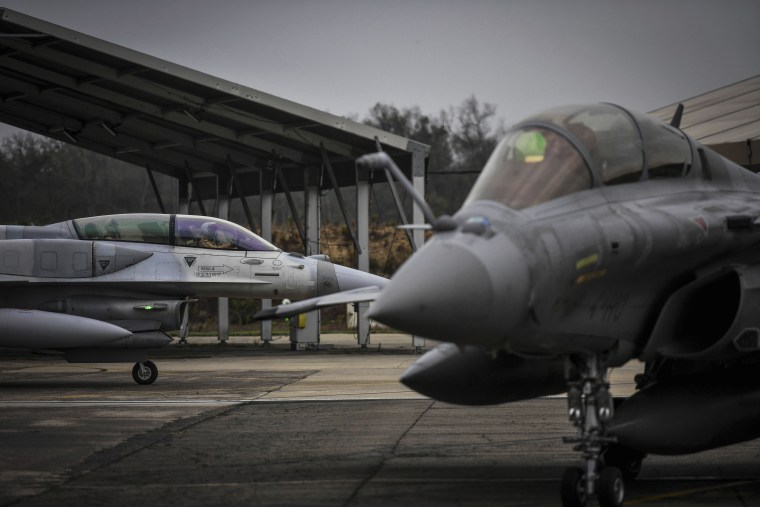 In remarks carried on French television before Biden spoke in Washington, Macron stressed any such move would depend on several factors including the need to avoid escalation and assurances that the aircraft would not "touch Russian soil." He said Reznikov would also meet his French counterpart Sebastien Lecornu in Paris on Tuesday.
In Poland on Monday, Prime Minister Mateusz Morawiecki also did not rule out a possible supply of F-16s to neighboring Ukraine, in response to a question from a reporter before Biden spoke.
Morawiecki said in remarks posted on his website that any such transfer would take place "in complete coordination" with NATO countries.
Andriy Yermak, head of the Ukraine president's office, noted "positive signals" from Poland and said France "does not exclude" such a move in separate posts on his Telegram channel.
NATO Secretary General Jens Stoltenberg, who was in Japan on Tuesday, he thanked Tokyo for the "planes and the cargo capabilities" it is providing Ukraine. A day earlier in South Korea he urged Seoul to increase its military support to Ukraine.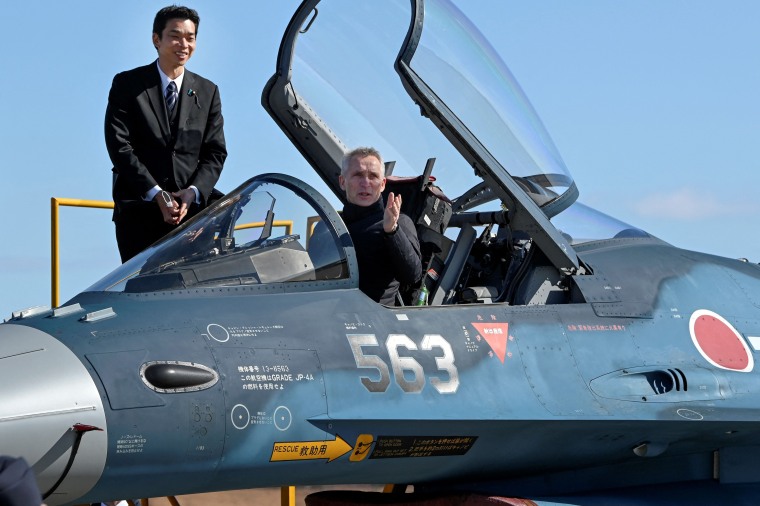 Biden's comment came shortly after Ukrainian President Volodymyr Zelenskyy said Russia had begun exacting its revenge for Ukraine's resistance to its invasion with relentless attacks in the east, where it appeared to be making incremental gains.
Zelenskyy has warned for weeks that Moscow aims to step up its assault after about two months of virtual stalemate along the front line that stretches across the south and east.
Ukraine won a huge boost last week when Germany and the United States announced plans to provide heavy tanks, ending weeks of diplomatic deadlock on the issue.
A large Russian force has advanced hundreds of yards in a major new assault on a Ukrainian-held bastion in southeastern Ukraine this week, though it is unlikely to force a significant breakthrough there, Britain said on Tuesday.
Russian officials claimed the advance had secured a foothold in the coal-mining town of Vuhledar. Kyiv has acknowledged heavy fighting there but says it has repelled the push so far while inflicting heavy losses on the attackers.
In an intelligence update offering rare battlefield detail, the British ministry said Russia was attacking the town with a force at least the size of a brigade, a unit normally comprising several thousand troops with a full range of capabilities.
So far, the Russians had likely advanced from the south several hundred yards beyond the Kashlahach River, which it said had marked the front line for months. The small river flows on the edge of the town of Pavlivka, about 1.2 miles south of Vuhledar.
"There is a realistic possibility that Russia will continue to make local gains in the sector. However, it is unlikely that Russia has sufficient uncommitted troops in the area to achieve an operationally significant breakthrough."
It said Russian commanders were probably trying to develop a new axis of advance, as well as to divert Ukrainian forces from Bakhmut, a city further north that has been the main focus of Russia's offensive for months.
Vuhledar lies at the southern-most end of the eastern front in Ukraine, overlooking railway lines that supply Russian forces on the adjacent southern front. Ukraine has repelled several Russian attacks on the town since the start of the war eleven months ago.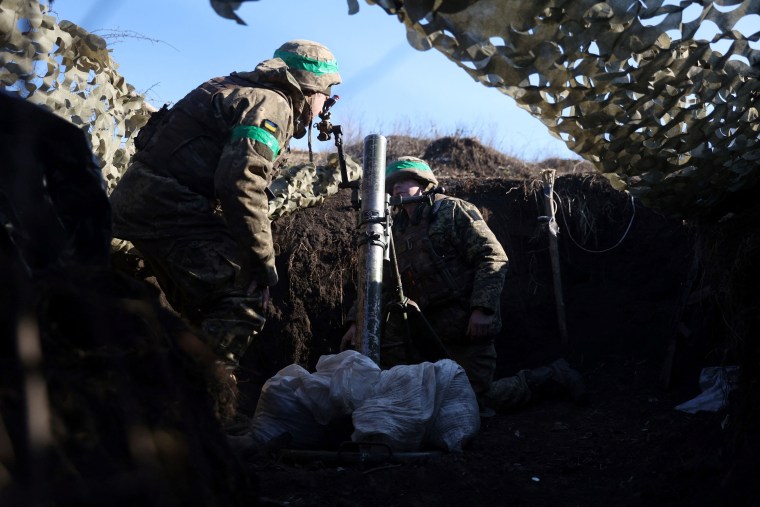 The Russian assault there comes after Moscow made significant advances around Bakhmut over the past two weeks, its biggest gains since Ukraine took back large chunks of territory in the second half of 2022. Momentum has swung towards Russia in recent weeks after front lines were frozen in place since November.
Military experts say Moscow is determined to make gains in Ukraine in the coming months, before Kyiv receives hundreds of newly pledged Western tanks and armored vehicles for a counter-attack to recapture occupied territory this year.
Zelenskyy is urging the West to hasten delivery of its promised weapons so Ukraine can go on the offensive, but most of the hundreds of tanks pledged by Western countries are months away from delivery.
Britain's defense minister, Ben Wallace, said the 14 Challenger tanks donated by Britain would be on the front line around April or May, without giving an exact timetable.
Kremlin spokesperson Dmitry Peskov said Western countries supplying arms leads "to NATO countries more and more becoming directly involved in the conflict — but it doesn't have the potential to change the course of events and will not do so."
The U.S.-based Institute for the Study of War think-tank said "the West's failure to provide the necessary materiel" last year was the main reason Kyiv's advances had halted since November.
The researchers said in a report that Ukraine could still recapture territory once the promised weapons arrive.
The Belarusian defense ministry said on Tuesday that Russia and Belarus had started a week-long session of staff training in preparation for joint drills in Russia in September.
The Russian invasion of Ukraine, which Moscow justifies as necessary to protect itself from its neighbor's ties with the West, has killed tens of thousands of people and driven millions from their homes.