President Donald Trump ordered targeted missile strikes on a Syrian airbase Thursday in response to the "horrific" gas slaughter in Khan Sheikhoun, wading into a conflict that has vexed world leaders for years.
The episode could be a turning point for the man who once warned Obama to "stay out of Syria," and could pose the biggest test yet for his "America First" mantra.
So what are Trump's options and how could his administration approach a conflict that has confounded experts since it began six years ago? Could the U.S. be heading for further military action?
Does Trump have a Syria strategy?
Secretary of State Rex Tillerson on Thursday described the choice to strike Syria as deliberative and decisive.
Militarily, the strikes seem to be a singular action attached to no publicly announced policy objectives.
The future, Tillerson told reporters Friday, will be guided by how Syria reacts to the strike.
Less than 24 hours earlier, Tillerson said he "would not in any way attempt to extrapolate that to a change of our policy or our posture relative to our military activities in Syria today. There's been no change in that status."
Asked Friday if the strike changes America's policy in Syria, White House Press Secretary Sean Spicer said Trump is "not gonna telegraph his next move."
Related: Trump: Why I Launched a Missile Strike on Syria
There will, however, be additional sanctions on Syria, Treasury Secretary Steven Mnuchin told reporters Friday afternoon. The sanctions will be part of the ongoing effort to "stop this type of activity," he said, referring to Assad's use of chemical weapons on his own people.
Tillerson signaled Thursday night in a joint briefing with National Security Advisor H.R. McMaster that future steps through the international political process could eventually lead to Syrian President Bashar Assad's ouster.
"Through the Geneva process, we will start a political process to resolve Syria's future in terms of its governance structure and that ultimately, in our view will lead to a resolution of Bashar al Assad's departure," Tillerson said.
Trump's overall Syria strategy — so far — is muddy, and it is unclear if he will continue to pursue a sustained military strategy in the region with the goal of foisting Assad from power, foreign policy experts said.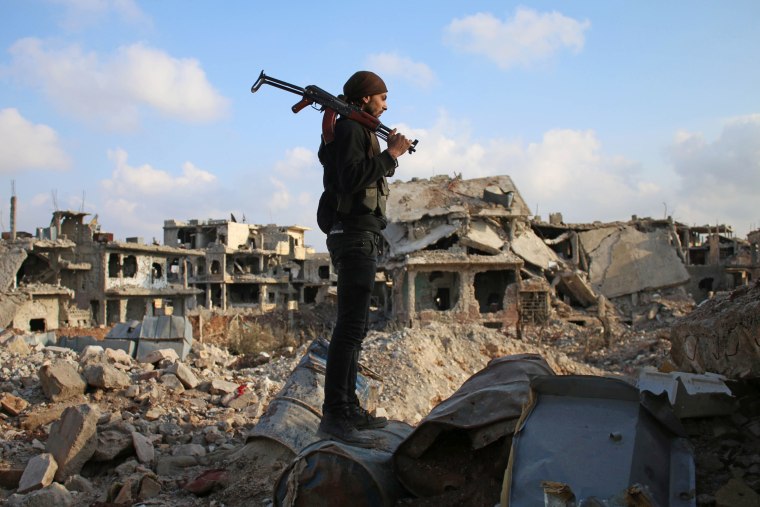 Former Ambassador to Syria, Ryan Crocker, said: "I frankly don't think there is [a strategy in place]. President Trump has talked the talk … now he's going to have to walk the walk."
Crocker said Trump was probably "a long way" from having a plan "but I'm heartened, as a career internationalist, that's he's making the effort."
And while some congressional lawmakers praised Thursday's strikes as delivering a strong message to Assad, others criticized the action as unauthorized and are calling on the president to develop a broader strategy and work to get needed approval from the Hill.
Lawmakers will be briefed on Friday on the Syria airstrikes.
Fresh airstrikes?
Former Secretary of State Hillary Clinton repeatedly called for a partial no-fly zone but military chiefs who said such a move would effectively put the U.S. at war with Russia, not just Syria.
Trump might instead seek limited airstrikes to punish Assad, but Crocker said that would not be enough in the face of "increased expectations in America and abroad."
Related: U.S.-Backed Forces Battle ISIS Over Tabqa Dam
"Probably the worst thing he could do would be to launch a one-off military strike into Syria, say 'We said we'd do it — we did it' and then watch as nothing changes," Crocker said. "The Russians, the Iranians and the regime will continue their campaign. He's got to think that through with his advisers and come forward with a strategy, not just a single military action."
A U.S. defense official told NBC News that the most likely platforms for a military response would be manned aircraft, unmanned aircraft or cruise missiles — noting that Syria's advanced air defense systems posed a risk for fighter jet pilots.
Ground intervention?
American soldiers are already in Syria including around 500 Special Operations personnel offering "support" and "training" for campaigns including the current operation to oust the terror group ISIS from Raqqa.
Trump could escalate that presence, but must decide whether to continue military support for the rebels.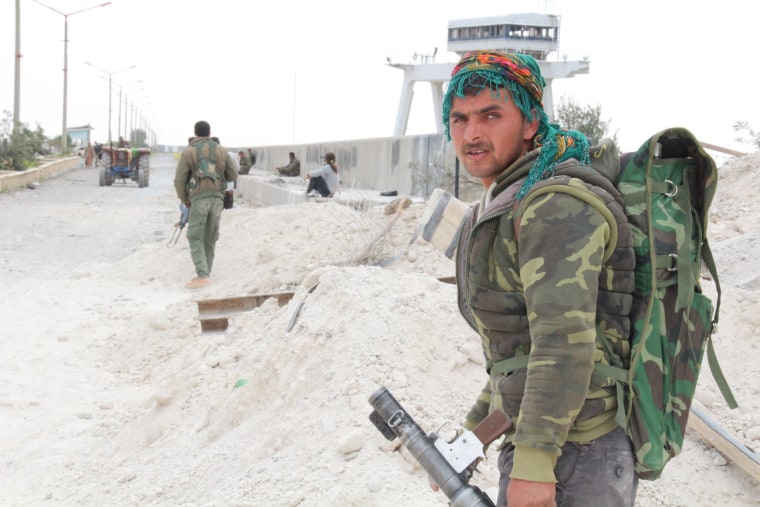 "If he is going to employ military action in Syria, it has to be as part of a larger military strategy that we have discussed and agreed on with our closest allies," Crocker said. "So he needs to resist the urge to just go and blow up a few things."
Trump's Russia problem
Russia is Syria's ally in the war, and its refusal to accept Assad's responsibility for the suspected gas attack puts Washington and Moscow on a direct diplomatic collision course.
Moscow called the America's missile strikes in Syria an "act of aggression" and suspended an agreement aimed at preventing direct conflict between U.S. and Russia forces in the region.
Vice President Mike Pence said the time had come for Russia to "keep the word that they made to see to the elimination of chemical weapons so that they no longer threaten the people in that country."
Trump's next move will be closely watched because of accusations that he is too supportive of Russian President Vladimir Putin — a consideration that may further complicate his response.
"Russia's presence [in the war] makes deep U.S. involvement very hard," said Michael Leiter, former director of the U.S. National Counterterrorism Center. "It's not just Assad, but a Syria-Russia-Iranian alliance that makes the geopolitical consequences [of intervention] very difficult.
The problem worsened further Thursday when Russia doubled down on its denial that Assad was responsible. "No doubt, forces exist that are pushing for de-legitimization of the lawful leadership of the Syrian Arab Republic," Kremlin spokesman Dimitry Peskov said in an apparent reference to U.S. criticism.
Tillerson plans to discuss the gas slaughter and the Syria crisis next week when he makes his first official trip to Moscow. Tillerson said in his statement following the attacks that Russia and Iran "bear great moral responsibility for these deaths."
The spokesman for President Vladimir Putin told The Associated Press that Russia's support for Syrian President Bashar Assad is "not unconditional."
United Nations response
In a strong statement at the UN Security Council emergency meeting on Friday to discuss the chemical attacks in Syria, American Ambassador Nikki Haley said the United States will no longer allow Assad to use such weapons.
She said it is now time for a political solution and that the U.S. expects Russia and Iran to hold their ally accountable and to respect cease-fires. She questioned whether Russia knowingly allowed Syria to use chemical weapons, is incompetent or whether Assad is playing the Russians for fools.
Haley added the U.S. took a very measured step last night — but are prepared to do more.
"We hope that is not necessary," she said.
Haley, who is also presiding over the Security Council this month, demanded the meeting be open to the press.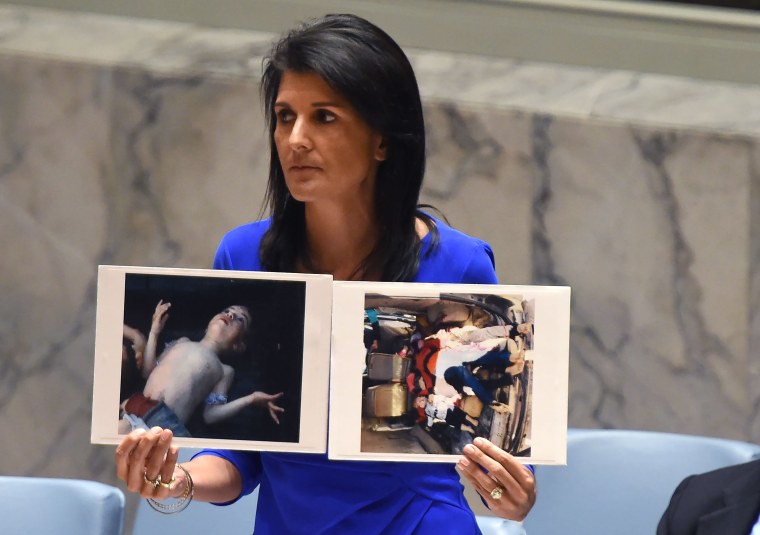 "The United States, as president of the Council this month, decided the session would be held in the open. Any country that chooses to defend the atrocities of the Syrian regime will have to do so in full public view, for all the world to hear," Haley said in a statement before the meeting.
The U.S. is joining France and Britain in seeking a draft resolution condemning this week's deaths but it's not clear what additional action the UN might take. Negotiations on the resolution wording are ongoing, according to Jonathan Wachtel, spokesman for Haley.
However, Haley appeared to suggest earlier this week appeared to forecast U.S. unilateral action if Security Council members could not agree.
"When the United Nations consistently fails in its duty to act collectively, there are times in the life of states that we are compelled to take our own action," she said without elaborating.
What is the ultimate goal?
In addition to the question of whether Assad's removal should be part of any military strategy, there is the risk of further conflict.
ISIS might be ousted from Raqqa, but its militants will be driven elsewhere — including Western countries — where they could continue their terror campaign.
And there are other rival groups involved Syria, including Turkish forces and Kurdish fighters, both currently U.S. allies but who could turn on each other in a post-Assad scenario.
Sen. John McCain, R-Arizona, Chairman of the Senate Armed Services Committee, said Trump had been left with "no easy options" but had "an opportunity to finally change course and take action to address this strategic and humanitarian disaster."
"Until we do, the war, the terror, and the refugees will continue, and America's national security interests will be placed at greater risk," he said.