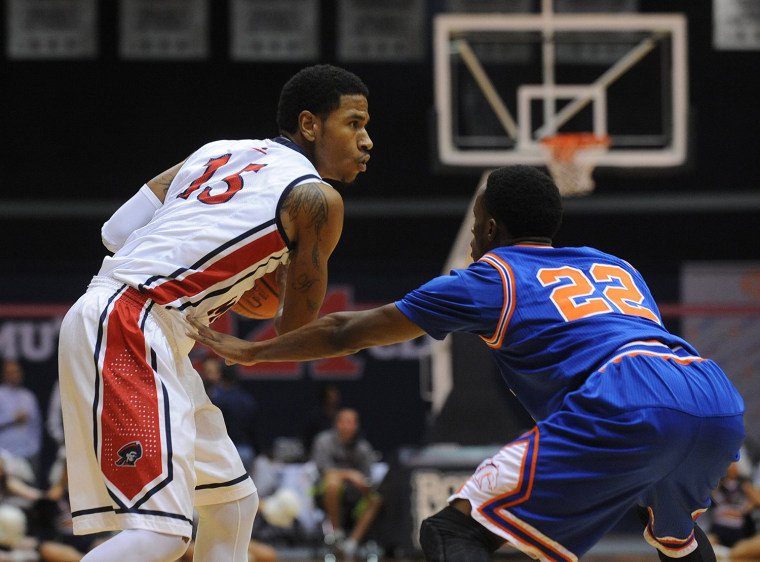 By Tony Dokoupil, Senior Staff Writer, NBCNews
MOON TOWNSHIP, Pa. — Pom-poms shimmied and the fight song boomed on a recent Thursday night as Robert Morris University battled the University of Texas at Arlington, a ten-point RMU lead dwindling to two late in the second half. Karvel Anderson, RMU's leading scorer and team captain, caught a pass in the corner and rose in a straight, clean line, sinking his eighth 3-pointer of the night — and the other team's hopes in the process.
But behind Anderson's record-setting consistency on the court is a background defined by chaos. In 2009, NBC News profiled Anderson as part of The Elkhart Project, a year-long look at how the recession was affecting one hard-hit Indiana town. In the local struggle for renewal, reporters were looking for national lessons, insights into how the American economy might adapt and survive. Now, it's Anderson himself — who has fought and scraped from adolescent hard case to straight-A college student — who might be a model for us all.
"Life is good!" the 22-year-old senior tweeted this past summer. "I think I like who I'm becoming." 
Until recently it felt as though he were becoming nothing good. He was a classic lost cause with a mother in prison, a father gone AWOL. He bounced between friends and family, where money was tight and guidance was rare. He didn't have a single college offer when the hats fell on graduation day.
"I'm not sure I'd be able to be where he is if I was dealt the hand he was dealt," says Robert Morris basketball coach Andrew Toole.
Now Anderson is poised to become the first in his family to get a bachelor's degree. He may also be the first to live abroad, earning a contract to play pro ball overseas before considering a career as a teacher or a guidance counselor. From Elkhart to Europe: It's a jump of thousands of miles, against infinite odds, an exception to the long, sad shelf of research that says kids like Anderson are destined for prison cells and early coffins.
Michelle Obama's new goal: To help create more Karvels
But Anderson's transformation is more than a personal triumph. It's a success story that adds to a broadening public good,  a national push to get more teenagers from disadvantaged backgrounds to go on to college and to actually graduate, scaling new heights on the economic ladder in the process.
As it stands, studies show that kids who don't come from money are much less likely than their wealthy peers to go straight from home room to the quad — and once they get to campus, they are much more likely to drop out.
Michelle Obama plans to dedicate the rest of her time as First Lady to improving such numbers, joining a wider White House effort to vault the United States from 12th to first in global college graduates per capita. President Barack Obama has called this goal a "North Star" of his administration. But following it is a frustrating, elusive task, a matter of more than just better teachers, newer computers and deeper education budgets.
What matters, according to Paul Tough, the author of the bestseller "How Children Succeed," is grit: a combination of persistence and resilience. What matters, in other words, is whether America can make more kids like Karvel Anderson, who is nothing if not gritty.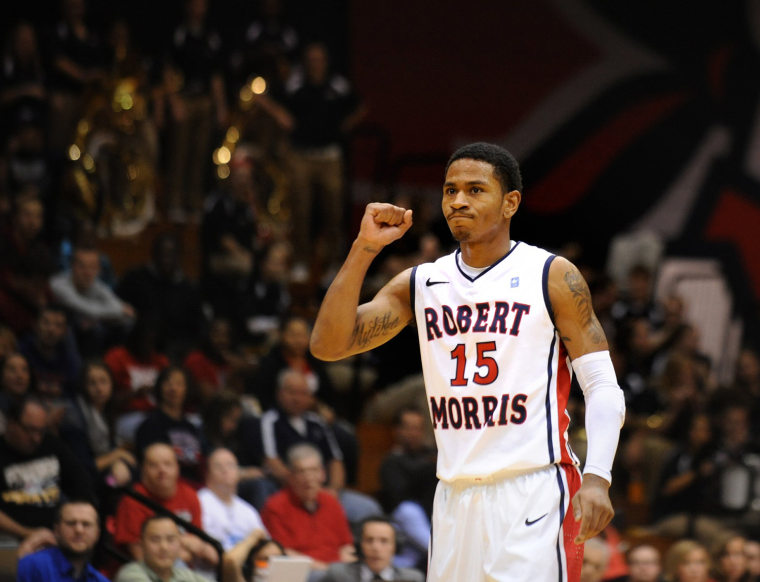 "I'm a very stubborn individual," he tells NBC, still in uniform, sitting in front of a cherry-wood locker with his name on it. "As soon as someone told me I didn't have my mom, so I was going to end up selling drugs or killed, the stubbornness in me just forced me to prove everybody wrong."
But how did Karvel become Karvel? And what can his life teach the rest of us about the road out of poverty? Not even Anderson's friends seem to know. "He's a mystery," says Lucky Jones, a teammate at Robert Morris. "He's the best kept secret."
Maybe so, but after Anderson scored 24 to lead his team past the University of Texas, Arlington, the 6-foot-2 shooting guard opened up about the life he has spent the last half decade trying to escape.
"I don't feel that I've made it yet," says Anderson, sitting calm as a skyscraper. "I don't feel like this is the end." 
But he admits it's a lot brighter, and more promising than his beginnings.
Sleeping under a bridge, working in a factory
Anderson's mother was 14 years old when she had him, and he never met his father. When he was still a kid, the family moved from Three Rivers, Michigan, to Elkhart, the RV capital of the world, where his grandfather worked on the assembly line and his mother got into drugs. She had two more children, by two more men, and by freshman year of high school, Anderson was living with his uncle.
They clashed over some missing money – a cache that was later found safe and sound. Anderson ran away, and no one seemed to come looking for him. He slept under a bridge next to a park where he played basketball. He stole a blanket from K-Mart. He lifted food from the supermarket. He hid his predicament by using the bathroom at a local hospital and showering in his high school gym. 
Finally, after more than a month, Anderson's assistant basketball coach figured out what was going on. "I got you," he told Anderson, according to a Pittsburgh Tribune-Review interview, putting his hand over the boy's and giving it a squeeze. He and his wife gave Anderson food, a roof, a warm bed and footing to start new as a junior.   
Just when life had begun to stabilize, however, in January 2008, Anderson's mother was busted for cocaine trafficking, getting a sentence of 3-to-6 years. Anderson moved in with his grandfather, who inspired Anderson to dream big, pushing him toward the University of Michigan or bust, and teaching him the meaning of hard work.
Then this stability fell apart too. Anderson's grandfather lost his job, leaving the family short of cash to care for two younger sisters and an ailing grandmother. Anderson was in his senior year, a time that many kids fill with beach trips and silly-string fights but that Anderson passed with after-school work in an RV factory.
"My check is what we use to eat," he told NBC in 2009. "I've gone days without eating to make sure they eat." 
Naturally, none of this was good for his grades or basketball skills. "Children who grow up in stressful environments generally find it harder to concentrate, harder to sit still, harder to rebound from disappointments, and harder to follow directions," writes Tough. "And that has a direct effect on their performance in school."
Anderson prayed for D's and celebrated C's. Even if his grades were good and his basketball game in tiptop shape, however, he had to work on days he might have been impressing college basketball recruiters. By the end of high school, the University of Michigan hadn't coming calling and on Senior Night—the last home game of his high school basketball career—he walked to center court alone. 
"Adversity is the best thing in life for me"
But here's the strange part: Anderson was never crushed by his problems. He wasn't consumed with blame and rage. In fact, he almost relishes the difficulty of it all. "Adversity is the best thing in life for me," he says, slipping into the voice of the mentor he's become to younger players. "I didn't get my strength from lifting weights. I got it from lifting myself up all those times."
With lines like that he can sound like he walked out of Tough's book, or Michelle Obama's new stump speech. She says attitude matters more than circumstance, and that in her own rise from relative-poverty to Princeton the doubters provided a kind of fuel, a negativity that pushed her to prove them wrong. In his words and his actions, Anderson whole-heartedly agrees and is doing the same. 
On that lonely senior night, he broke the school scoring record. Then he fought through a succession of three junior colleges, at least two more family dramas, a broken hand, and—when he finally won a tryout at Robert Morris University, outside Pittsburgh—a car accident on the way to the airport.
"Something always happens to Karvel Anderson," he warned Coach Toole when he arrived on campus. There, despite a dearth of other offers, he impressed coaches enough to win a scholarship—and he pulled his grades up enough to win admission.
Now, in his second and final year at the school, Anderson is the face of the program. He nibbles calamari with Coach Toole on blue-chip recruiting trips. He revels in the perks of Division I sporting life. In junior college he lived on "walking tacos" (a bag of Fritos with meat scooped in) and slept on the bus; now the team enjoys sit-down restaurants and legit hotels. Last year, his school upset the University of Kentucky, defending national champions, a win Anderson calls "the greatest moment I've had in my life." 
Looking to the future
This year, with at most 30 games left in his college career, Anderson is already looking to the future. Of the five kids that NBC original profiled in the aftermath of the recession, three are still living in Elkhart, a fate that scares Anderson more any anything. He rarely visits and when he does, he says, he's afraid to sleep, lest he end the dream. 
"I love the person that Elkhart made me become," he says. "But at the same time I don't ever want to go back to live there." 
He's on schedule to finish his credits this coming summer. But he's in no rush to ship off to Europe just yet. He spent Thanksgiving with his teammates, his adopted family, sleeping off the turkey on campus in his adopted home. "I'm thankful for where I am now," he says. "My old highs are my new lows."
If Michelle Obama gets her way, millions of other kids may soon be saying the same. Anderson himself would like to make sure of that. "I just feel like I can be someone that shows people that you can get out," he says, his thoughts turning to those still in Elkhart. "I really would, if I could, take everyone and move them somewhere else."
Related: