BEIJING – Overseas tourists often find the menus here befuddling, for good reason.
After all, what Westerner has experience with foods like these? "Cowboy leg," "Hand-shredded ass meat," "Red-burned lion head," "Strange flavor noodles," "Blow-up flatfish with no result," or "Tofu made by woman with freckles."
As proud as the Chinese people are of their thousands of years of gastronomic culture, even a Chinese native can feel disoriented when going to another province, given all the different styles of cooking. Many of the food names, often unique to different provinces, get lost in translation, especially in booming cities starting to embrace overseas tourists.
With few English speakers, restaurants usually translate their menus word by word directly from an English-Chinese dictionary. Or they just Google the Chinese characters. A photo that made the rounds online a few years ago got a chuckle from a lot of people: a restaurant with a large "page not found" sign above its door as its English name.
But the Beijing Municipal government hopes to end such unintended jokes with its new guidebook intended for the public and restaurants alike, "Enjoy Culinary Delights: The English Translation of Chinese Menus."
The effort began in 2006 with a "Beijing speaks English" campaign. By the 2008 Summer Olympics, officials had created a draft guide with translations for major restaurants to meet the demand for arriving athletes and tourists.
"After 2008, we felt like the book was in a good demand, so we kept working on it and collected more menus. Finally we translated over 2,000 Chinese dish names," said Xiang Ping, deputy chief of the "Beijing speaks English" committee, in an interview with NBC News.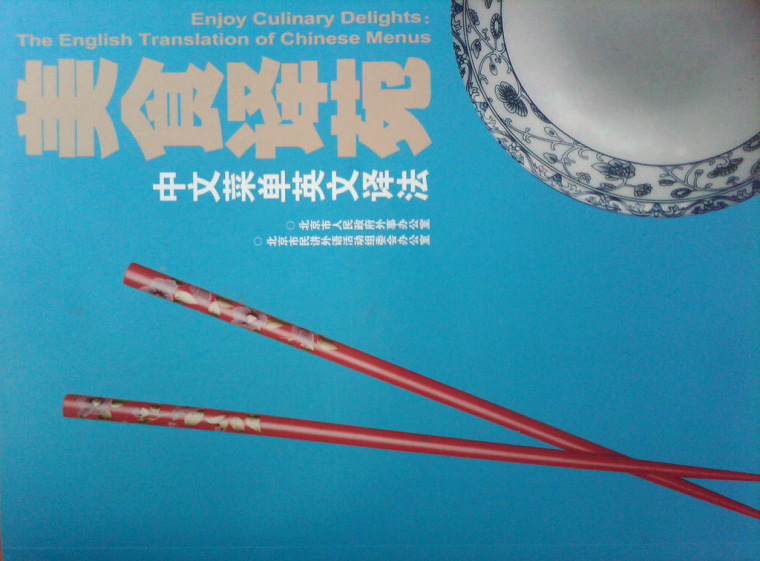 Some of the dishes kept their original names, which people familiar with Chinese food may understand: jiaozi, baozi, mantou, tofu or wonton.
Some more complicated dishes come with both Chinese pronunciations and explanations: "fotiaoqiang" (steamed abalone with shark's fin and fish maw in broth); "youtiao" (deep-fried dough sticks); "lvdagunr" (glutinous rice rolls stuffed with red bean paste),
and "aiwowo" (steamed rice cakes with sweet stuffing).
Chen Lin, a 90-year-old retired English professor from Beijing Foreign Language University, was the chief consultant for the book.
He told NBC News that about 20 other experts – like English teachers and professors, translators, expats who have lived in China for a long time, culinary experts and people from the media – helped develop the final version.  
So next time you're in Beijing and you are confronted with a menu item like "hand shredded ass meat," hopefully you can crack open the book to get some guidance. It means "hand shredded donkey meat."