Long at odds with Russia's military leaders during the war in Ukraine, Yevgeny Prigozhin, the head of the Wagner mercenary group, took his feud to a new level Friday when he leveled accusations that his fighters had been struck and vowed revenge.
The threat, made on his official Telegram channel, sparked a crisis in Russia, where the country's Federal Security Service called for members of the private military contractor to refuse Prigozhin's orders and detain him.
It also opened a criminal investigation for "organizing an armed rebellion," the prosecutor general's office said.
For the latest live coverage, please click here.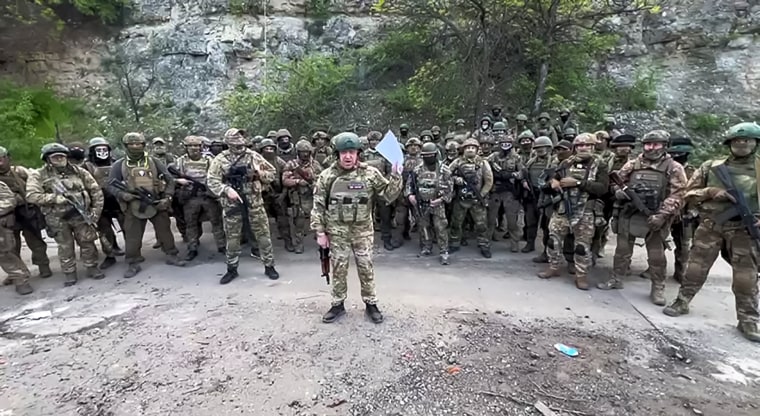 Describing it as a stab in the back, Russian Lt. General Vladimir Alekseev told broadcaster RBK it was "a coup d'état."
In a later television address, President Vladimir Putin labeled the revolt an "armed mutiny" and vowed to put down the effort. Calling Prigozhin's actions "a betrayal of his country and people," he said, "Everything that weakens Russia should be thrown aside."
What is the Wagner Group?
The Wagner Group was founded in 2014 by Prigozhin, 61, a close confidant of the Russian president who is known as "Putin's chef" because his catering business routinely won contracts to cater state events.
Since then, the company has operated in Syria, Mali, the Central African Republic and other countries.
Private military companies are technically illegal in Russia, but in November Wagner opened offices in St. Petersburg emblazoned with its logo.
Prigozhin has also donned military fatigues and appeared in videos appearing to show him recruiting prisoners, or in the thick of the action on the front lines, in contrast to the city-dwelling elites he has routinely derided since the start of the war in Ukraine.
He has fostered a tough image online — appearing with a sledgehammer in one video and, according to Reuters, approving of another that showed an accused deserter being executed with a sledgehammer.
In Ukraine, his forces delivered a badly needed victory for Putin as they were crucial in the campaign to capture Bakhmut, which was left in ruins by months of conflict that saw both sides suffer huge losses.
The U.S. designated Wagner a transnational criminal organization in January, a month after National Security Council spokesman John Kirby said that it had an estimated 50,000 personnel inside Ukraine — around 10,000 contractors and 40,000 convicts from Russian prisons.
Prigozhin said in Friday's message that "we are 25,000 strong" and he invited others to join.
Worldwide efforts
In Africa, the Wagner Group has operated in the civil conflict in Libya where Russia sent it military equipment including fighter aircraft and armored vehicles, so that it could get a foothold in the country, the U.S. Department of Defense said in 2020.
Wagner Group contractors were also sent to the Central African Republic, where the group was accused of executing civilians, attacking U.N. peacekeepers and targeting predominantly Muslim communities as a civil war raged.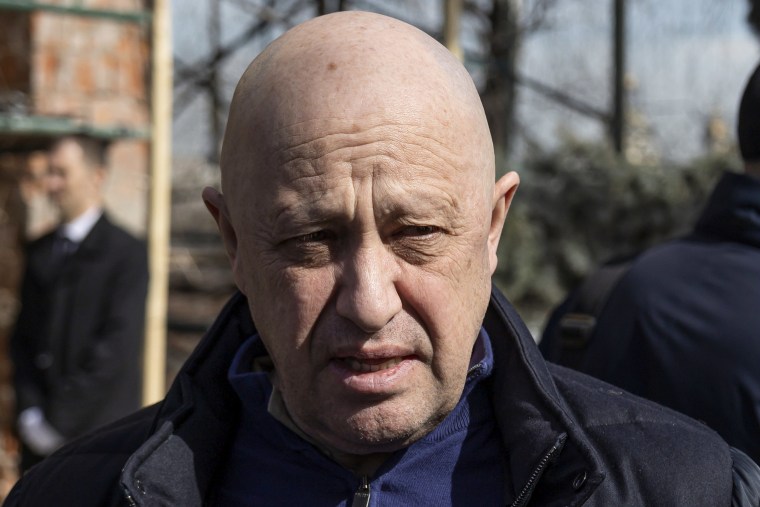 Senior Western diplomats have said that the Wagner Group took control of a gold mine there while Human Rights Watch said in a report that its forces were suspected of committing atrocities there, including executing unarmed men.
In Africa, it destabilized countries and committed "widespread human rights abuses and extorting natural resources from their people," the U.S. Treasury Department said in January as it imposed further sanctions on the group.
The war in Ukraine has helped the Prigozhin's influence grow, Kirby, the U.S. National Security Council spokesman said at his December briefing.
"His influence is expanding. Wagner's independence from the Russian Defense Ministry ... is only increased and elevated over the course of the 10 months of this war," he said.
The Russian military has been relying on Wagner fighters in Ukraine, and in some cases, Russia's military officials have been subordinate to the commands of the Wagner Group, he added.
Prigozhin vows retaliation
Prigozhin has accused Russia's military leadership of incompetence in Ukraine, but on Friday he publicly accused Russia's military leadership of striking his forces. He claimed there was a missile attack at its rear camps.
Prigozhin said, without providing evidence, that Russia's military leadership was responsible for the deaths of 2,000 fighters.
"Those who destroyed our lads, who destroyed the lives of many tens of thousands of Russian soldiers, will be punished. I ask that no one offer resistance," Prigozhin said in a series of audio messages on his official Telegram channel. Russia has denied his claims.
Russia's Federal Security Service responded by starting a criminal case against him for what it said was a call for an armed rebellion.
The security service said "his actions are a 'stab in the back' of Russian servicemen" and called on Wagner fighters to refuse orders and take Prigozhin into custody.
Security was increased in Moscow, Russian state news agency Tass reported, and pictures and video showed military vehicles near Russia's Parliament on Saturday.
Prigozhin subsequently rejected Putin's charges of treason on Saturday, saying in an audio message that he and his fighters were the true "patriots" of Russia.
While Prigozhin refrained from taking aim at Putin directly, he said Wagner would not respond to orders to surrender from the Russian president or the security service "because we do not want our country to continue living in corruption, deception and bureaucracy."
He also accused top military brass of not supplying his forces in Ukraine with enough ammunition, which he said was plundered by bureaucrats.