Combing through the wreckage of a suspicious house fire that killed an 18-month-old Palestinian boy in the West Bank early Friday, investigators came upon a telling piece of graffiti.
"Revenge" was written in Hebrew, below a Star of David, Reuters reported. Israeli Police spokeswoman Luba Samri said the torching appeared to have been a "Price Tag" attack.
The phrase "price tag" is notorious in Israel, associated with a string of violent attacks on Arabs and Israeli government forces over the past decade. It refers to a loosely organized movement of extremist Israelis protesting the evacuation and demolition of illegal settlements in the West Bank.
Israel tore down two such structures earlier this week.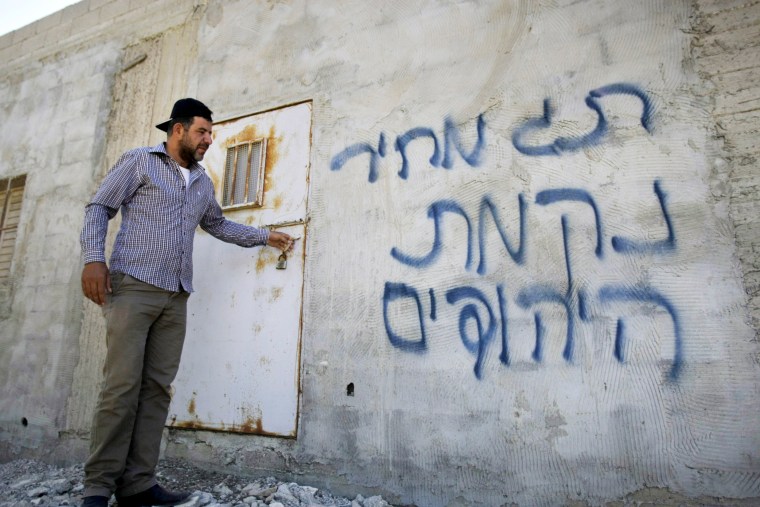 The name refers to the price the extremists seek to extract for the loss of each outpost.
Their attacks have also been in retaliation to Palestinian attacks on Israelis.
But it is rare for people to die in "price tag" attacks, The Associated Press reported. It is also rare for anyone to be arrested for one. In 2014 Israeli police created a unit to crack down on "price tag" attacks, but it has had limited success, according to the Anti-Defamation League.
RELATED: Palestinian Toddler Killed in Suspected Jewish Extremist Attack, Police Say
The idea, extremists have said in the past, is to make the government think twice before backing down to demands that Israel stop allowing settlements in disputed territories.
But Friday's fatal fire in the village of Duma sparked a defiant message from Prime Minister Benjamin Netanyahu.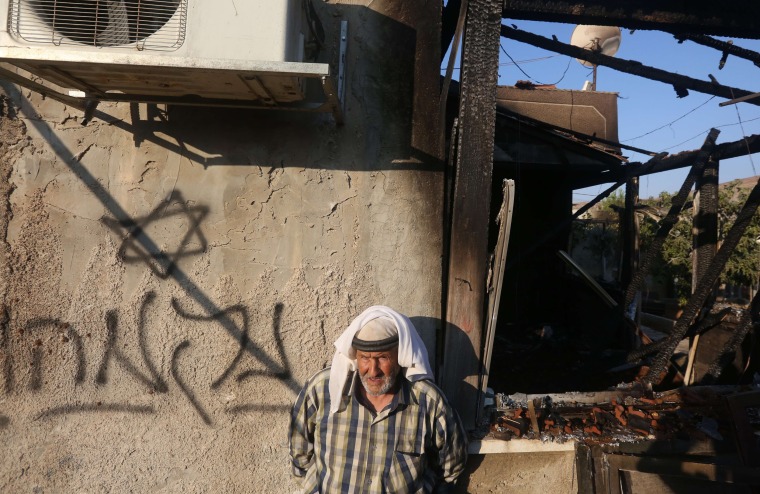 He called the attack an act of "reprehensible terrorism" and made a rare condolence call to the Palestinian Authority's chairman, Mahmoud Abbas. He also ordered Israeli security forces "to locate the murderers," according to a statement issued by Netanyahu's office.
"We must fight terrorism together regardless of which side it comes from," Netanyahu' said.
A spokesman for Abbas held Israel responsible. "Such a crime would not have occurred if the Israeli government did not insist on pursuing settlements and protecting settlers," Nabil Abu Rdainah said.
The "price tag" movement dates to the 2005 demolition of settlements in the Gaza Strip, which the extremists viewed as an attack by the Israeli government.
"Ever since then, the extreme right has sought to establish a 'balance of terror,' in which every state action aimed at them — from demolishing a caravan in an outpost to restricting the movements of those suspected of harassing Palestinian olive harvesters — generates an immediate, violent reaction," the newspaper Ha'aretz wrote in an 2008 analysis.
Since then, the frequency of "price tag" attacks had spiked and ebbed. The Anti-Defamation League has tracked dozens. Friday's fire was at least the fourth "price tag" fire this year, the group said, a list that included the torching of two Palestinian vehicles, the vandalizing and burning of a Greek Orthodox Seminary, and a mosque that was set on fire and vandalized. Anti-Arab graffiti was scrawled on a school in a separate incident in June but no fire was set, the ADL said.
Other targets attacks have included mosques and Israeli army bases.