By Sarika Dani and Ian Sager
The Olympic Village has a McDonald's, free broadband Internet and a nail salon, but for some athletes, it doesn't offer every convenience.  
More than one competitor admitted to TODAY.com that they longed for the creature comforts that only home could provide. While many Olympians spoke highly of the Village's dining and entertainment facilities, some felt it needed the touch of their four-legged friends.
"You know what, if I had my dog here, Bella, a little Maltese, I would bring [her] in," said U.S. gymnast and 2008 Olympic silver medalist Jonathan Horton. "My dog is 2 years old, about 7 pounds. I love her to death."
Horton isn't the only Olympian who pines for his pooch. Merrill Moses, the goalkeeper for the U.S. men's water polo team, revealed that he and his wife had recently discussed the possibility of bringing their dog, Harley, to London. "I would love to have a dog running around, be the Village mascot," he said.
But despite Merrill's desire to reunite with Harley, he and his wife decided to leave their 7-year-old Pomeranian at home.
For wrestler Ellis Coleman – whose acrobatic takedown move transformed him into an Internet hit and earned him the nickname "Flying Squirrel" – the Village lacks two things: his girlfriend and his new pet flying squirrel, Rocky.  
Story: Community raises $14K to send Olympic contender's family to London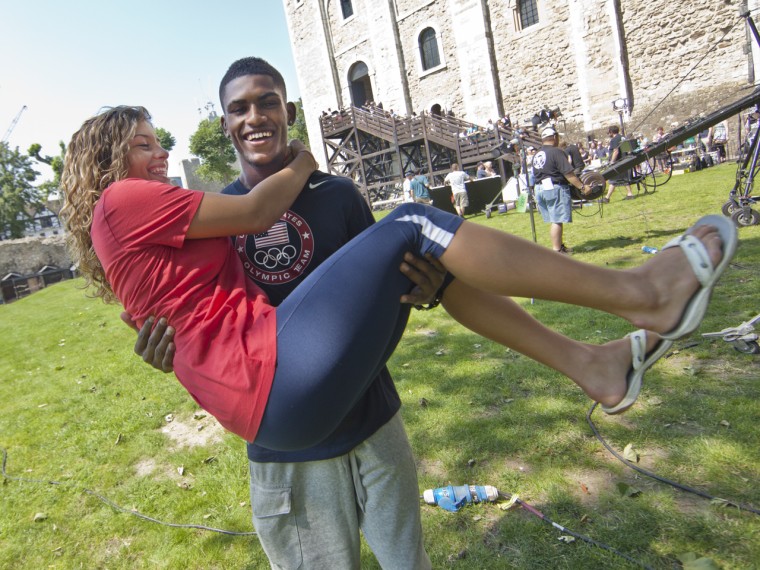 "She helps keep me grounded," Coleman said of his girlfriend, Helen Maroulis, who's here in London already.
As for Rocky, Coleman looked into customs laws, and found that he would not only be banned from the Village, but the entire United Kingdom.
"They wouldn't let me bring in an animal from outside the country, but I really wanted to bring him to the Village!" he explained.
As for where his flying friend would have stayed, Coleman says he would have kept him close.
"He would have stayed in my pocket, or in his cage."  
Sarika Dani and Ian Sager are TODAY.com's editors in London. They'd like to sneak into the Olympic Village for the Wi-Fi.
More from TODAY in London: