MOSCOW — Vladimir Putin's alleged murky moves to shore up Syria's embattled government militarily appears to be Russia trying to gain leverage amid isolation from the West, according to analysts.
Russian Foreign Minister Sergei Lavrov told reporters Thursday that planes have delivered military goods and humanitarian assistance to Syria in recent days, but insisted this was in line with current arms contracts.
"We have always been frank regarding the presence of our military experts in Syria who help the Syrian army in training and learning how to use the equipment," Lavrov told a press conference in Moscow. "And if further steps are needed we will stand ready to fully undertake those steps."
However, the scale of Moscow's involvement in Syria has triggered speculation in the West of a military build-up — with U.S. defense officials telling NBC News on Wednesday that two Russian military ships were headed there.
Russian officials have not commented directly on the reports that Russian troops have taken part in combat.
Putin's only naval base in the Mediterranean Sea is at Tartous on Syria's coast, and protecting it is a major strategic objective for Moscow.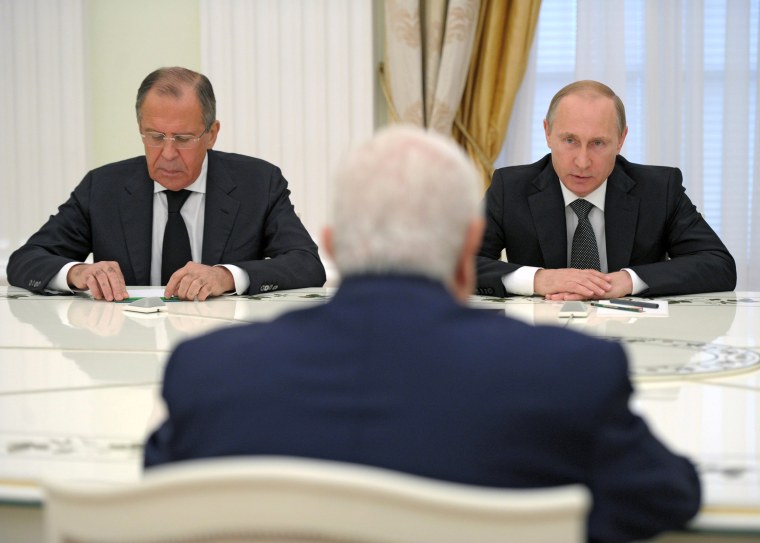 Russia's stated goal in the Middle East is to create a broad coalition of international partners — including the regime of Syrian President Bashar Assad — to combat ISIS and other extremist groups in the region.
But Alexander Golts, a Russia-based independent military expert, said Putin may have another motive when he pushes that initiative at the UN General Assembly later this month.
"This could be a smart foreign policy move that would allow Russia to leave the global isolation it has found itself in after Ukraine," he said.
Related: NATO Voices Concern About Russian Presence in Syria
Russia has been locked in a diplomatic standoff with the West for months over its annexation of Crimea and its support for an armed rebellion in eastern Ukraine.
"It is the confrontation between Russia and the West that drags Russia into the Middle East," said Nikolay Kozhanov, a fellow at London's Chatham House think tank.
Analysts remain skeptical that Putin — a longtime ally of Assad — intends to turn military support into military action.
"A ground operation does not look like Putin's style. He does not need it and he's tied down in Ukraine," explained Ruslan Pukhov, a military expert at the Center for Analysis of Strategies and Technologies in Moscow.
Golts went further.
"They would know a massive ground operation [in Syria] would be insanity," he said.
With an costly and ongoing conflict on its border with Ukraine, Russian military resources and public support would be in short supply for action in Syria.
"It would be very hard to justify for the regime," said Kozhanov. "Ukraine and Syria are two different stories … Syria feels foreign to Russians."
Pukhov said the move "may also be a smokescreen from Russia."
He added: "We imitate involvement, possibly send in troops that don't fight, in order to get some yet-unclear diplomatic concessions from the West. This would be very Kremlin-style."
Sarah Burke reported from London.