MADRID — When the coronavirus pandemic stuck and her family begged her to return home to Ohio, Stacye Toups was offered an offramp.
She didn't even consider taking it.
Not only did she decide to stay in Spain, where she is studying medicine; she remained and volunteered to work in a hard-hit nursing home to help those most vulnerable to the respiratory illness.
"My thoughts were never to go home," Toups, 30, said in an interview near her home in the capital, Madrid, despite her parents' begging her to do so. "They're constantly writing me," she said. "It's a never-ending battle with them. I don't think I'll ever have their full approval of me being here."
Toups, a fluent Spanish speaker, moved abroad to teach English, and even in the midst of a global pandemic she has not regretted her decision to become a doctor. "This is my future job. This is my passion. This is my career. I wouldn't run from it ever. I would encounter it head on."
Spain has had more cases of infection than anywhere else in Europe and more than 26,000 deaths. The vast majority of those deaths — more than 17,000, according to a tally of local government figures — occurred inside Spain's 5,400 nursing homes.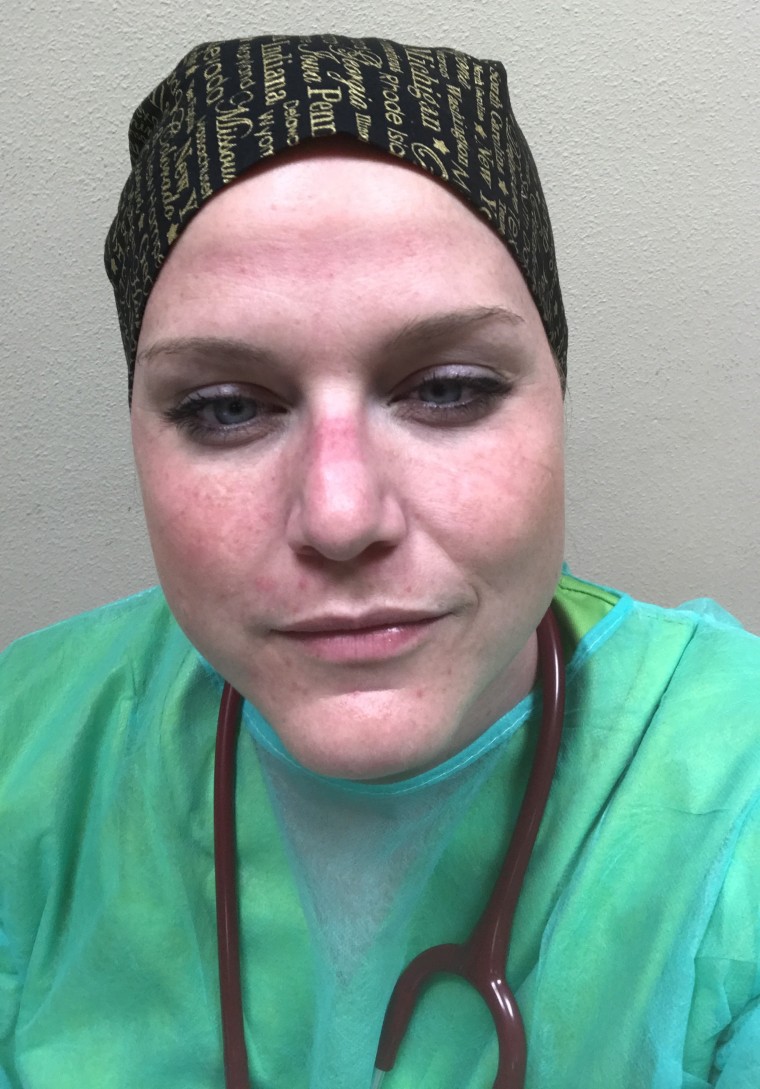 Toups, the only American in a class of 270 students, was more than halfway through her fourth year at the Autonomous University of Madrid's faculty of medicine when the effects of the coronavirus first started to be felt in Spain. In late February, as the numbers of cases spiked, her parents, Bill and Mary, got in touch, sounding very worried.
"How much danger are you in with this virus?" her father, Bill Toups, 57, a safety consultant for industrial companies, asked in a text message. "If they start quarantining, what are you going to do? I don't want you there if this is a possibility."
Still, she stayed.
Then, in mid-March, the government imposed a lockdown. While classes continued online, all her practical training inside Madrid's hospitals ended.
Toups was one of the very few American students, roughly 500, who decided to stay in Spain, according to estimates provided by the U.S. Embassy in Madrid.
On March 21, a roommate directed Toups to a Facebook group for foreign language teachers where someone had posted on behalf of a doctor friend requesting help at the nursing home where she worked. The post said that none of the home's residents had contracted the virus but that there were still not enough workers.
"When I saw this, I was like, 'Sign me up,'" she said. "I'd rather be doing that than studying."
On March 23, when she arrived for her first day, she found residents spilling out of the regular medical rooms to fill a makeshift quarantine unit housing 50 patients.
"They were laying in these beds ... I don't want to say half-dead but — it's definitely scary," Toups said. "I expected these patients, these residents, to maybe have a cough or maybe just have a cold. They were just semi-unconscious."
Her medical training and desire to help quickly overcame her initial worries, she said.
"It was just one moment of fear but the next moment of let's figure this out, let's do this, let's work."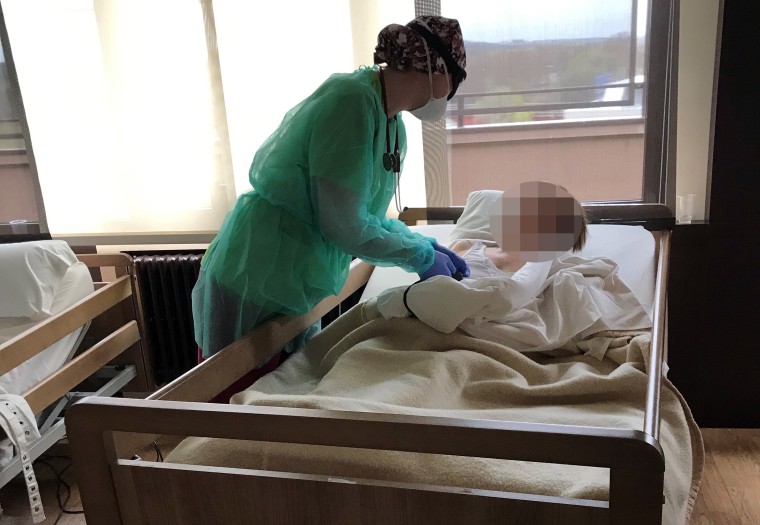 In the weeks since Toups started her job, a third of the residents at the care home, 60 out of 180, have died of COVID-19. And when one of two doctors at the facility fell ill, too, it was Toups who covered her shifts, spending harrowing overnight hours as the most senior medical person onsite.
She begins her day around 2 p.m., often working past midnight, six or seven days a week in the nursing home's "red zone" under layers of protective equipment, a mask and goggles.
The vast majority of the remaining residents have also tested positive, but most have recovered, and in the coming days the final patients in the facility's remaining two quarantined areas will be discharged.
Madrid's vast 6,000-bed COVID-19-focused field hospital closed at the start of this month, and the daily death toll in Spain has gradually fallen from its peak of almost 1,000 a day — in early April — to roughly a fifth of that, the same level it was when Toups began her job more than six weeks ago.
But the work continues to be draining, especially because she still must spend most of her morning before each shift studying for school. She said she has found the juggling "nearly impossible" and fears that she may have to repeat many of her subjects next year.
"If I had the chance to go back and choose working or studying," she said, "I would still choose working."
Her father said he was worried about the physical protection afforded her at the nursing home — but also about the bonds she has formed with patients.
"She's passionate about the medical field, and then she's also compassionate towards the people that she's treating," he said. "We had to keep reminding her: 'We don't want you to get too emotionally attached to this. How are you going to be able to handle this?'"
Still, while her decision to stay on and work in grueling and dangerous conditions may have frightened her family, it did not surprise them, according to her father.
"We expected it," Bill Toups said by phone from his home in Loveland, Ohio. "We're concerned, but we have to trust her judgment, as well."
He added: "She doesn't run away from anything."