TEHRAN, Iran — The White House on Monday denied the Iranian government's claim that President Donald Trump asked to meet with his counterpart from the Islamic republic last month but was turned down.
According to Iran's semi-official Fars news agency, Trump requested a meeting Iranian President Hassan Rouhani after giving a speech to the United Nations condemning Iran as a "murderous regime" focused on the "pursuit of death and destruction."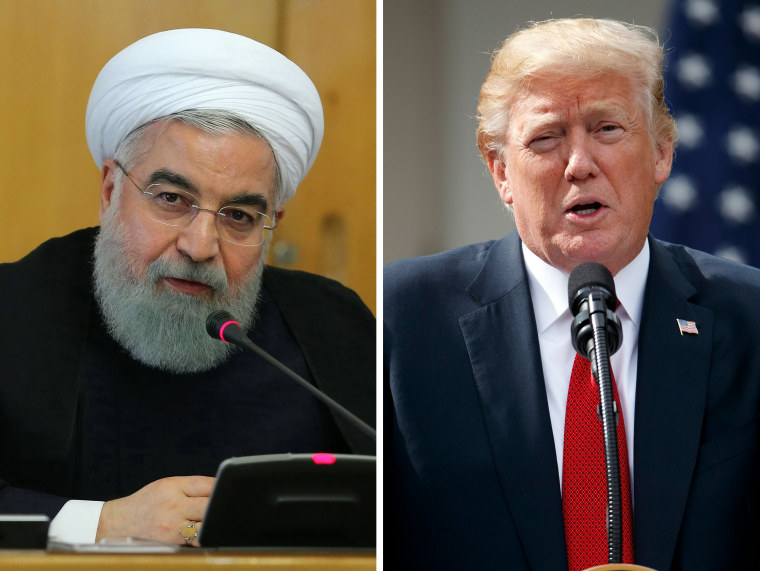 Bahram Ghassemi, a spokesman for Iran's foreign ministry, told a press conference Sunday that the report carried by Fars earlier in the day was correct.
"Indeed a request was made by the American side but it was not accepted by President Rouhani," Ghassemi said.
White House spokeswoman Sarah Huckabee Sanders told NBC News in a brief email early Monday that this statement was "false."
Trump has declined to certify the Iran nuclear deal, which lifted sanctions in exchange for the country curbing its nuclear program.
This puts its future in the hands of Congress, which will now have to decide whether to attach new conditions or reimpose sanctions with regard to the country's nuclear program.
In 2013, President Barack Obama and Rouhani spoke by telephone, the highest-level contact between the two countries in decades, prompting an outcry from Iranian hardliners.
Since then there has been no such communication between the heads of state in Tehran and Washington, which officially severed diplomatic ties in 1979.
Ali Arouzi reported from Tehran. Alexander Smith reported from London.