Updated 4/9 at 11:17 a.m. ET
For the kiddie set, it is the hottest ticket in Washington.
The 2012 White House Easter Egg Roll kicked off Monday, as more than 30,000 people from across the nation swarmed the sprawling south lawn of the White House to look for colored eggs and bop to kid beats. In keeping with First Lady Michelle Obama's crusade to curb childhood obesity, this year's theme is "Let's Go. Let's Move. Let's Play."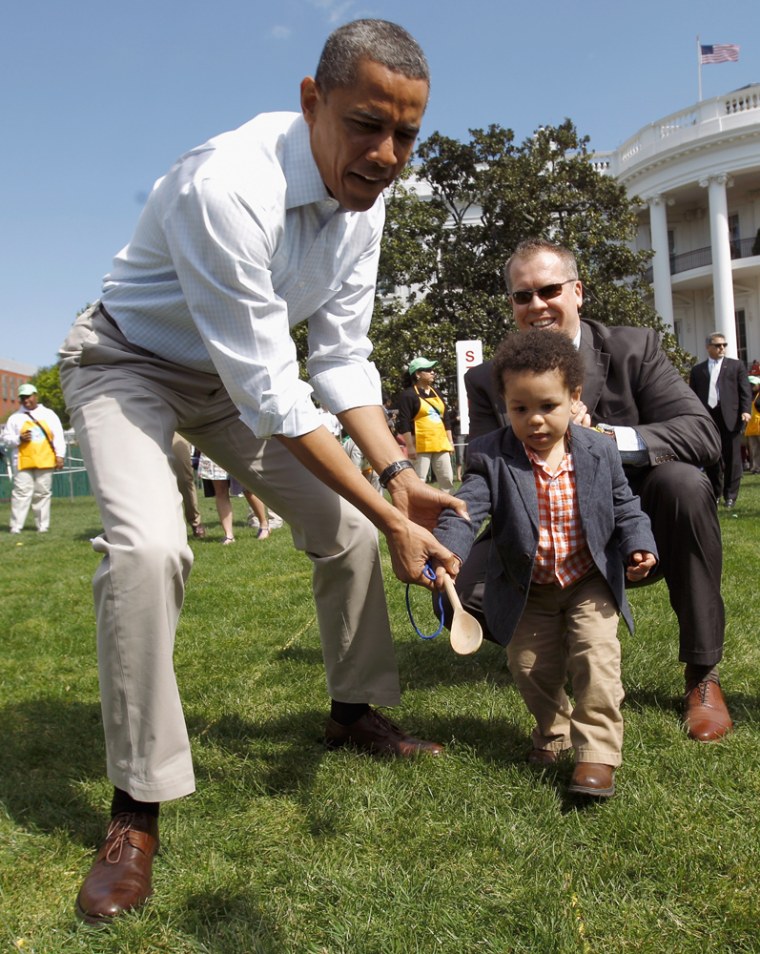 The lucky families who scored tickets to the White House to celebrate the season with the first family did just that.
Parents staked their spots shortly after sunrise, in lines that reached from the White House to the Ellipse. Kids decked out in pastel-hued Easter finery darted across the lush green lawn, rolling eggs with wooden spoons. 
"My job is simple," President Barack Obama said. "To introduce the powerhouse of the White House, the one who is really in charge, as Sasha, Malia and Bo already know." 
The first lady is the event's official hostess. She and her daughters all wore the colors of the fashion season: Bright jeggings and tops.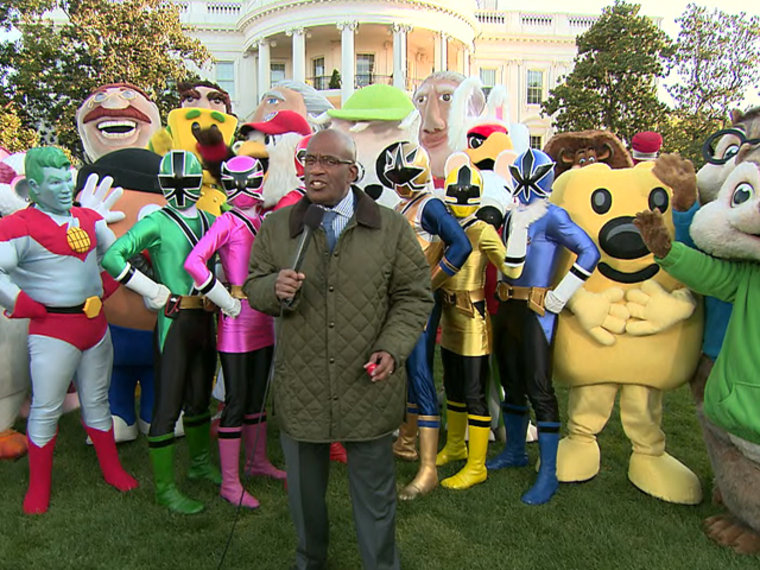 "Hope you got on some comfortable shoes," the first lady said, holding up her foot. "We got ours on all of the Obamas here."
Later, the president coaxed a toddler who struggled to get her egg across the finish line with a "c'mon, baby." He high-fived another little boy for accomplishing the feat.
The president read "Where the Wild Things Are" to the assembled tots. "You guys were excellent wild things," he said. "I'm very proud of you. One more roar!" And the kids roared.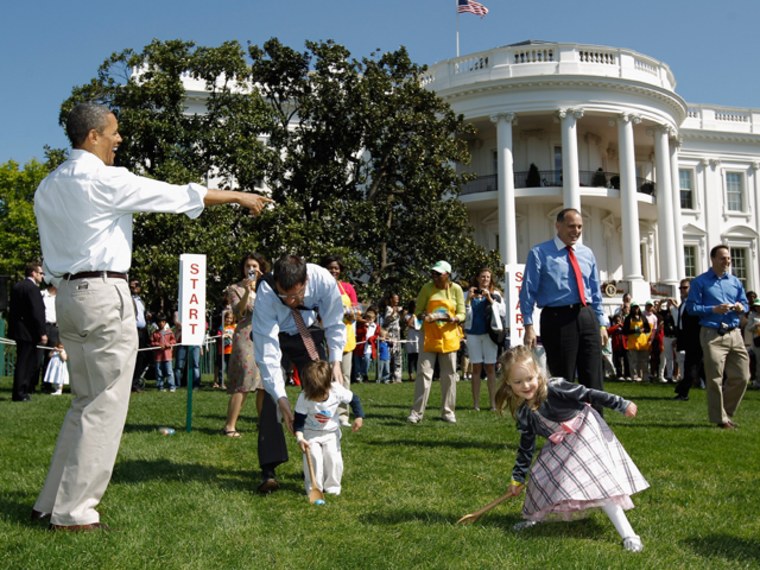 The Easter egg roll is the largest public event the White House stages each year. 14,500 hard-boiled, dyed eggs are used. Kids 13 and under get a souvenir wooden White House Easter egg with the stamped signature of the president and first lady. 
Olympic medalists Dominique Dawes and Michelle Kwan and "The Biggest Loser" coach Bob Harper, among others, were on the lawn to lead kids in sports-based exercises aimed at showing fun ways to stay fit.
There was even a yoga garden for kids to get their om on.
Cody Simpson and Rachel Crow were on hand to perform, joining a host of characters including Elmo, Dora the Explorer, Charlie Brown and Snoopy and, of course, the Easter bunny.
Celebrity chefs Marcus Samuelsson, Pat and Gina Neely and Bryan Voltaggio whipped up healthy snacks. Julianne Moore and Forest Whitaker were chosen as star story-time readers to share springtime tales.
More: Video: Al kicks off White House Easter egg roll 
Awkward Easter: Scary bunnies slideshow 
Photos: Scared of the Easter bunny  
Video: Tim Tebow draws huge crowds for Easter 
Secret Service ready 'fur' action at Easter egg roll  
TODAY.com political contributor Halimah Abdullah is the site's woman in Washington.