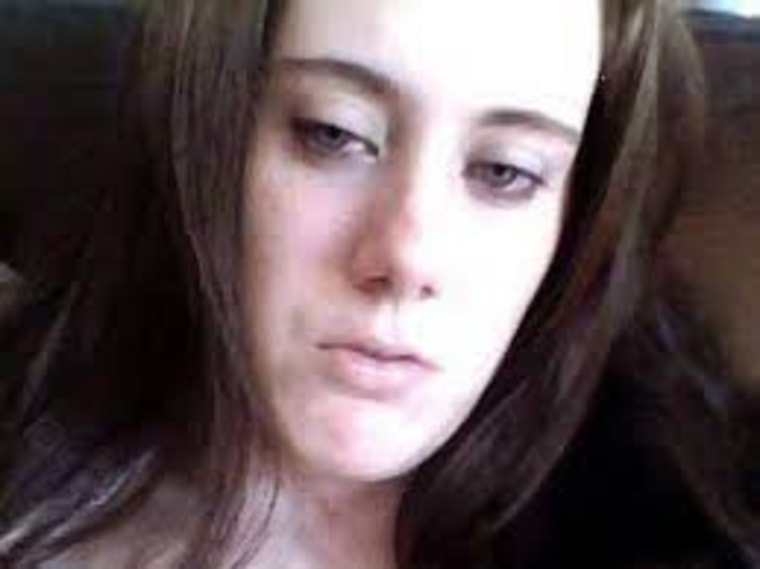 The world's most-wanted woman has penned a poem expressing her love for Osama bin Laden and claiming al Qaeda is "stronger and fiercer than ever," according to documents found in Kenya.
"Oh sheik osama my father, my brother, My love for you is like no other," U.K.-born Samantha Lewthwaite wrote in the poem, which has been seen by NBC News.  The news was first reported by Britain's Sky News.
Dubbed the "White Widow," Lewthwaite is wanted in connection with a 2011 bomb plot in Kenya involving the Somalia-based militant group behind last month's deadly Nairobi mall siege. Interpol has issued a "Red Notice" seeking her arrest.
Lewthwaite, who is also known as "Sherafiya" and has used the alias "Natalie Webb," is thought to be a key member of al Shabaab.
The mother of three was married to Germaine Lindsay, one of the three suicide bombers who struck London's transport system on July 7, 2005, killing 52 civilians. 
The 29-year-old is wanted by Kenya on charges of being in possession of explosives and conspiracy to commit a felony dating back to December 2011, according to Interpol.
Police found the 34-line poem addressed to bin Laden on a computer in her former home in Kenya.
In the poem, Lewthwaite also calls on Muslims to "seek the victory until we are martyred," and "instill terror into kuffar [non-Muslims]."
"Oh Muslims listen to our beloved sheik's words," the poem adds.
Lewthwaite goes on to say the life of bin Laden, who was killed in 2011, was "an example of how we should be."
The poem was discovered on a hard drive left a house in the Kenyan city of Mombasa, NBC News' British partner ITV News reported. This had been partially destroyed but was rebuilt with the help of British investigators.
Also found at the house was a flash drive containing bomb recipes, "selfie" photos, and Lewthwaite's Google search history, including pages on dieting and exercise.
Later in the poem she goes on to say her "enemies" have "picked the wrong army to contest."
The last two lines read: "Their [sic] was no victory for you Mr Obama, The honour is his on martyred Osama!!!!!!!!!!!!!!!!"
The poem to bin Laden is the latest material investigators have traced to Lewthwaite, including a crumpled nine-page diary found in a Kenyan safe house.
The documents, seen by NBC News, tell of her husband giving a talk to her three children.
"Recently my beloved husband gave a talk to my eight-year-old son and five-year-old daughter," it read.
"He asked them what do you want to be when you are older? Both had many answers but both agreed to one of wanting to be a mujahid. He asked them how did they plan to achieve such a goal, and what really is a mujahid?"
Lewthwaite was born in Banbridge, a small town around 30 miles south of Belfast in Northern Ireland.
Christine Allen, her mother, is widely reported to have met her father, Andy Lewthwaite, while he was serving as a British soldier in the 1970s in Northern Ireland at the height of the sectarian violence known as "The Troubles."
Her grandmother Elizabeth Allen, who still lives near the town, told the Belfast Telegraph that she now wears a panic alarm in case Lewthwaite reappears.
"I've been told by Special Branch [police officers] to contact them immediately if anything happens," she said.
Raj Khan, a local councilor who has known Lewthwaite for years, told NBC News last month that the woman he sees on the news is far removed from the girl he once knew.
"She was a jolly child, and a really good person," he told NBC News. "She was an innocent young person. She would do anything to help other people, she was a very good human being."
Family friend Niknam Hussain said Lewthwaite became interested in Islam after befriending a local Muslim family.
"They were a nice normal Muslim family of Pakistani origin, nothing radical about them in the slightest," Hussain told NBC News. "The father was a pious man who helped out in the local mosque, but they were not extreme at all. They still aren't."
At around the age of 15, Lewthwaite asked to become a Muslim.
Lewthwaite told the U.K.'s tabloid The Sun that said she met suicide bomber and fellow Muslim convert Germaine Lindsay in an online chat room when she was 17. They married three years later.
After Lindsay's part in the London bombings she publicly denounced him but then disappeared.
She resurfaced earlier this year when it emerged she had gone on the run following the bomb plot in Mombasa, Kenya, being foiled.
Rochit Kachroo reported from Johannesburg, and Henry Austin and Alexander Smith reported from London. NBC News' Michele Neubert contributed to this report.
Related: