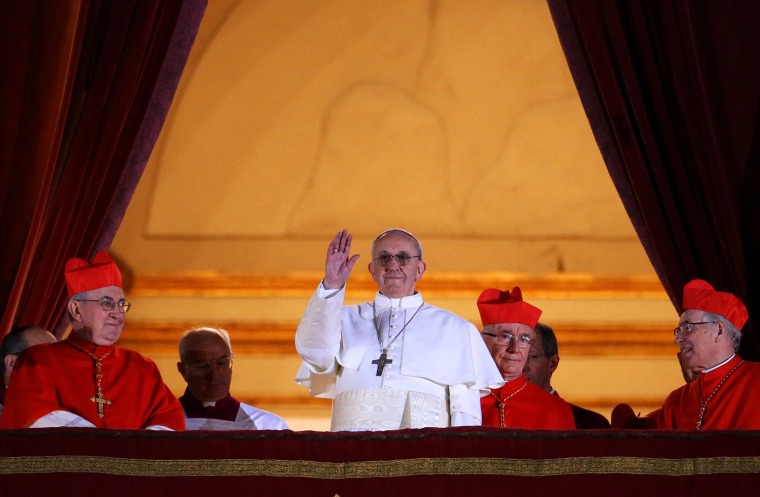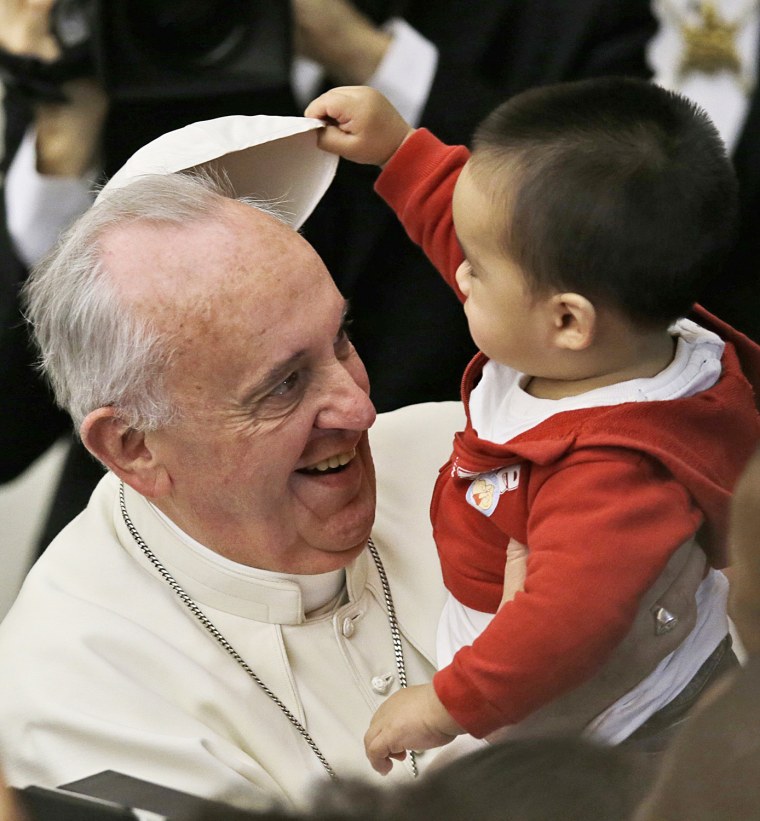 Could five little words uttered in 2013 change the course of the Catholic Church?
Pope Francis — also known as Time's Person of the Year and Twitter's #bestpopeever — has done a lot of talking since he was installed on the throne of St. Peter in March, tackling everything from luxury cars to income inequality in a series of interviews, sermons and written exhortations.
But for veteran Vatican watcher John Thavis, the pontiff's most significant pontificating came July 29 when he gave a press conference on a flight back from Brazil.
"Who am I to judge?" he asked.
Francis was addressing the issue of gays in the church, but it was the tone as much as the topic that caught the public's attention.
"The fact is that previous popes in talking about homosexuality had always mentioned the word 'disordered' and when you use that term, it immediately alienates," said Thavis, author of "The Vatican Diairies."
"Not only did Francis not use that word. He avoided the whole concept."
The fact that the pope — the infallible leader of the world's 1 billion Roman Catholics — refused to sit in judgement of gay priests (who were banned by his predecessor) was hailed as remarkable, even revolutionary.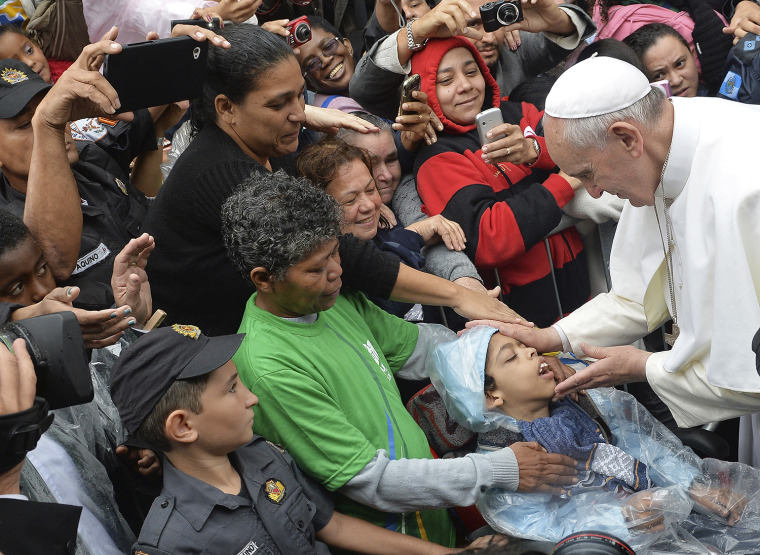 It's an approach he has taken on any number of subjects — atheists, unwed mothers, divorcees. Scolding is out in Rome; hand-holding is in.
"This comes after Pope John Paul II spent 15 years rewriting the catechism of the Catholic Church and eight years of Benedict reinforcing that: 'How do you measure up to our teachings? Are you qualified to call yourself Catholic?'" Thavis said. 
"Francis is saying the church is a big tent and he has to be welcoming. It's an incredible change."
For Thomas Reese, a Jesuit priest like Francis, the most important words from Francis this year were written, not spoken.
"Look at the title of his latest apostolic exhortation. It's 'the joy of the Gospel,' not the 'the truth of the Gospel,'" he said.
"He has rebranded the church as welcoming, compassionate, a church for the poor as opposed to a church that nags people and is worried about rules and regulations," said Reese, author of "Inside the Vatican."
"The analogy I love to use is when you go home for Christmas, what you want is a hug from your mom. You don't want to be asked about your nose ring, or why you dyed your hair, or who are you sleeping with now? He is trying to turn the church into a loving parent, not a nagging parent."
More often than not, when asked which of Francis' comments this year resonated most with them, Catholics immediately mentioned his gestures, not his quotes.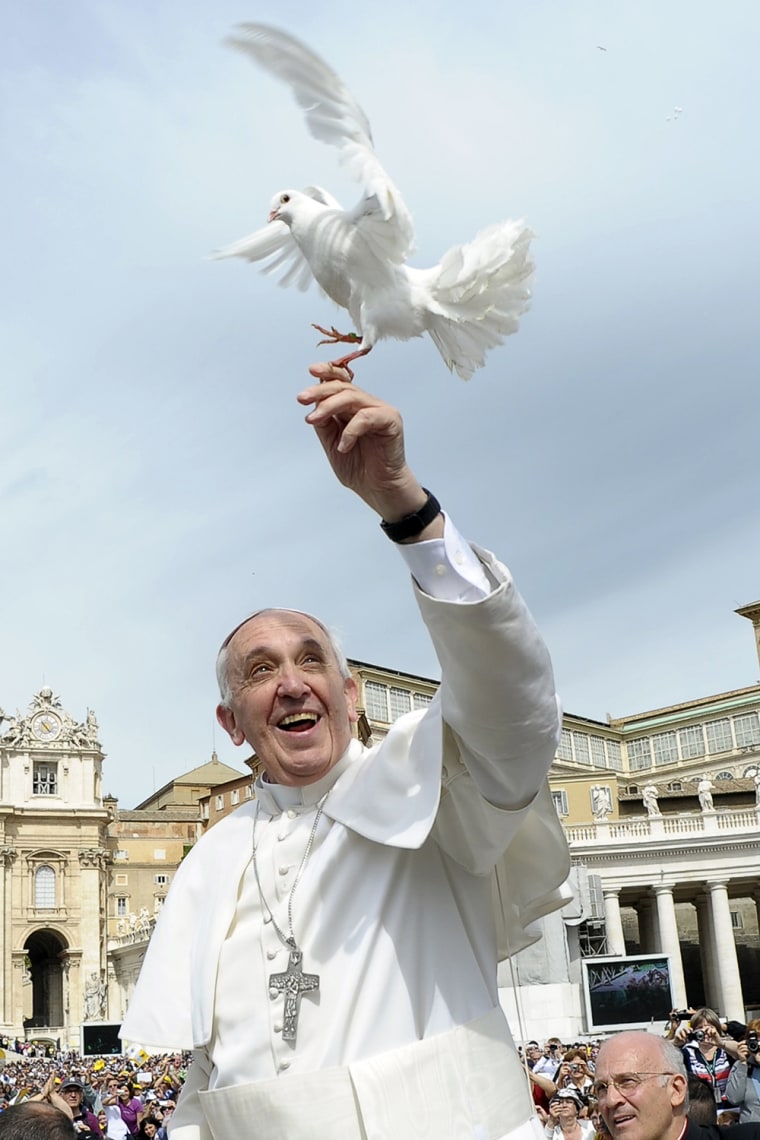 Riding the bus back to the guest house after being named pope. Washing the feet of prisoners on Holy Thursday. Turning an '84 Renault into the Popemobile. Celebrating his birthday with the homeless. Embracing a disfigured fan. Cold-calling people who write to him.
Some have suggested it's style over substance. Despite what he says and no matter how many selfies he takes with visitors, Francis has not changed church doctrine.
Priests still can't get married, abortion remains a grave sin, and two men can't walk up the aisle in a Catholic Church. Francis even excommunicated an Australian priest who advocated the ordination of women and gay marriage.
And yet his words have given hope to those pushing for change.
Deborah Rose Milovec, the head of FutureChurch, which supports the ordination of women, seized on this line from his November apostolic exhortion: "Demands that the legitimate rights of women be respected, based on the firm conviction that men and women are equal in dignity, present the Church with profound and challenging questions which cannot be lightly evaded."
"Giving people permission to dialogue — that's a breath of fresh air," she said. "There are many ways he has held his hand up and said, 'No, not yet,' but that sort of statement begins to open a crack in the door.
"That kind of statement is important because it says to me we have something to work with here. I have real hope he will sit down with feminist theologians and listen to what they have to say."
If there is one theme that has dominated Francis' public pronouncements this year it has been his love and sympathy for the poor and downtrodden.
"How I would like a church that is poor and for the poor," he said days after the black smoke wafted out of the Sistine Chapel chimney. His November exhortation slammed unchecked capitalism and income inequality.
Rush Limbaugh frothed that the new pope is a Marxist. But in Melbourne, Fla., Kathy Gilliland, 56, liked what she was hearing.
Visiting the majestic St. Patrick's Cathedral in New York City this week, Gilliland said it both surprised and delighted her that her spiritual leader — who has forsaken the opulent trappings of the Vatican for a spartan guest house — understood the struggles of the middle class at a time when the wealthy are richer than ever.
"I think it shows he's in touch with the modern world," she said. "It shows he's more humane."