Zimbabwe may have rid itself of aging despot Robert Mugabe, but the country now finds itself in the jaws of "the Crocodile" — a former guerrilla fighter and despised henchman accused of overseeing the deaths of thousands of political opponents.
The ex-fighter, Emmerson Mnangagwa, was sworn in Friday as the southern African nation's first new leader in nearly four decades. He has promised to create a "new, unfolding democracy."
He greeted an exuberant crowd of tens of thousands in Harare, the capital, with a raised fist and promised to fix the country's rampant unemployment. "I must hit the ground running," he said.
But the ex-spy chief, who served for decades as Mugabe's ruthless enforcer, is still the subject of U.S. sanctions targeting officials in Zimbabwe's opaque and repressive regime.
Mnangagwa — who was fired from his role as vice president last month — was in hiding during the dramatic overnight coup that saw the 93-year-old Mugabe placed under house arrest and forced to step down.
His return has delighted supporters who hope he can rescue Zimbabwe from an economic crisis so severe that citizens are prevented from withdrawing more than $50 a day from banks.
"Can a crocodile change its scales? Everybody is asking that question"
Experts say that seems optimistic for a man who has been part of every administration since independence and who backed Mugabe's economic nationalism in which foreign firms were made to hand majority stakes to local residents.
"Mugabe is gone, that's one part of it, so people are dancing in the streets," said Knox Chitiyo, an associate fellow at the London-based Chatham House think tank, who is also president of the Britain Zimbabwe Society. "That in itself is a kind of release valve for Zimbabweans. But the flip side is that certainly Emmerson Mnangagwa has got political baggage … everyone is aware of that."
Mnangagwa, 75, joined the fight against white minority rule in Rhodesia while still a teen in the 1960s. In 1963, he received military training in Egypt and China. He was captured, tortured and convicted of blowing up a train engine in 1965.
Sentenced to death by hanging, his punishment was commuted to 10 years in prison because of his young age. He was jailed alongside other prominent nationalists, including Mugabe.
A leading government figure since Zimbabwe's independence in 1980, he became vice president in 2014 and is widely known as "the Crocodile" for his cunning and ruthlessness. His supporters are called "Team Lacoste" — because the clothing brand's logo features the animal.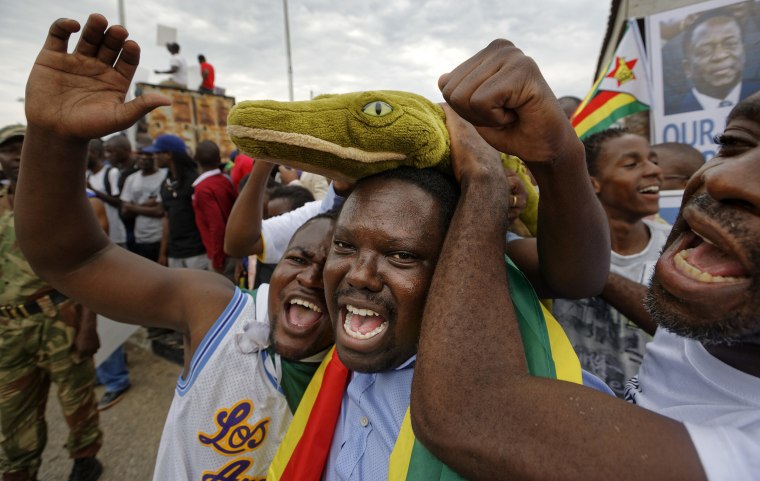 The State Department noted in a December 2000 diplomatic cable posted on WikiLeaks that Mnangagwa was "widely feared and despised throughout the country" and "could be an even more repressive leader" than Mugabe.
In particular, Mnangagwa is accused of planning a 1983 assault by the army's North Korean-trained Fifth Brigade on the Matabeleland provinces that supported Mugabe's rival, Joshua Nkomo — although he denies involvement.
"The brigade wiped out whole villages and up to 20,000 people were killed," said Todd Moss, a former deputy assistant secretary of state for Africa and a senior fellow at the Center for Global Development think tank. "It's a massacre for which nobody has ever been held accountable. Nobody has even admitted it ever occurred, but it has been very well documented."
Mnangagwa is reputed to have amassed a considerable fortune and was named in a United Nations investigation into the exploitation of mineral resources in Congo. He has also been active in making Harare a significant diamond trading center.
Related: Despot Mugabe gets immunity, pension and vacation fund
"He is deeply embedded in the corruption empire of ZANU-PF," Moss said, referring to the ruling party. "He has no personal incentive to create open democracy or to try and truly reform the economy. … He wants ZANU-PF to remain in power, and he wants his business empire to remain."
Mnangagwa's cleverness helped him maneuver into the top job. While Mugabe's wife, Grace, publicly positioned herself to succeed her husband, "the crocodile" quietly used his military connections to court the support of army chiefs.
In January, Mnangagwa was pictured drinking from a mug emblazoned with the words: "I'm the Boss," infuriating the president's clique. He brushed off the episode, reportedly saying: "Have we now become so petty to see treason on a coffee mug? Come on!"
But when Mugabe fired Mnangagwa in October for "traits of disloyalty," sending him into exile, the military turned against its leader and paved the way for the younger man's triumphant return.
The U.S. Embassy in Harare said Mugabe's resignation "marks an historic moment" and called for Zimbabwe's first "free, fair and inclusive elections."
Voters are scheduled to choose a new president next year, but with a fragmented opposition led by an ailing Morgan Tsvangirai, ZANU-PF has little incentive to form a genuinely inclusive government.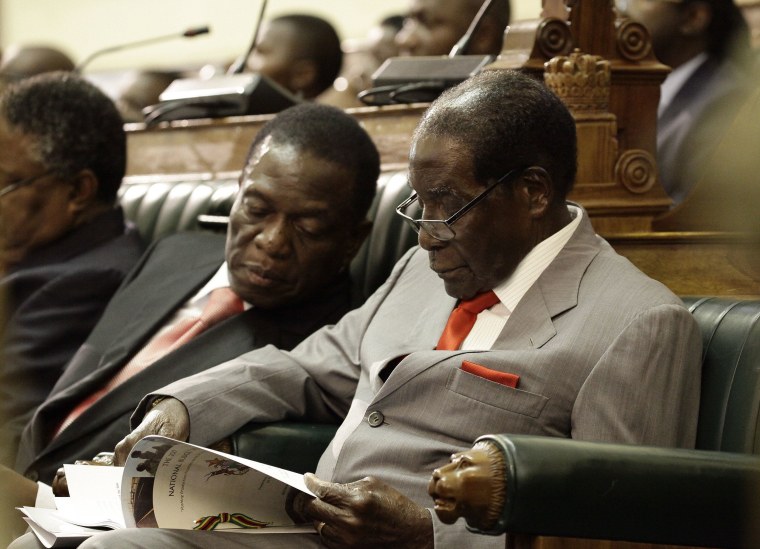 "The entire system is broken, so if he's actually interested in taking Zimbabwe back to democracy that needs to be fixed," Moss said. "We've seen characters try to reinvent themselves before. The first sign will come in what kind of inclusive government he tries to form. Will it be just a military junta with him and a couple of ZANU-PF apparatchiks, or will he try to bring in the opposition?"
Zimbabwe was once one of Africa's most promising economies but suffered decades of decline as Mugabe pursued policies that included the violent seizure of white-owned commercial farms and money-printing that led to hyperinflation.
Most of its 13 million people remain poor and face currency shortages and sky-high unemployment.
Whether Mnangagwa will be able to shake his close ties to Mugabe remains to be seen.
"Can a crocodile change its scales? Everybody is asking that question," said Piers Pigou, a southern Africa expert for the International Crisis Group. "He has a long past with ZANU-PF and the military, and that past may stick to him like chewing gum on a shoe."
Mugabe did not attend Friday's swearing-in, but he has been promised that he can remain safely in Zimbabwe, that he will have immunity from prosecution and that his legacy will stand.
At Friday's ceremony, Mnangagwa acknowledged that the country's economy needed urgent measures but also said Mugabe should be "lauded and celebrated" for his historic role.
Moss, the former State Department official, said he was torn between hoping for the best and expecting the worst for Zimbabwe's future.
"I sense that Mnangagwa is going to be a Mugabe Part II but slightly more business-minded," he said. "However, there is a genuine moment of transition. This is a genuine populist uprising against not just Mugabe but an entire system that has destroyed a great nation. People want their country back."
Chitiyo, from Chatham House, agreed.
"Right now, let's enjoy the moment," he said. "Mugabe's gone. Beyond that, the immediate priority must be to sort out the economy."