Geert Wilders, the bleach-blond leader of the Dutch Party for Freedom, or PVV, has been called the Netherlands' Donald Trump — as well as an inflammatory Islamophobe who compared the Quran to Adolf Hitler's autobiography, "Mein Kampf," called Moroccans "scum" and was convicted in December of inciting discrimination against them.
Wilders, 53, a former speech writer, is now hoping the populist tide elevating far-right leaders in Europe will send him to the prime minister's office on Wednesday.
Here are three things to know about Wilders:
Wilders has found a home among some on the American right
He spoke during the so-called "Draw Muhammad" contest — depictions of the prophet are prohibited — that ended with authorities shooting two armed gunmen outside a school arena in Dallas. In September, he penned a piece for Breitbart asserting that Islam was a "totalitarian ideology aimed at establishing tyrannical power over non-Muslims."
"They carry our passports, but they do not belong to us," he wrote. "They spit on our identity and behave like conquerors."
Related: Turkey-Netherlands Diplomatic Spat Leads To Protests, Violence
On Sunday, Rep. Steve King, R-Iowa, a diehard Trump supporter, wrote on Twitter that "Wilders understands that culture and demographics are our destiny. We can't restore our civilization with somebody else's babies."
King (and Wilders) then got an endorsement from David Duke, the white supremacist former Ku Klux Klan leader who — referring to King's congressional district — wrote this on Twitter: "Just in case you were thinking about moving –> sanity reigns supreme in Iowa's 4th congressional district. #MakeAmericaGreatAgain."
Trouble with the law
Wilders has faced repeated legal problems in the Netherlands, with its speech laws that are considerably stricter than the United States'.
In 2011, he was acquitted of inciting hatred against Muslims after calling for a "head rag tax" and arguing that foreigners "breeding" in the Netherlands were overrunning Dutch culture. Perhaps his most infamous statement is this: that "the core of the problem is the fascist Islam, the sick ideology of Allah and Mohammed as laid down in the Islamic Mein Kampf: the Koran."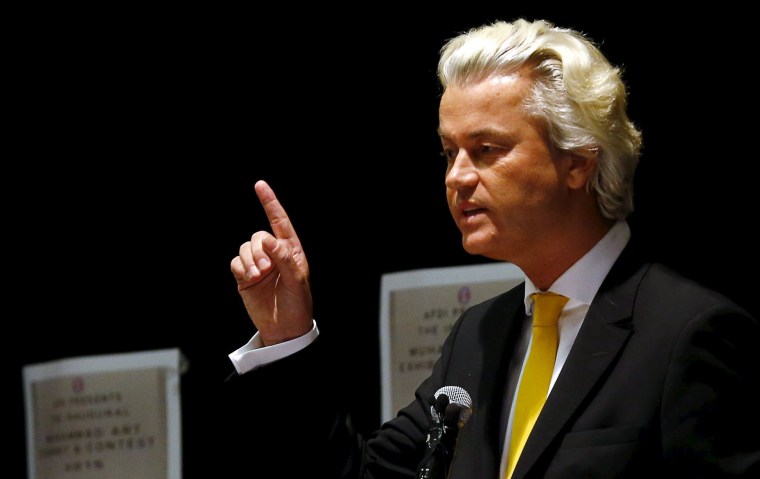 Mohamed Rabbae, chairman of the moderate National Moroccan Council, called the comments racist and discriminatory, while Wilders defended them as "freedom of expression." A judge said they were "crude and denigrating" — but not tantamount to incitement.
In December, Wilders was convicted by a three-judge panel of inciting discrimination and insulting a group of Moroccans after leading a political rally where he posed this question, The New York Times reported: "Do you want more or fewer Moroccans in this city and in the Netherlands?" "Fewer, fewer, fewer," the crowd chanted. Wilders then replied: "We'll take care of it."
The judges acquitted Wilders of inciting hatred, however, and imposed no fine, The Times reported.
Wilders, who is appealing the decision, was also once banned from entering Britain, although he later sued and the decision was overturned.
Prime Minister Wilders?
Even if Wilders loses Wednesday — recent polls show him trailing his centrist opponent, Prime Minister Mark Rutte — he appears to have already swung this famously tolerant, left-wing country to the right. Rutte, for instance, published a full-page newspaper ad interpreted as a clear threat to immigrants. "Act normal or go away," he wrote. The prime minister has been even more blunt, saying: "My primary feeling is, 'piss off, go back to Turkey.'"
Related: Dutch Politician Slammed for Calling Moroccan Immigrants 'Scum'
Rutte has denied stealing Wilders' anti-immigrant messages — "I'm fighting my own agenda," he said — but right-wing voters aren't buying it.
"I don't think it's authentic," Xandra Lammers told NBC News. "He's swimming with the waves of Geert Wilders."