Horror-film fads seem to come and go in a nervous blink. Torture porn all but grossed itself out of existence with the stomach-churning "The Human Centipede." Found-footage fright a la "Paranormal Activity" had been losing its shaky-cam sheen even before being spoofed in Marlon Wayans' "A Haunted House" this year.
Don't be afraid, terror fans. Hollywood already has found the next big thing in scare cinema: Wholesome horror that promotes homespun family values of the God-fearing kind. No "Poltergeist" with its pot-smoking parents or "The Exorcist" with its decadent showbiz types. You can pretty much expect a future wave of spine-tinglers that even grandparents could endorse.
That's because "The Conjuring," a $20 million twist on the usual haunted house premise that arrived this weekend packing plenty of word-of-mouth heat and strong reviews, managed to summon a hefty $41 millionin ticket sales. Left in the creepy cobwebbed basement dust were such big-budget competition as kid-friendly animated comedy "Turbo" and the Ryan Reynolds-Jeff Bridges after-life buddy action film "R.I.P.D."
The fact that a low-budget horror movie opened in the No. 1 spot — "The Purge" also premiered atop the box office in early June — is not surprising. What is, however, is the manner that "The Conjuring" chooses to deliver its goosebumps. Namely, the old-fashioned way. No excessive gore save for some relatively subtle bloodletting. No overdosing on special effects. A lone curse word, and a mild one at that. And the only sex referenced is the marital kind. This is the rare fright flick that earns its R rating simply because, according to the Motion Picture Association of America, it is just too scary.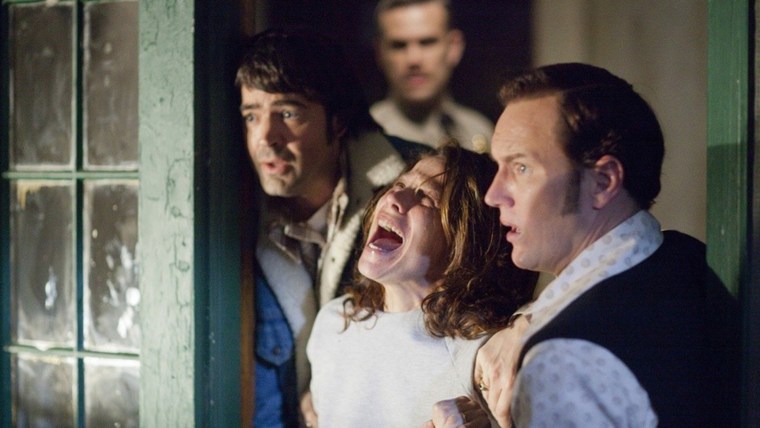 That's like saying Angelina Jolie is just too sexy.
"The Conjuring" is based on the experiences of Ed and Lorraine Warren (played straight by a professorial Patrick Wilson and a clairvoyant Vera Farmiga, whose maxi-length plaid attire is better suited for a Scottish nun), the same husband-and-wife paranormal investigators who inspired "The Amityville Horror."
The suspense yarn, set in 1971, concerns a devoted working-class married couple (Ron Livingston and Lili Taylor, whose grounded salt-of-the-earth presence removes some of the sting from the film's demonizing of the female gender) with five daughters who, for economic reasons, move into a remote shabby-chic Rhode Island abode. Turns out it's filled with secret passages and groaning pipes as well as occupied by a vengeful lady spirit whose lineage hails from the Salem witch trials — and who actually seems to have been a real witch.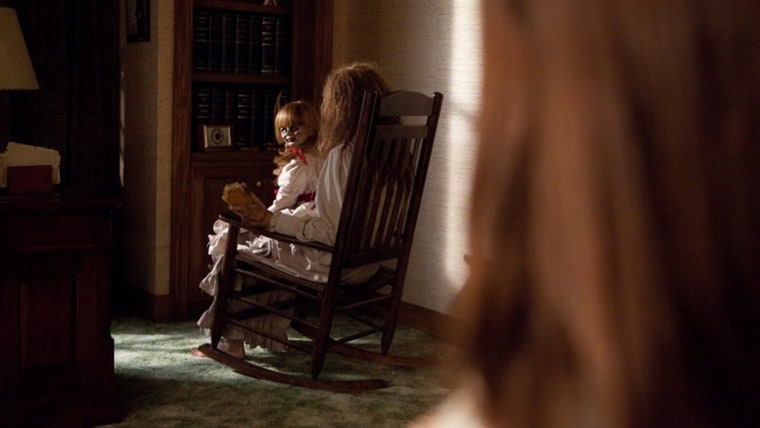 From the first floorboard creak and door slam to the snowy static on the TV screen and the possessed doll, the film offers up an encyclopedia of scare tactics that have been used in movies since the dawn of cinema. However, director James Wan is skilled enough to make a mere bedsheet into an threatening object.
This news may shock those who know that Wan's debut was 2004's "Saw," which took horror to the next limb-chopping level. But he is no stranger to injecting moral lessons into his tales of terror. Often forgotten amid the repulsive violence rife in "Saw" and its six sequels is that its villain, Jigsaw, was a terminally ill cancer patient who wanted to teach his victims to appreciate their own lives by overcoming potentially deadly traps.
As for "The Conjuring," it relieves its well-worn genre from the need to be graphic by instead relying on a distinctive value system that hasn't been seen in horror movies since 1978's Halloween spared goody-goody high-school virgins from the wrath of Michael Myers' butcher knife. Very few mainstream films unquestioningly put religion, especially Catholicism, this front-and-center.
"God brought us together for a reason, and this is it," is Lorraine's mantra. And the film ends with Ed's earnest declaration: "The devil exists. God exists. And for us as people, our very destiny hinges upon which one we elect to follow."
With a "Conjuring" sequel already in the works, this is one destiny that is pre-determined.